Why You Won't See The Queen's Jubilee In Meghan And Harry's New Netflix Series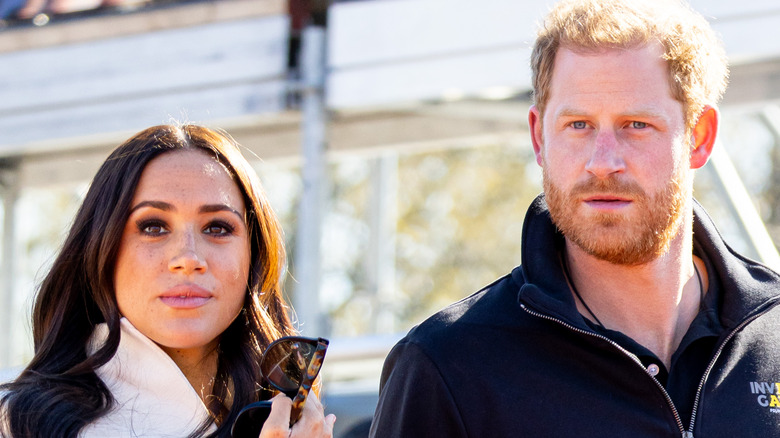 Patrick Van Katwijk/Getty Images
If there is one family's life the world wants to get a glimpse into, it's the royal family's. None of the members of the family have a personal social media account, which means the world only sees what they want us to see. Over time, that's proven to be, well, not much. The main source of information about the royal family comes from the media, which has proven to be troubling for Meghan Markle and Prince Harry. So much so that they've decided to take matters into their own hands. The two are putting together a docuseries for Netflix, but there's a few people in the family who won't be joining them.
Let this statement sink in for a moment: Meghan Markle and Prince Harry are filming an at-home style docuseries for Netflix (via Page Six). As in, a "Keeping Up With The Kardashians"-style, behind-the-scenes look into their lives. Because when you move to California, that's apparently what you do. All jokes aside, this show will be an epic inside look at the couple's lives outside of the royal family. 
It turns out that there are a few people who likely won't be making appearance in the series — and you can probably guess exactly who. 
Meghan Markle and Prince Harry are banned from filming at royal residences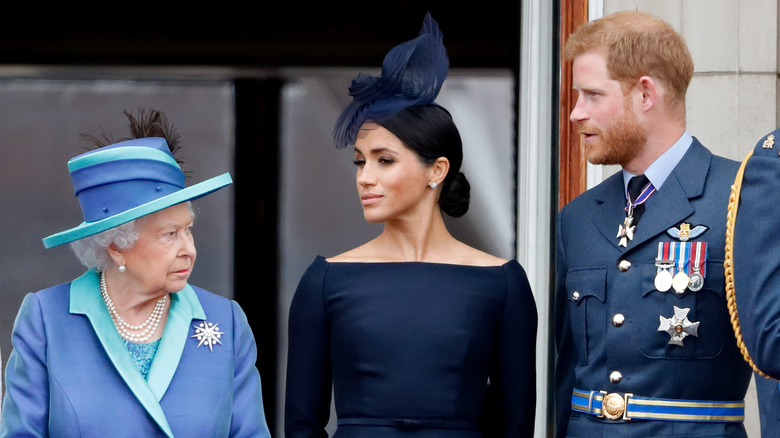 Max Mumby/indigo/Getty Images
Meghan Markle and Prince Harry are gearing up for a trip across the pond to celebrate the Platinum Jubilee with their family. The weekend event honors Queen Elizabeth's 70 years in service, so it makes sense that the entire family would be together. Unfortunately for the rest of us, the Duke and Duchess of Sussex will not be bringing their film crew to the event. In fact, they couldn't even if they wanted to. 
According to Page Six, Meghan and Prince Harry are banned from filming in royal residences. When the once-royal couple decided to officially leave the family, they also lost certain perks — you know, like standing on the balcony of Buckingham Palace with the rest of the family. The publication explains that this is part of the "Sandringham agreement" they made in January 2020. 
If you're wondering if they'll sneak in a camera just for the heck of it, don't bet on it. "I highly doubt they would even think about that. It would be such a bad look," a royal source tells Page Six. "Even if they could sneak a camera in, they wouldn't be able to use any of the footage. I guess they could do home video on their phones, but I honestly don't think they would."
They did some filming at the Invictus Games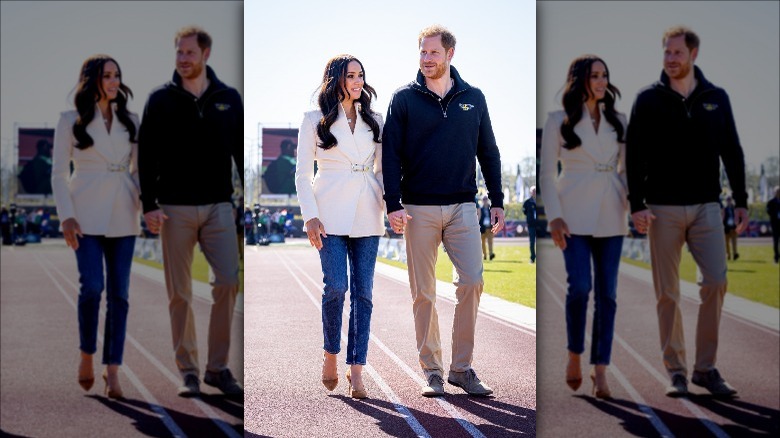 Patrick Van Katwijk/Getty Images
If you're wondering how Meghan Markle and Prince Harry are doing without the family, let's just say that they're doing well for themselves. The pair signed a multi-million dollar deal with Netflix for their upcoming "at-home with the Duke and Duchess of Sussex-style" docuseries, according to Page Six. The exact date of the show has yet to be determined, as the newly minted California residents are still in the process of filming.
That's not the only deal that they signed with Netflix, either. Meghan and Prince Harry filmed a behind-the-scenes look at the Invictus Games, called "Heart of Invictus," as well, according to Page Six. The Invictus Games were started by Prince Harry himself, so it only makes sense that he would want to film the event and get the word out about the event. It sounds like this will be as royal as it gets as far as the docuseries goes, though.
Let's be honest, Meghan and Prince Harry could put a camera on themselves doing nothing and the world would still tune in. Whatever they decide to film, the world will be watching.