What Meghan And Harry Allegedly Told The Queen About Their Upcoming Time In The UK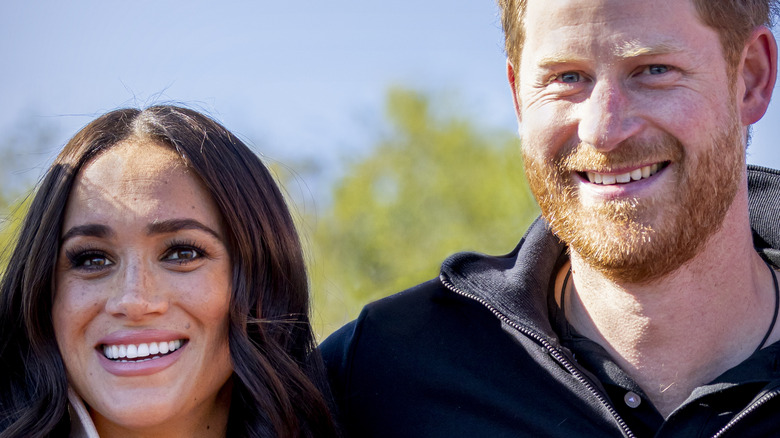 Patrick Van Katwijk/Getty Images
Queen Elizabeth's Platinum Jubilee is a highly-anticipated event for many reasons. First, as CNN notes, she is the first royal to celebrate 70 years on the British throne. But perhaps even more enticingly, the events will mark the first time that Prince Harry and Meghan Markle have both publicly returned to the UK since welcoming their second child, Lilibet — there was that secret visit when the duo was in Europe during the Invictus Games (via Page Six).
Let's admit it — we are a little bit more excited to see Harry and Meghan with the Queen than we are to see the monarch on her own. Or maybe, just maybe, we'll get to see Queen Elizabeth and her great-granddaughter, who is named after her, with big brother Archie and their parents, Harry and Meghan.
Harry has of course returned to Britain without his wife. When Prince Philip died in April of 2021, the former Tig blogger stayed back in California given that she was pregnant with Lilibet — and the UK was under strict COVID-19 protocols (via E! Online). Who among us will forget the photos of the royal widow sitting alone in a pew at her husband's funeral?
Meanwhile, Meghan and Harry both memorably skipped Prince Philip's memorial service this past April, with the former royal couple making headlines over the controversial decision. Their lack of presence at the event was widely perceived as a snub to Queen Elizabeth.
So how will things go when the family arrives for the jubilee?
Harry and Meghan will not be on the balcony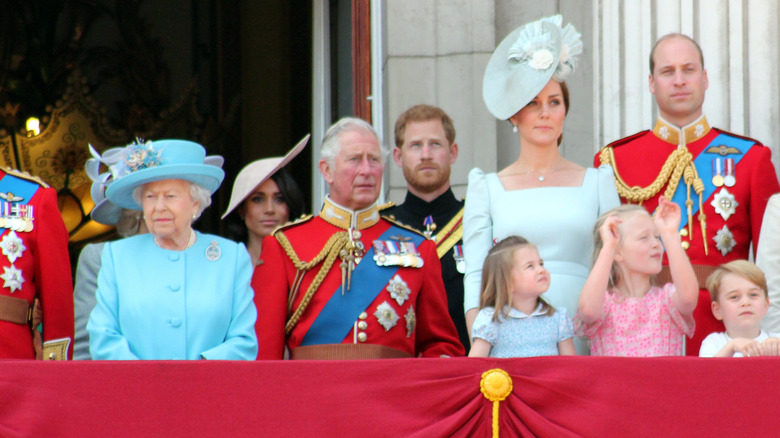 Lorna Roberts/Shutterstock
Although Harry and Meghan are finally joining the royal family for the Queen's Platinum Jubilee celebration after years of keeping their distance, the Duke and Duchess of Sussex will not be treated as if nothing ever happened. As People reports, as they are not considered working members of the royal family any longer, the controversial couple will not stand on the balcony of Buckingham Palace for the Trooping of the Colour ceremony, unlike in previous years.
As a statement clarifies, "After careful consideration, the Queen has decided this year's traditional trooping the colour balcony appearance on Thursday 2 June will be limited to Her Majesty and those members of the royal family who are currently undertaking official public duties on behalf of the Queen" (via The Guardian).
Of course, this means no disgraced Prince Andrew either. But many other events, such as the service of thanksgiving at St. Paul's Cathedral, make up the celebration, which Harry and Meghan are reportedly invited to attend.
But the ex-royals have reportedly already told the Queen that they want to keep a low profile during their visit.
Harry and Meghan have been warned not to create drama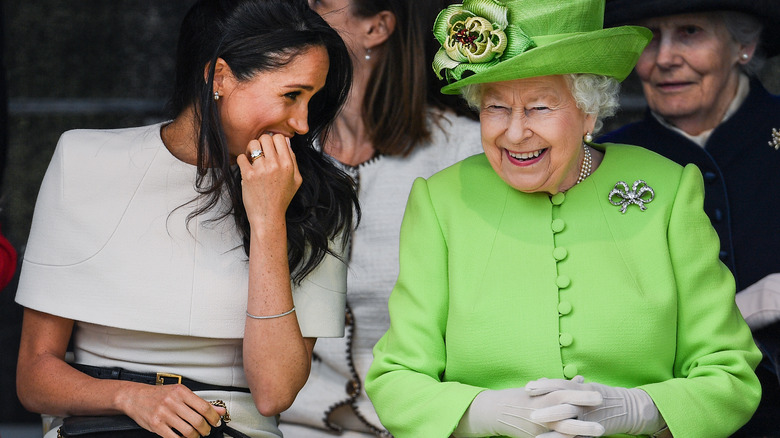 Jeff J Mitchell/Getty Images
According to the Daily Mail, Harry and Meghan have already been warned by Queen Elizabeth that the celebration is to be drama-free. As such, the couple plans to attend official events but has reportedly made a commitment not to "overshadow" the monarch during this important celebration.
But let's remember that as Page Six notes, drama seems to follow the parents of two wherever they go. And again, who among us isn't waiting to see Meghan and the Queen together again after all this time? Who among us doesn't want to witness the Queen meeting Lilibet (or see Lilibet at all!), just before she turns 1 on June 4th? Oh yeah — that.
It's the child's birthday this upcoming week and supposedly, her famous parents, who will be staying at Frogmore Cottage according to the Toronto Sun, are struggling to fit in a celebration amid the jubilee events. As a source said, "Harry and Meghan will want to celebrate Lilibet's birthday somehow with their family. But diaries are full on Saturday. There isn't much wriggle room to fit in a birthday party for a one-year-old."
But the family may spend private time celebrating Lilbet. That said, a source told the Daily Mail that no matter what "family issues" have come to pass, this celebration is to be about a display of unity.