How The May 30 New Moon Will Affect You If You're A Scorpio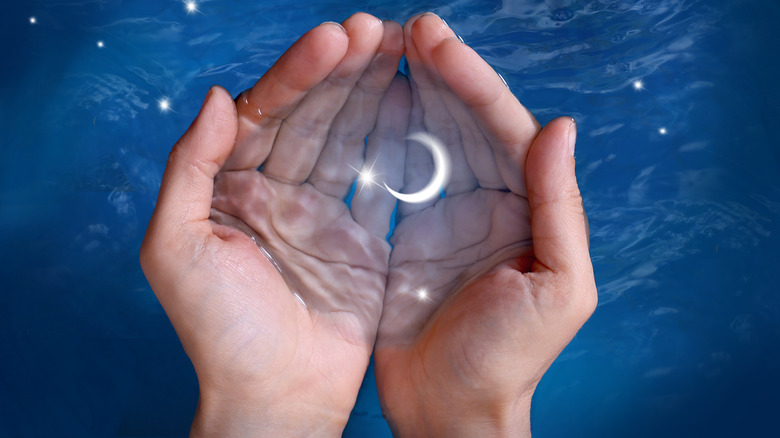 LilKar/Shutterstock
The new moon on May 30 falls under the sign of Gemini. The lunation is said to bring some high energy and a fresh start (via Bustle). New moons are known to be a great time to tap into your spiritual side and get in touch with yourself. According to StyleCaster, there are many ways to celebrate during a new moon, including setting intentions and manifesting new beginnings. Focus on your goals and dreams for the future and believe you can achieve them. Once you have some clear intentions, make a list of ways you can start to work toward those aspirations. Other ways to work with the energy of the new moon include lighting candles, self-care acts like herbal baths, meditation, journaling, or connecting with nature.
Woman and Home reveals that this month's new moon is all about transformations and shake-ups. Gemini's vibes are set to bring free-wheeling and free-spirited energy to life, despite the recent stress that some may have felt amid the Mercury retrograde and eclipses. For those born under the sign of Scorpio, the lunation will be about setting boundaries, new ideas and big dreams.
Scorpio needs to set boundaries during the new moon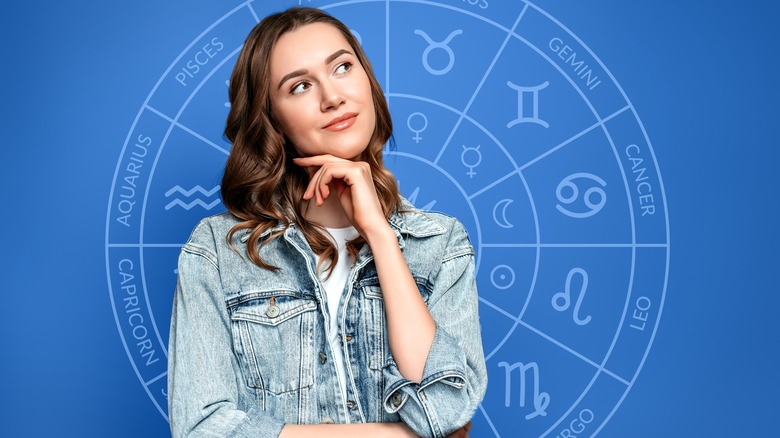 E.Va/Shutterstock
If you're a Scorpio (born between October 23 and November 21), the new moon on May 30 may have you focused on personal relationships and mental clarity. Intense and secretive Scorpios may find themselves dealing with some drama, whether it be from their own lives or the people around them, per Woman and Home. However, it will be important to set boundaries during this time so that you're not carrying around too much mental baggage, especially if it concerns others. However, if you do find that you've been pulled into a conflict, take time to examine all the sides before judging.
Bustle notes the eclipse that fell in the sign of Scorpio in early May might have taken an emotional toll on the water sign. However, if you feel that you've been giving too much of yourself away, the new moon energy will help you refill your cup mentally and emotionally. Set those boundaries and begin clearing the clutter from various areas of your life. Be easy with yourself during this time, and know it's okay to take all the time you need during the healing process. During this time, Scorpio should also be open to some new opportunities. Clearing out what wasn't serving them will open up this space in their lives.
Scorpio should keep their friends close during the new moon on May 30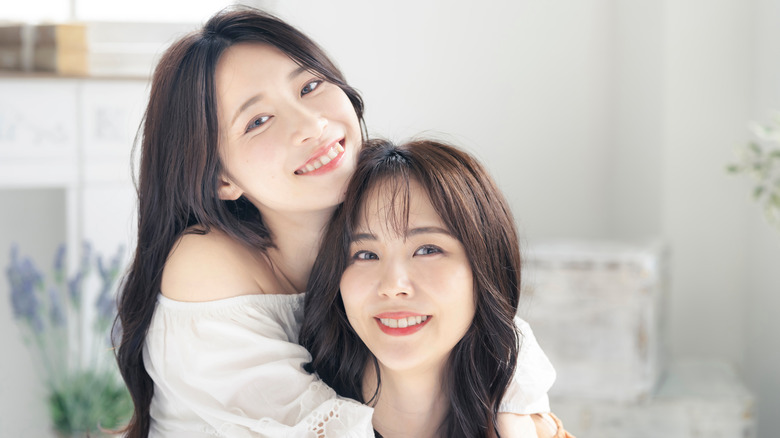 metamorworks/Shutterstock
InStyle reveals that the new moon on May 30 will highlight your close partnerships with family, friends, and co-workers. Scorpio may find themselves thinking about those connections and how they can team up with those close to them as a way to work toward goals with a trusted pal. Meanwhile, Allure claims that Scorpio could run into some snags in their work life, but that it will only help them show off how valuable they are and open the door for possible new opportunities.
According to Metro, the tarot card that lines up with Scorpio during the new moon is the Two of Cups. This card suggests that it's time to strengthen bonds with your close friends and use those relationships to celebrate life together. The new moon will bring plenty of energy that will leave you inspired to keep your friends close and surround yourself with love and happiness.
It appears that Scorpio may have a lot of ups and downs around the time of the new moon. However, with trusted family members and friends by their side, everything is sure to work out.