The Hollywood Stargirl Cast Shares Their Experiences With Filming - Exclusive Interview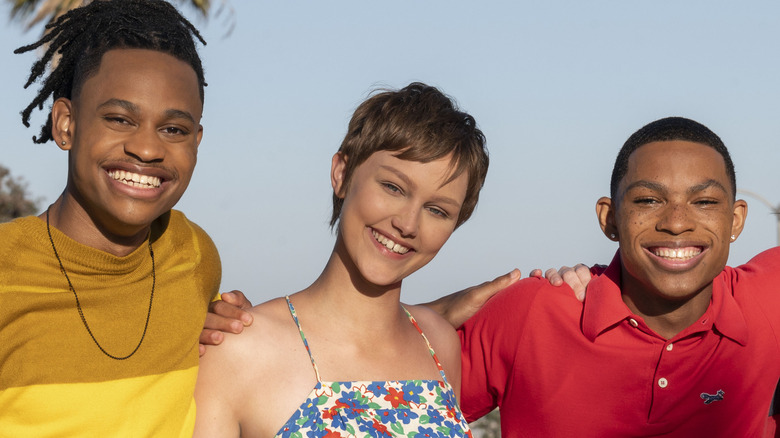 Disney+
To be unapologetically ourselves is something many of us aspire to achieve, and Stargirl Caraway makes it look so easy. The one thing she has always aspired to have, however, is a place to call home.
Fans of the first "Stargirl" film will remember that the high school teen and her mom are constantly moving all over the country. In the new sequel, "Hollywood Stargirl," Stargirl's mother has now landed a job as a costume designer in Los Angeles, a city full of dreamers. As the young singer searches for friends, she meets two brothers who have plans to make their first movie. Once they hear Stargirl's incredible voice, they know she's the missing piece to their masterpiece. The trio quickly sets out on the adventure of making their story a reality, and they meet some unexpected friends along the way.
In an exclusive interview with The List, "Hollywood Stargirl" stars Grace VanderWaal, Elijah Richardson, and Tyrel Jackson Williams took us behind the scenes of the new Disney film. The young cast discussed their favorite days on set, what it was like working with the legendary Uma Thurman, and how making a movie about making a movie isn't as easy as it seems.
On working with their co-stars and making a film within a film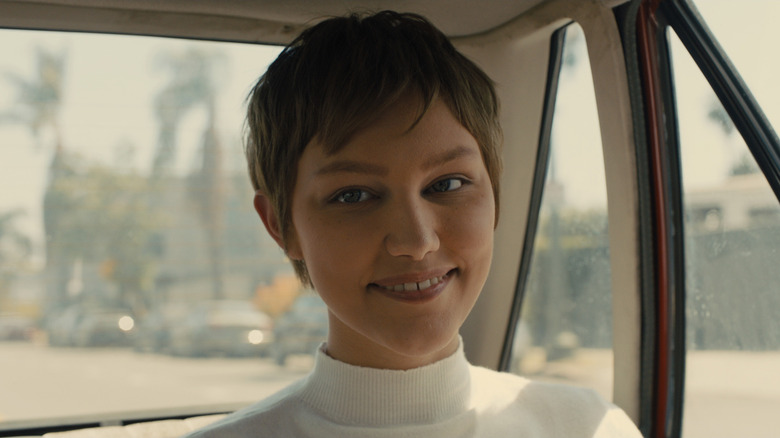 Disney+
Grace, how was this experience different from filming the first movie? Did you approach playing Stargirl any differently?
Grace VanderWaal: The first movie was the first movie I've ever done in my life, so that changed everything, and I was completely learning along the way. So I feel like that was probably the biggest difference. I had an idea what I was getting into.
Is there anything that you've learned from playing Stargirl?
VanderWaal: I've learned personally a lot about making movies. Everything I know about making movies is from "Stargirl." This is all I've ever done.
From her character, I've learned a lot about positivity and optimism. She always somehow can see the bright side of things, and that's very admirable. I like that about her.
Elijah, what was it like working musically with Grace VanderWaal and Uma Thurman?
Elijah Richardson: Well, they're both musically inclined past my level. It was awesome, even when the camera shut off, to be around that type of energy. It was dope.
Tyrel, did it feel surreal at all to film a movie about filming a movie?
Tyrel Jackson Williams: Absolutely. The lines got blurred constantly, so there would be times where we would have to say, "Okay, wait. Are we yelling 'Action!' for the movie? Are there going to be two [times someone says "action"]? Are there going to be more than two?" But it made it feel even less like we were shooting something and more like we were a big family coming together to make something nice.
The cast shares their favorite memories filming the movie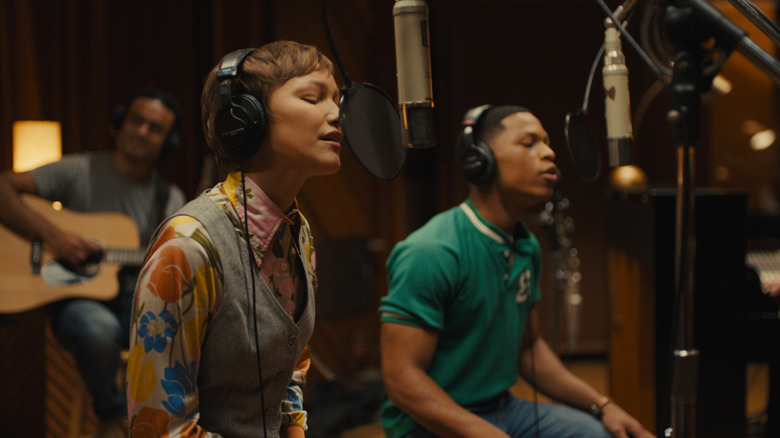 Disney+
Do each of you have a favorite on-set memory from filming this movie?
Jackson Williams: Yes. Well, I do. I know that my favorite memory is shooting the dance sequence on that street above with LA in the background. That was one of my favorite nights shooting anything, honestly.
VanderWaal: One of my favorite memories was crafty — why was that so weirdly bonding? [Laughs] I don't know why. It was such a good experience of going to get iced coffee in between takes, and I don't know. It's weirdly such a good memory.
Jackson Williams: It was our ritual.
VanderWaal: It was a ritual, yeah.
Richardson: One of my favorite memories was when we all came together at the table to eat in front of our apartments. I thought that was so dope to see how everyone came together and had that sense of realization that we just made a movie. Let's celebrate! That was pretty dope.
"Hollywood Stargirl" is available to stream Friday, June 3 exclusively on Disney+.
This interview has been edited for clarity.