What Really Happened To Neil Byrne On General Hospital?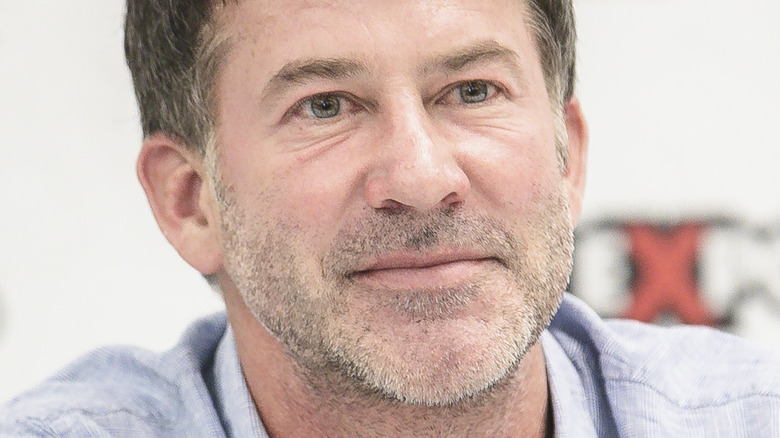 Brian De Rivera Simon/Getty Images
Psychiatrist Neil Byrne first showed up in Port Charles in 2019, played by actor Joe Flanigan, who has a long list of television credits to his name. The character was first introduced during a meet-cute with Alexis Davis (Nancy Lee Grahn) at Charlie's Pub, according to Soap Central. The two flirted, but things soon became awkward when he turned out to be her new therapist. Pushing their feelings aside, Neil remained dedicated to helping Alexis sort through their issues and became deeply invested when Alexis' daughter Kristina Corinthos-Davis (Lexi Ainsworth) became enmeshed in a dangerous cult called Dawn of Day.
Neil was able to help extricate Kristina from the cult and his relationship with Alexis grew stronger (via Soaps In Depth). After Neil confided in Alexis about the death of his daughter, he decided that he could no longer treat her as a patient because he had crossed a professional line — on the plus side, they could start dating! Unfortunately, Neil was beholden to a pesky little law that stated he couldn't begin a romantic relationship with a patient within two years of treating them. When he and Alexis were caught at a hotel together, Neil lost his medical license and Alexis was disbarred. After the mutual destruction of their careers, Alexis and Neil decided they had nothing left to lose and committed to each other.
Neil Byrne was found dead in Alexis Davis' bed
In August 2020, the morning after the two consummated their relationship, a horrified Alexis awoke to find Neil dead in her bed, according to Soaps In Depth. After an autopsy, doctors revealed that Neil had died of an opioid overdose thanks to the product that crime lord Cyrus Renault (Jeff Kober) unleashed on the streets of Port Charles. Alexis was in disbelief having no knowledge of any previous substance abuse by Neil and having witnessed no obvious signs of drug use. Soon after, a syringe was located underneath Alexis' bed and she was forced to accept the PCPD's account of what happened, though she still couldn't imagine the upstanding doctor using drugs while she slept in bed next to him.
A distraught Alexis tried to attend Neil's memorial service a few days later, but was accosted by Neil's brother Brendan Byrne (Josh Coxx), according to Soaps. He blamed her for his brother's drug use, overdose, and death, before throwing her out. Alexis, a recovering alcoholic, then began drinking again to soothe her pain, starting her down a road of total destruction that would end in a prison sentence.
Harmony Miller confessed to Neil Byrne's murder
While Alexis was serving time in a minimum-security jail, she struck up a friendship with Harmony Miller (Inga Cadranel), who had been publicly outcast due to her previous involvement with Dawn of Day leader Shiloh Archer (Coby Ryan McLaughlin), according to Celebrating the Soaps. After Alexis was released, the two continued their friendship and Alexis invited Harmony to stay in her home while she was saving money for her own apartment. Soon after, Alexis became suspicious of Harmony when the other woman seemed to be too familiar with her house.
Then, years after Neil's death, Carly Corinthos (Laura Wright) stopped by Alexis' place and caught Harmony burning documents in the fireplace. Snagging a piece of paper, Carly realized that Harmony was destroying case notes from therapy sessions with Neil Byrne in which she revealed that Willow Tait (Katelyn MacMullen) was not actually her biological daughter (via Soaps in Depth). Harmony eventually confessed to Carly and Alexis, just before her death, that she had been responsible for killing Neil, having snuck into Alexis' bedroom that fateful night, where she injected him, petrified that he was going to spill her most closely guarded secret. She also admitted to killing his brother Brendan Byrne because he was getting too close to the truth. Although that truth doesn't bring Neil back from the dead (though, never say never), Alexis found solace in the knowledge that her instincts had been right about the man she cared so deeply for.