Was Bringing Diane Jenkins Back On Young And The Restless A Mistake?
"The Young and the Restless" fans and the residents of Genoa City, the fictional town where the soap takes place, were shocked in spring 2022 when longtime character Diane Jenkins, who was thought to be dead for more than a decade, turned up very much alive. She was being played by the second actress to take on the role, Susan Walters, according to TV Insider.
When Diane was allegedly murdered back in 2011, Maura West had just brought Diane to life for over a year, and, in that short time, the character made such a mess of her life and alienated so many people that it was no wonder back then that she was killed. 
Of course, it turned out that Deacon Sharpe (Sean Kanan), the man who was thought to deliver the final blow that killed Diane, was the one who really helped her fake her death (via Soaps In Depth). Diane chose this route so she could spend years trying to put her life back together, abandoning her now-adult son, Kyle Abbott (Michael Mealor), along the way. 
But did "The Young and the Restless" make an error with Diane's resurrection?
Genoa City citizens are not happy to see Diane
Learning that Diane Jenkins was alive was a shock to many of "The Young and the Restless" characters who hated her for years. Phyllis Summers (Michelle Stafford) is practically losing her mind trying to figure out what her former — and once-again — enemy is up to. In fact, Phyllis just kicked her out of her hotel because she was exasperated with her (via Daytime Confidential). 
Ashley Abbott had quite a few snarky remarks when she learned that Diane was back (via Soap Hub). And what about Nikki Newman, the woman who was accused of murdering her? Well, she and Diane already had a fight right in the middle of Sharon Rosales' coffee shop, Crimson Lights, and Nikki's daughter, Victoria Newman, had to break up (via Soaps In Depth).
Diane said she wants to start fresh and make amends for all the trouble she caused, especially with her son, Kyle Abbott, who was living in Italy when Diane made her presence known in March 2022. Now, he's is back in Genoa City for good (via Soaps.com) and wants to try to get to know his mother. 
However, are the character's actions regarding her son irredeemable?
The villain abandoned her son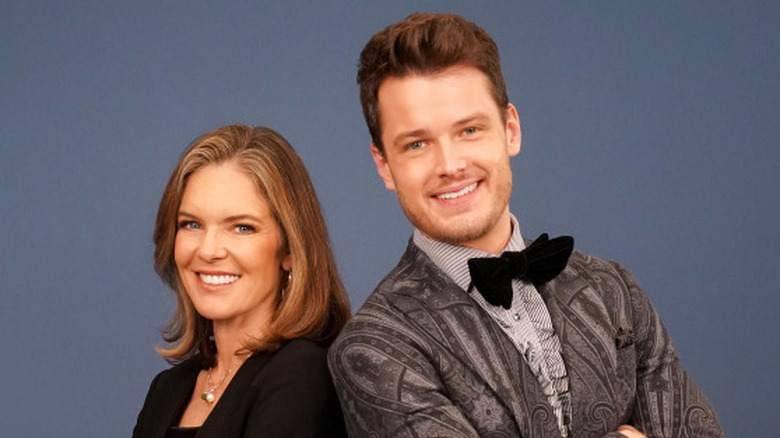 Sonja Flemming/CBS
When Diane Jenkins was allegedly killed on "The Young and the Restless," she was still raising a young Kyle Abbott, the son she gave birth to after she got ahold of some of Jack Abbott's sperm. She had just arrived back in town a year prior so that Jack and Kyle could get to know each other better. 
However, when she realized she had alienated too many people during her latest stay in Genoa City, she shipped Kyle off to boarding school so he wouldn't be around when her supposed death became big news, according to Soaps In Depth.
That means she essentially abandoned her young son and allowed him to grow up without his mother, believing she was brutally murdered. That affected Kyle's life from then on. As Soaps.com points out, Diane makes her return appearance as someone the town hates and whom the audience also might not want around, considering she already comes with a reputation for child abandonment. 
With that child now being one of the most popular leading men in soaps today, it might be an uphill climb for a character like Diane to make her way into fans' hearts.