Chris And Calvin LaMont Of Buy It Or Build It Share How They Got Into Design - Exclusive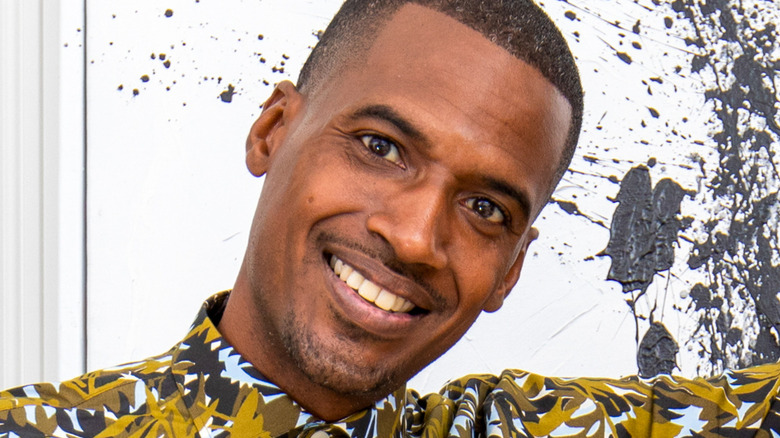 HGTV
Watch enough home improvement shows, and you start to notice a pattern. Their handy hosts tend to have one of three origin stories: They were either introduced to the construction trades early by their parents, developed their own interest in making things while young, or somehow accidentally fell into it.
Dallas-based twin brothers Chris and Calvin LaMont, stars of the new HGTV show "Buy It or Build It," fall squarely into the third category. They didn't start out with dreams of designing and building homes — their original career goal was professional football. Nor did they grow up with a hammer-wielding dad or uncle mentoring them as they advanced from building birdhouses to bookcases to decks.
But this didn't stop them from building a successful business constructing, renovating, and selling homes — and attracting enough notice to land their own TV show, in which clients decide between buying an existing home for Chris to remodel to their specifications or building a new home designed for them by Calvin. In an exclusive interview, the LaMont brothers shared the professional journey that led them to "Buy It or Build It."
They've always worked as a team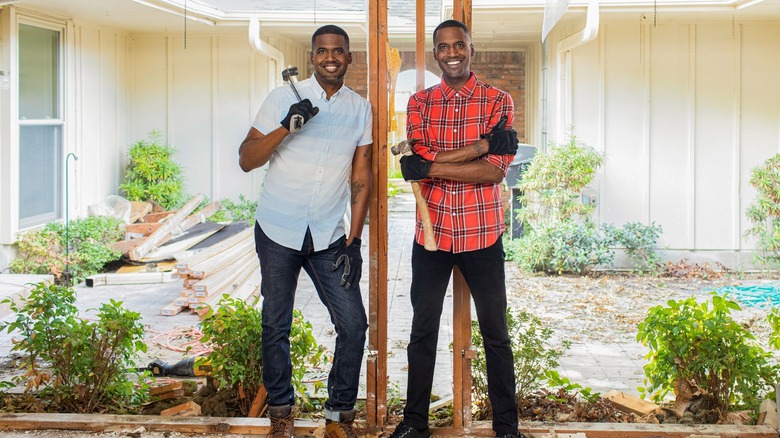 HGTV
While some siblings — even twins — may bristle at always being identified with (or mistaken for) one another, Chris and Calvin LaMont have happily worked together all their lives. "We've always worked together," Calvin LaMont said, "[We played] on the same athletic teams growing up in all different sports, so we know how to work together ... we understand the goal is to be successful and make sure whatever we're doing comes out in the way that we imagine it and [had] visioned it."
Because they've spent so much time together, both picked up the same skill sets, and each can seamlessly fill in for the other on their projects. "The one good thing about being twins and growing up together ... We grew up pretty much doing the same thing," Calvin Lamont said. "We're both alpha males, we're both opinionated, and we both always like to compete, but compete in the same thing. That gave us the same skills."
When football didn't work out, they set their sights on real estate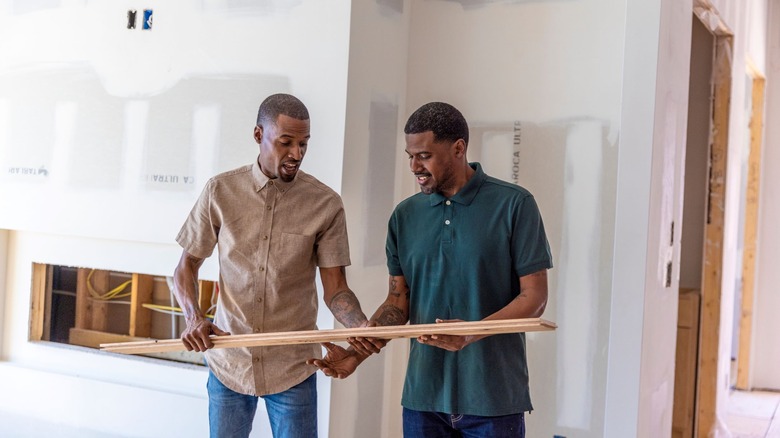 HGTV
Playing for the NFL is the dream job of many American boys, and the LaMont twins were no exception. They made it closer to their NFL dream than most, playing college football at Lehigh University (via HGTV). There's a huge difference between college and pro ball, and the brothers were clear-eyed enough to see the writing on the wall. 
"When we were in college, the football dreams were starting to go down, because we were a little smaller than we should be for the NFL," Chris LaMont said. "Once we realized that, we wanted to make a pivot. We were like, 'Okay, we want to do real estate.' ... during that time, people were flipping homes, and we were like, 'Okay, you make good money.'"
But to flip houses, you need money — so they decided on a janitorial and cleaning service business to start making money quickly. "That's something that has low barriers to entry," Chris LaMont explained. "Me and Calvin feel that if we got into a job or a career, we might get stuck in there and never get out. We wanted to be entrepreneurs from the beginning, so we stayed focused on that." 
Their business soon took on damage restoration projects, which introduced them to building and remodeling. "That's how we learned through the experience when we were in our early twenties," Calvin LaMont said. "By 27, we started doing our own projects, and designing and building all of those."
Follow Chris and Calvin LaMont's latest updates at @TheLamontBrothers, @TheChrisLamont, and @TheCalvinLamont on Instagram, Twitter, and Facebook. New episodes of "Buy It or Build It" air Wednesdays at 9:00 p.m. ET/8:00 p.m. CT on HGTV.