TikTok Favorite Tinx Reveals Her Must Have Beauty Items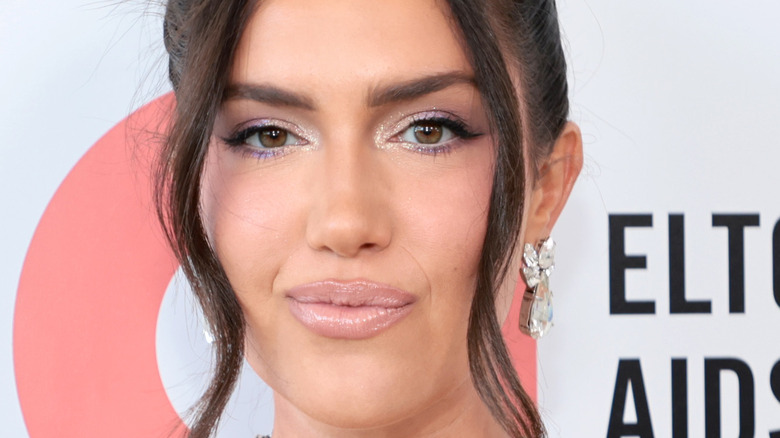 Jamie Mccarthy/Getty Images
We may receive a commission on purchases made from links.
Christina Najjar, otherwise known as Tinx, has made a name for herself on TikTok. Her main thing is offering advice, particularly on relationships. In fact, her popular Box Theory offered a new perspective on dating for many. Her witty approach is cemented by her bio, which calls her "the oldest girl on TikTok." In a Vogue interview, she revealed that her moniker, Tinx, originates from the 1998 film "Strike!," in which Monica Keena played a character named Tinka Parker. Wanting to be as bold as Keena's character, Najjar took on the name Tinka, which eventually turned into Tinx.
There's no doubt Tinx is clever — she has a master's degree in fashion journalism (via The New York Times). However, her appeal comes down to the persona she displays in each of her videos. She is approachable, encourages self-love, and takes a no-nonsense approach to everything she talks about, whether that's salad recommendations (she had her own limited edition bowl at Chipotle, aptly named The Tinx Bowl (via Observer), or rejection. 
It's pretty clear that Tinx's opinion matters to people. At the moment, she has one and a half million followers on her TikTok account. In her own words, Tinx's content on TikTok "feels more authentic than the 'Instagram' lifestyle we saw in our twenties" (via Grazia), and it's this authenticity and honesty that keeps fans wanting to find out what her beauty must-haves are.
Her straightforward approach has earned her the name of TikTok's big sister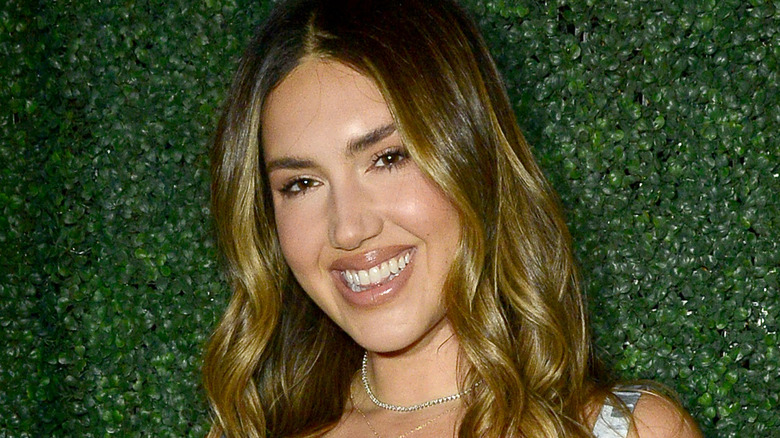 Jerod Harris/Getty Images
With all of the photoshoots she does, many of which can be seen on her Instagram, Tinx changes her look pretty often. It's this willingness to change that is part of her relatability. Recently, she dyed her hair darker from its usual dirty blonde, and told PopSugar, "I just felt like I needed to usher in a new era and just try something new. I'm really happy with it."
Along with discussing her new hair color, the TikToker also revealed a few of her beauty must-haves. Tinx shared she can't live without The Skinny Confidential Hot Mess Ice Roller for de-puffing her face — a product that can often be seen in her videos. As for her hair, she swears by the Bed Head Tigi Hair Stick and the Ouai Treatment Mask for Fine Hair. In typical dramatic style, she calls the Ouai mask "literally life-changing." Well, we're convinced. 
As for makeup, it seems Tinx is susceptible to buying TikTok trend products just like the rest of us. TikTok is a leading influence on the skincare and beauty market at the moment, with makeup-blending tips and tricks teaching us all how to make our base more flawless. Tinx's at-the-moment faves are the NYX Double-Sided Contour Stick and the Charlotte Tilbury Wand. She calls the wand "absolutely incredible," lamenting that it "is literally sold out forever" but definitely "worth the hype." 
Tinx is big on self-care too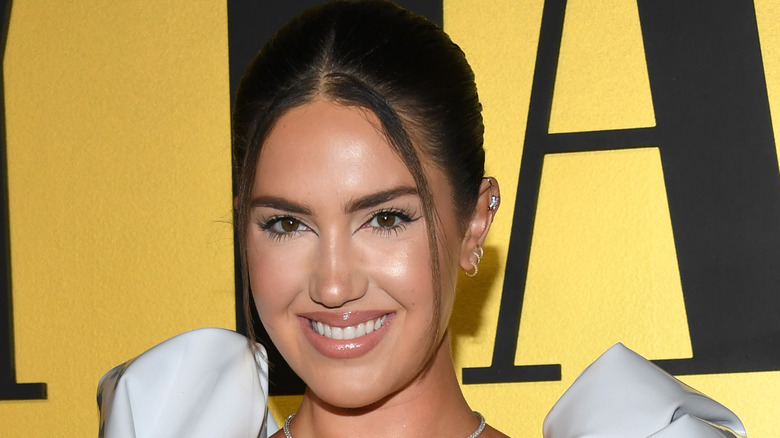 Jon Kopaloff/Getty Images
Along with makeup and skincare, Tinx is also a huge fan of self-care. A self-proclaimed "product girly" (via Byrdie), she updates her TikTok followers regularly on what helps her stay relaxed after a busy streak. Speaking to Harper's Bazaar, Tinx revealed that she is a candle lover, citing Byredo's Burning Rose as her current favorite scent. As for other ways to let go, she told Glamour that her current obsession is face masks, stating, "I do a sheet mask of some form almost every day. I think it's so relaxing." In terms of brands, she named Dr Jart as one of her ultimate go-to's.  
Although it may seem simple, sharing her skincare, makeup, and self-care tips have helped Tinx get to where she is. Her businesswoman-like approach to TikTok means she seems to have it all figured out — and to an extent, she does. Her "Rich Mom" persona earned her a collab with Gwyneth Paltrow, and her approach to dating culture led to a podcast named "It's Me, Tinx" (via Bustle). With everything she has achieved in the past couple of years, there's no telling what Tinx will get up to next.