The TikTok Makeup-Blending Trend You Have To Try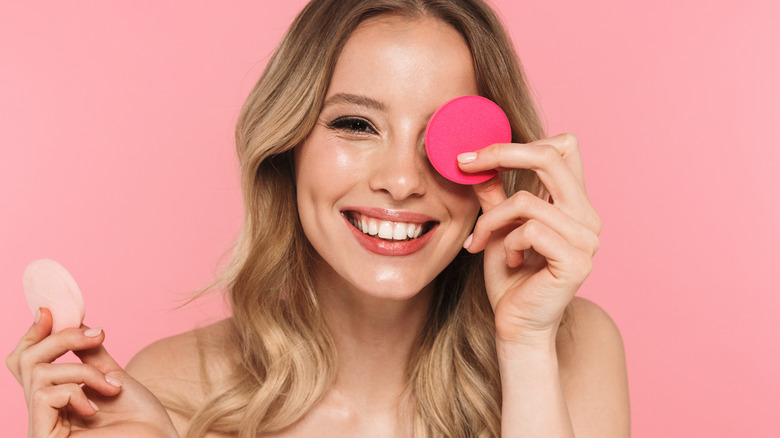 Dean Drobot/Shutterstock
The beauty aisle is filled with anti-aging creams, but did you know that the way you do your makeup can also give you a youthful glow? One of the oldest makeup tricks is applying blush on your cheeks to get a flushed, sun-kissed look. Plus, adding a little color to your cheeks is actually one of the quickest ways to look younger (per Style Caster). Creamy blushes are better at achieving a rosy cheek look because they're more hydrating and blend more easily. Regardless of the formula you use, blush is a must-have makeup product.
Additionally, any makeup bag feels incomplete without concealer, especially since it's probably the most versatile and multi-tasking makeup item you can buy. Valeria Sarnelle, a makeup artist for several celebrities, told Self, "The concealer should be creamy — not greasy or dry — and easy to apply." Concealer can help with the cut crease trend, cover up dark under-eye circles and random blemishes, even out your skin tone, and give your face a lifted appearance when strategically placed (per Byrdie). It's available in various textures, which is great, but you always want to consider your skin tone when picking out this product. That way, it'll seamlessly match you without looking chalky. 
Now, thanks to TikTok, you can actually mix these two treasured makeup products to cover up dark circles, brighten your eyes, and give your face a little lift, all at the same time.
The TikTok hack of adding blush to your under-eye concealer is genius
TikTok is the go-to social media platform to discover cult-favorite beauty products and to learn makeup hacks — like the viral 'Clean-Girl' beauty trend — which we might never know about otherwise. According to NPR, the hashtag #TikTokMadeMeBuyIt has over 8 billion hits (and counting) as of January 2022. When you pull up the hashtag, you can learn about fabulous new trends and rediscover tried-and-true products that manage to go viral because millions of people love them. One such makeup trick involves blending blush with your under-eye concealer. 
SPENCER (@paintedbyspencer) a makeup artist on the popular app, effectively started a riot when he uploaded a video of himself mixing blush with concealer. He said, "If you're not blending your blush up to your under-eye area, you're missing out — just saying." SPENCER also shared that this trick can essentially erase dark circles and make eyes brighter looking at the same time (via Byrdie). Ariel Tejada, a celebrity makeup artist, also tried this makeup trick on Kylie Jenner. Artfully placing a little pink on the under-eye gave Jenner a natural look and a clear complexion, per Allure. This easy trick can give you a radiant, lifted appearance. Who would have thought adding a little blush under your eyes could do all that?
How to try the blush-concealer trend and why it works on everyone
This TikTok beauty trend is an easy way for those struggling with dark circles to say bye-bye to tired-looking eyes. In another video, TikTok makeup artist SPENCER shared that blush works so well on your under-eye area because colors like "pink, peach, or coral" offset the darker skin by implementing a simple technique called "color correcting" (via Byrdie). Lauren Purvis, another makeup artist, similarly told the outlet, "We usually call this underpainting, which gives a lift to the face and adds color simultaneously." 
While the trend works great for those with medium or fair skin tones, Purvis recommends adding "blush higher on the cheek for the same effect if you have a deeper skin tone." The little trick went viral, and it was not long before tons of makeup artists were sharing their take on it. Beauty Content Creator Alissia (@makeupbyalissiac) used the combination of liquid blush and concealer serum with a concealer brush as her take on the original trend. She topped off the look with a pink powder blush to set it in place, per Allure. Tommy Napoli, a makeup artist who currently resides in the Big Apple, told the outlet, "Blush should be applied as high up on the apple of the cheeks and as close to the under eyes as possible," because applying blush higher gives the "illusion of higher cheekbones."
We don't know about you, but this hack sounds like a dream come true!