Is Garlic Really Banned At Buckingham Palace?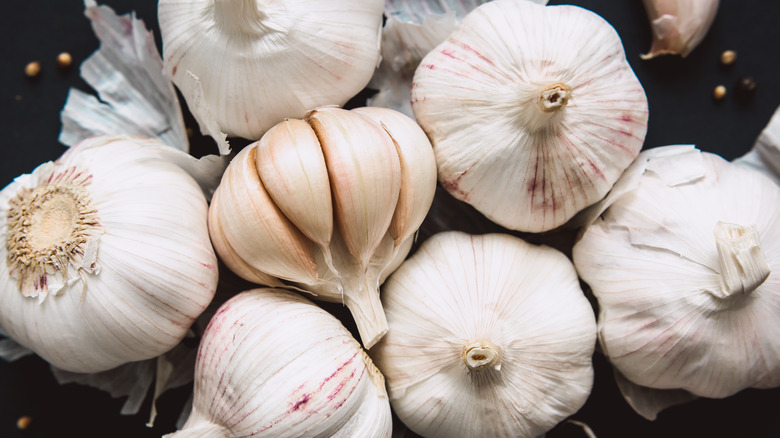 Ekaterina Bondaretc/Shutterstock
Living life as a royal may not be as simple as it seems. There are a lot of rules and regulations to follow, even when it comes to food. At Queen Elizabeth's request, certain ingredients are banned from touching the plates of the royal household — including the humble garlic. This simple addition to any dish can open up a world of flavors, which is why it's quite a surprise for such an ingredient to be banned outright from the kitchens of Buckingham Palace.
According to a former royal chef, the reason is as simple as the queen not being a huge fan of its strong flavor. Speaking to RecipesPlus (via Newsweek), Darren McGrady revealed that they were never allowed to "serve anything with garlic or too much onions," as well as "meat that was rare, as she liked her meat well done."
Another former royal chef, John Higgins, said that the royal family was "missing out" on what garlic can add to a dish. "The Queen is a wonderful lady, the royal family are wonderful people but they're missing out on garlic because at Buckingham Palace you don't cook with garlic," he told the National Post. "I suppose, in case you get the royal burp."
Garlic isn't the only food banned in Buckingham Palace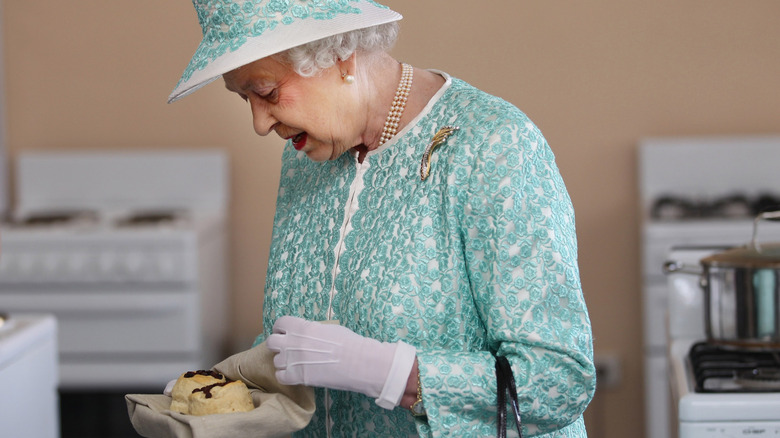 Pool/Getty Images
John Higgins might just be on to something. During an appearance on "MasterChef Australia," Camilla Parker Bowles was asked about the garlic fiasco. "I hate to say this, but garlic. Garlic is a no-no," she said (via Delish). Gary Mehigan, one of the judges on the show, suggested that this aversion was down to bad breath — to which the Duchess of Cornwall agreed. "Yes, exactly," she said. "So you always have to lay off the garlic." The same can be said for onions, however, Mashed suggests that chefs are allowed to use onions once in a while.
If you thought the ban on garlic was strange enough, it turns out there are a lot more ingredients that rarely enter the kitchens of any royal residence. According to Delish, this includes pasta and rice due to it being "too starchy and filling," potatoes, and any fruit or vegetable out of season.
The queen is very particular about the latter, as former royal chef Darren McGrady explained to RecipesPlus (via Newsweek). "You can send strawberries every day to the Queen during summer at Balmoral and she'll never say a word. Try including strawberries on the menu in January and she'll scrub out the line and say don't dare send me genetically modified strawberries."
Queen Elizabeth's favourite food is very surprising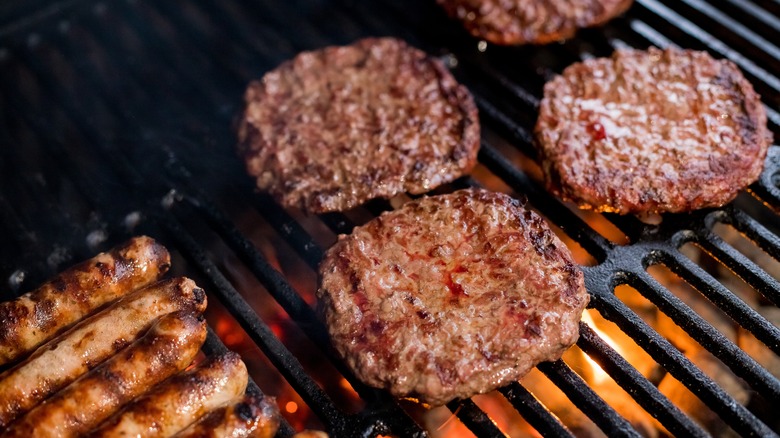 Yulia YasPe/Shutterstock
Queen Elizabeth may have her particular tastes, but there are certain foods that will bring joy to the monarch. Unexpectedly, this includes a traditional hamburger. While former royal chef Darren McGrady has said that the queen avoids fast food, she would often request a particular kind of burger — one preferably without the bun. "It always tickled me at Balmoral, we would make our own burgers," McGrady told Us Weekly. "They would shoot deer, and we would do venison burgers. There'd be gorgeous cranberry and everything stuffed into them, but we never set the buns out," he continued, adding that the royals would eat their burgers with a knife and fork instead.
The monarch's love of burgers comes as no surprise really, as the royal family loves a good barbeque — especially the late Prince Philip. "He adored barbequing and he turned that into an interesting art form," Prince Charles said in a BBC tribute to the Duke of Edinburgh (via the Independent). "And if ever tried to do it he ... I could never get the fire to light or something ghastly, so [he'd day]: 'Go away!'"