The Best Coral Nail Polish You Can Buy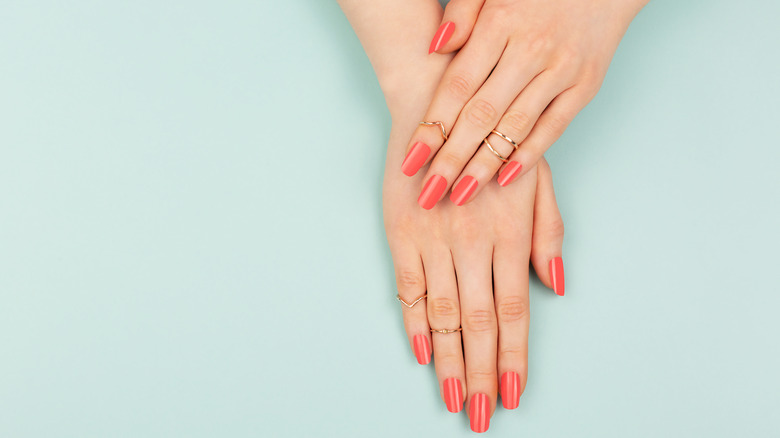 YuliaLisitsa/Shutterstock
We may receive a commission on purchases made from links.
Coral is such a lively color! This bright hue features a blend of oranges and pinks and according to Color Meanings, gives off a welcoming, uplifting, and unique vibe. The color coral rose to popularity in 2019 when Pantone named Living Coral as their official Color of the Year for 2019 (via Pantone). The trusted color specification company explained how coral is an excellent hue to use in the beauty world: "Uninhibited, playful looks are also emboldened by Living Coral, which, as the center of a kaleidoscope of color, encourages experimentation in beauty with palettes, textures, shimmers, and sheens."
The vibrant color will never go out of style and as Pantone mentioned, is perfect for beauty products. For instance, rocking coral nail polish is a great way to flaunt a bold color if you can't decide between pink and orange. Coral is such a fun nail polish color that there are hundreds of thousands of posts devoted to it on Instagram! If you're interested in painting your nails with coral polish but don't have any at home, we know all the best options for you to purchase.
These are the best coral nail polishes
Whether you're shopping for yourself or are on the hunt for the perfect gift for the nail fanatic in your life, you should be sure to invest in a highly trusted coral nail polish. Who What Wear explained that this neon color looks flattering on all skin tones and rounded up some of their favorite options. One of their top picks is the Coral-ing Your Spirit Animal Infinite Shine nail polish by OPI. Available at Beyond Polish for around $8, this light coral polish creates a glossy look and can keep up its appearance for over a week.
On the other hand, if you're willing to splurge on a designer nail polish, Who What Wear also recommended Dior's Mirage Vernis Nail Lacquer. You can purchase this vibrant polish at Dior for $28. Featuring unique extracts of peony and pistachio, this is a truly high-quality product.
Refinery29 noted some of their top picks for coral nails, too. For instance, they recommended the Trouville NARS Nail Polish as a more subtle coral option, so if you've never worn this color before, then this product is probably a good choice for you. Available on Amazon for around $22, this coral item has more of a pinkish tint and produces a satin finish.
Some more excellent coral nail polishes
If you're searching for even more coral nail options, Best Products listed some of their favorites. For instance, ZOYA's Heidi Nail Polish has a shiny look and features just the right blend of pink and orange hues. You can purchase this item on Amazon for $10 and at Walmart for around $8.
Are you looking for a coral nail polish that has a bit of sparkle? If so, Best Products suggests buying Essie's Soda Pop Nail Polish in Out of the Jukebox, which you can purchase on Amazon for only around $7.
While all of those polishes make excellent options for coral nails, we just couldn't stop there because StyleCaster rounded up some more recommendations. For instance, if you desire a bold hue with a more orange finish, Ella+Mila's Samba Collection Nail Polish in Cause I'm Happy will give you exactly what you're looking for with its orangey appearance. You can purchase this product at Ulta for around $10, where it has a glowing, near-perfect rating. But if you prefer coral hues with more pinks than oranges, you'll enjoy Orly's Nail Lacquer in Blazing Sunset, also available at Ulta for about $10.
So, which of these coral nail polishes are you going to try first?