Jill Biden Opens Up About How Her First Marriage 'Fell Apart'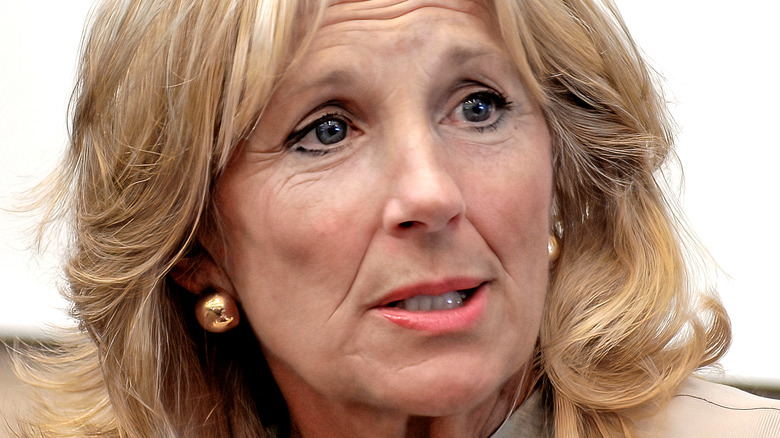 mark reinstein/Shutterstock
It's hard to imagine President Joe Biden married to anyone other than the first lady, Dr. Jill Biden. However, both the president and first lady had previous marriages before they tied the knot. Tragically, Joe's first wife, Neilia Biden, passed away in a car accident, along with their one-year-old daughter Naomi (via the Daily Orange). The president's then-young sons, Hunter and Beau, were injured in that very crash, altering the course of Joe's life forever. 
Finding love after such a huge loss couldn't have been easy for the lawmaker, but when he met the first lady, he knew she was the one. However, Dr. Biden wasn't initially convinced. It took the former vice president popping the question a grand total of five times before she agreed to walk down the aisle with him. Now, they've been happily married for decades (via TIME).
Dr. Biden's refusal to accept the first four proposals was rooted in her fear of marriage, as she admitted in her 2019 essay for TIME. When her path crossed Joe's, she had recently come out of a marriage that ended in divorce and was afraid to take that step with someone else again. Revisiting the topic of her first marriage, Dr. Biden opened up to Harper's Bazaar, giving a detailed account of what went wrong with her first marriage that left a lasting impression.
Jill Biden's first marriage left her in a vulnerable position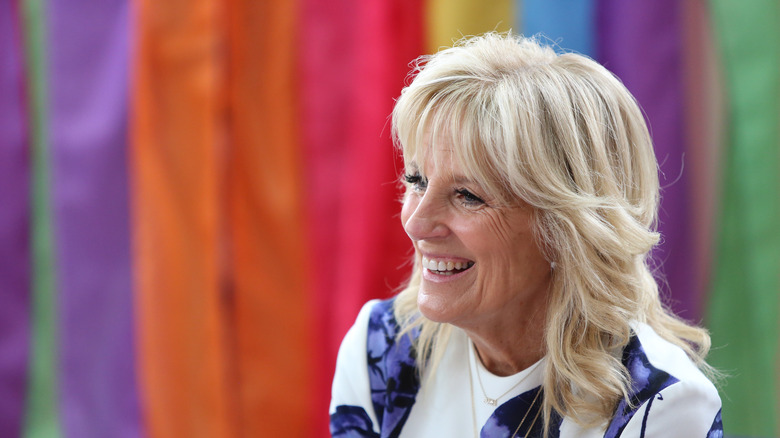 Agencia Press South/Getty Images
When Dr. Jill Biden met the widowed Joe Biden, she wasn't as firm of a believer in romance as she had been before her first marriage ended, and in an essay written for TIME, she opened up about her life-altering experience with love. "After the disappointment of my divorce, I never wanted to feel so out of control of my heart again," Dr. Biden shared in 2019. "But in the months that Joe and I were dating, that desire ran up against a new reality: I was falling in love."
Recently, the first lady once again opened up about the struggles in her first marriage that left her guarded when she met Joe, telling Harper's Bazaar that she felt as though she didn't have control over her life in her first marriage.
"I believed so much in the institution of marriage," she shared. "When the marriage fell apart, I fell hard because of that." 
Money was one area that was especially difficult for the new divorcee, who was putting herself through graduate school and raising her daughter. "I knew I would never, ever put myself in that position again — where I didn't feel like I had the finances to be on my own, that I had to get the money through a divorce settlement," Dr. Biden shared. 
However, the first lady was able to find a balance between work, family, and finances in her marriage with Joe, despite the pain she went through in her first union. They've been making their bond — and blended family — work for nearly 45 years!