Mama June Shannon Has Happy Relationship News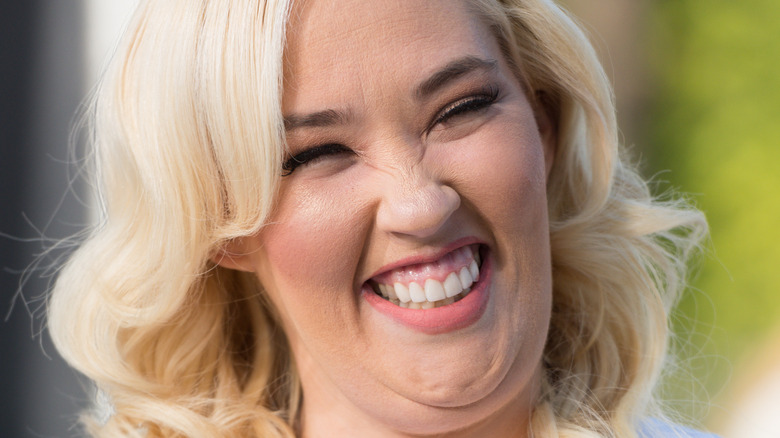 Noel Vasquez/Getty Images
"Mama" June Shannon's life could rival that of any soap opera character. She burst into the reality world as the outspoken mom of "Toddlers & Tiaras" star Alana Thompson, and then flaunted her family's redneck image on "Here Comes Honey Boo Boo." In her subsequent series, Shannon went "From Not to Hot" after weight-loss surgery, but experienced a "Family Crisis" as a result of a toxic romance and a drug addiction that cost nearly all the money she had. Currently, fans are following her on "Road to Redemption," in which a newly sober Shannon tries to regain her four daughters' trust while finding some happiness of her own.
Mama June's relationship with Alana, formerly known as Honey Boo Boo, is slowly mending. Although Alana is still living with her older sister Lauryn Efird, she and her mother were on good enough terms to appear as a duo on "The Masked Singer" in the fall of 2021. They were quickly eliminated — singing isn't one of their strengths. But Shannon calls it "an emotional experience" that was fun (via People). Since then, Shannon has been working on the new season of "Redemption" while also maintaining an active social media presence. For extra income, she offers greetings on Cameo and has a line of merchandise (for those who can't get enough of the phrase, "You betta redneckognize"). 
But her biggest news to date has nothing to do with TV cameras, oversized costumes, or T-shirts. It seems this Mama has made it official with the new man in her life.
Mama June is a Mrs. once again
Us Weekly reported on May 31 that Mama June Shannon quietly got married two months earlier. Her new husband, Justin Stroud, is an auto mechanic from Georgia who she dated for about a year beforehand. In a recent interview with The U.S. Sun, Shannon said, "We were best friends and we decided to take it to the next step in the last eight months." She credited him with helping her get her life together, and added that Stroud's thoughtfulness is part of his appeal. "He would send these sweet messages saying, 'Hey, how are you doing? Hope you are having an amazing day.' Noticing the little stuff, that's what made me fall for Justin," she told the outlet.
Convincing her daughters was another matter. In another interview with U.S. Sun, Shannon admitted that Alana, Lauryn and Jessica were "standoffish" with Stroud at first because of his troubled history. In February 2022, Stroud was arrested on an outstanding warrant related to drug and burglary charges. But all is well now between the girls and her new husband: "They have grown to you know, love and appreciate him," she said. "They all get along now, I mean, he's been to a couple of family adventures with us and we hang out as a family."
Prior to her current marriage and her disastrous romance with Geno Doak, Shannon had a long-term relationship with Alana's father, Mike "Sugar Bear" Thompson (via Showbiz Cheat Sheet), as well as the fathers of her three older daughters.