Kate Middleton Blows Everyone Away In A Stunning White Ensemble To Honor The Queen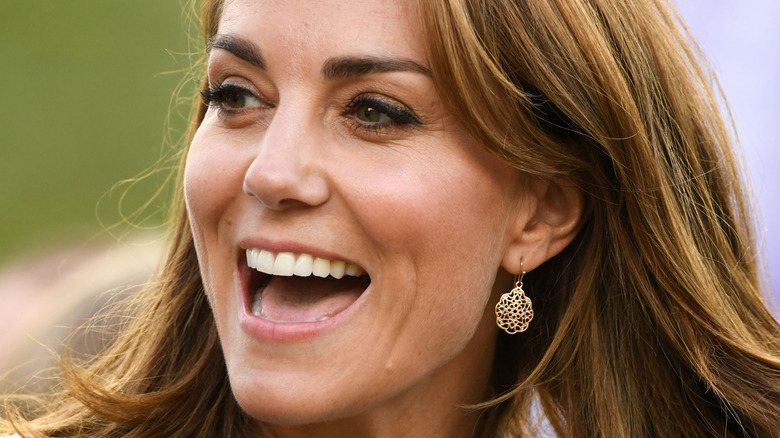 LINGTREN.COM/Shutterstock
If we are excited about any aspect of the Platinum Jubilee honoring the Queen sitting on the British throne for 70 years, it is of course seeing what Kate Middleton (and Meghan Markle) are wearing. After all, the Duchess of Cambridge's fashion is admired worldwide, with both her most dressed-up and casual looks being copied by legions of adoring fans.
Take Kate's laid-back khaki ensemble which she rocked while on the recent royal trip to Belize. From the royal's sneakers to her T-shirt, we couldn't get enough details about what brands she chose for the occasion. We are equally fascinated by Kate's formalwear, with a recent example of an envy-inducing gown being the black-and-white dress she donned for the "Top Gun: Maverick" London premiere, where fans incidentally picked apart every aspect of her interaction with star Tom Cruise.
On the occasion that Kate is honoring Queen Elizabeth for this week's celebrations, we got our first look at the mom of three during the Trooping the Colour which saw the so-called working members of the royal family greet fans from the balcony of Buckingham Palace (via ABC News). And Kate did not disappoint!
Kate Middleton's white outfit featured meaningful touches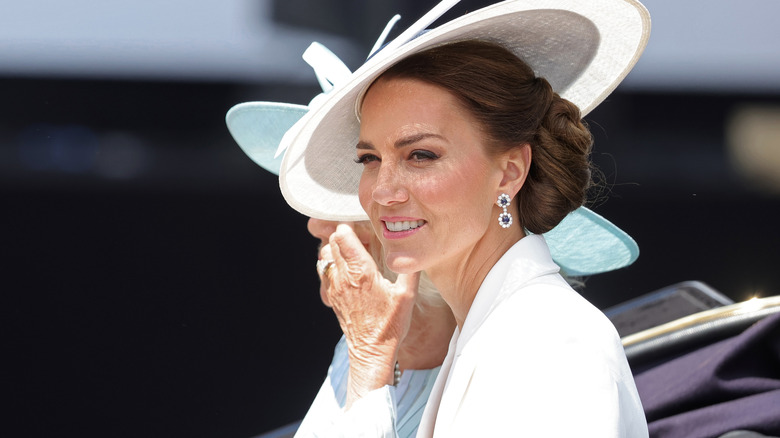 Chris Jackson/Getty Images
Kate Middleton is a longtime fan of wearing white. In April, she wore a luxe-looking white coat and hat for Britain's Anzac Day (via Elle). The Duchess of Cambridge chose a white suit while touring Jamaica in March (via Woman & Home). Even years ago, Kate was admired for sporting a white blazer to Wembley (via Hello!).
So it should come as no surprise that the royal went with a white look yet again for the Trooping the Colour ceremony. And, according to Express, this wasn't even the first time that the fashion maven has worn the white dress, having chosen the simple yet elegant outfit for a Cornwall reception last year.
The outlet also shared a sweet detail about the look Kate selected for the public outing, noting her sapphire and diamond necklace and earrings — which also perfectly coordinated with her navy and white hat — previously belonged to Kate's mother-in-law, Princess Diana.
Why Kate Middleton may have worn white — and blue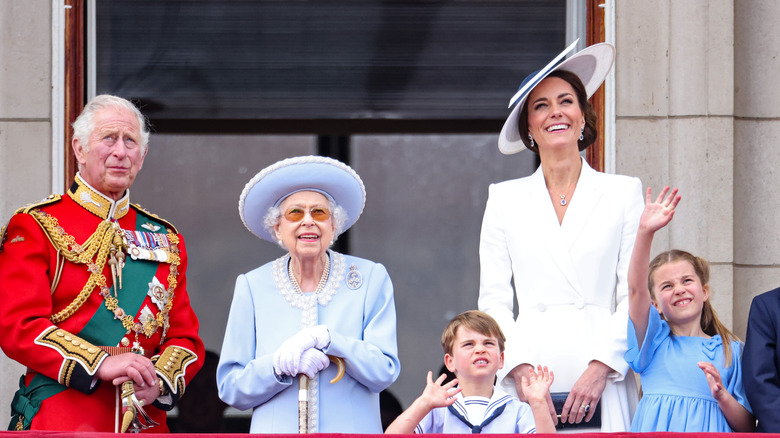 Chris Jackson/Getty Images
Of course, Kate Middleton's white outfit for the Trooping the Colour was already being buzzed about on Twitter, where one fan called the Duchess "Radiant and regal as ever." About the Alexander McQueen re-wear, observers gushed that she looked "gorgeous" and "stunning."
Meanwhile, getting just as much attention as Kate's winning ensemble were her three adorable children — George, Charlotte and Louis, whose blue and white outfits echoed their mom's color scheme (via Harper's Bazaar). And, gasp, Meghan Markle seemed to also have gone with a similar color palette, as the Duchess of Sussex paired a navy blue dress with a white and navy hat (via Daily Mail).
Of course, this is not the first time that the royal family has chosen some iteration of blue clothing for the Trooping the Colour event, with Elle reporting in 2018 the shade may have been worn to represent loyalty and unity. In the case of Kate's white dress, the color may signify purity and new beginnings (via Hello!).