Retro Pant Styles You Can Rock At Any Age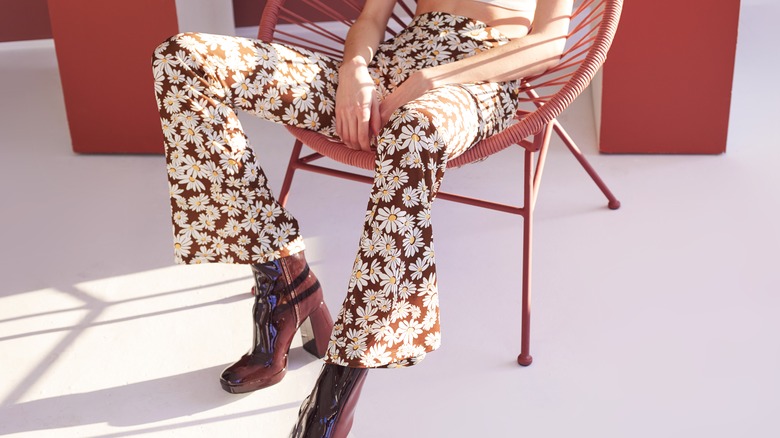 MaxFrost/Shutterstock
We may receive a commission on purchases made from links.
Between the rise of styles like mom jeans and athleisure shorts, it's safe to say that just about any type of pants will work for your day-to-day outfits. For some, though, the trends dominating social media may seem a bit out of their age range. Don't fret: No matter how old you are, you can still get in on these retro pant styles. Both high-end and online retailers have taken a lesson from these vintage looks. The online retailer Modcloth is bringing back retro styles for both celebrities and average consumers by taking inspiration from vintage silhouettes and designs. 
For those keeping up with the latest updates from fashion's biggest designers, Vogue U.K. noted that recent fashion show styles included "trousers rendered in paintbox brights at the likes of Valentino and Alexander McQueen, '80s-inspired tailored pairs at The Row and Altuzarra, Y2K cargos at Tom Ford and Zimmermann." These retro pants are coming back in style in a big way, and you can rock any of these looks regardless of your age.
Cargo pants are making a comeback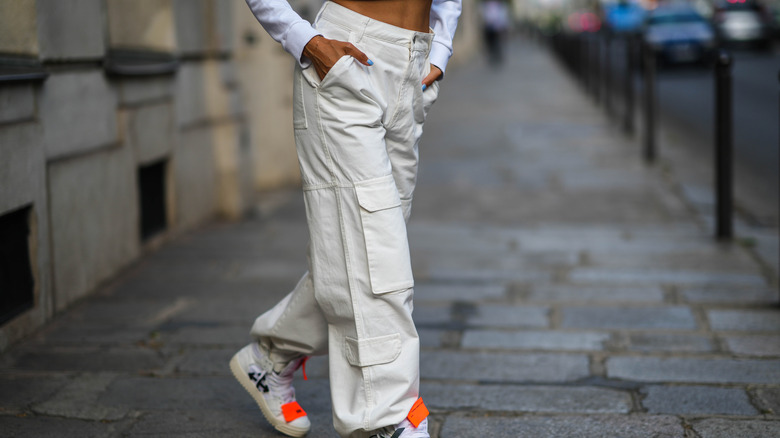 Edward Berthelot/Getty Images
It seems that cargo pants have found their way back from the land of forbidden fashion, but don't just take it from us. Vogue U.K., People, and Cosmopolitan recently highlighted how cargo pants have seemingly returned to the mainstream. Celebrities like Hailey Bieber, Hilary Duff, Rihanna, Bella Hadid, Shay Mitchell, and Kate Middleton have been spotted donning these trousers (per People). 
If you aren't necessarily ready for a baggy silhouette, you can still catch up with the cargo pants trend. Middleton wore Army-green cargo pants that had a skinnier fit than the usual wide-leg look you're most used to seeing. Vogue U.K. also recommends trying out cargo pants for some of your summer outfits, saying that the combo of cargo pants, a tank top, and wide-strap sandals "will look great." High-end retailers and thrift stores will likely be carrying these staples from the '90s for many months to come.
The wide-leg look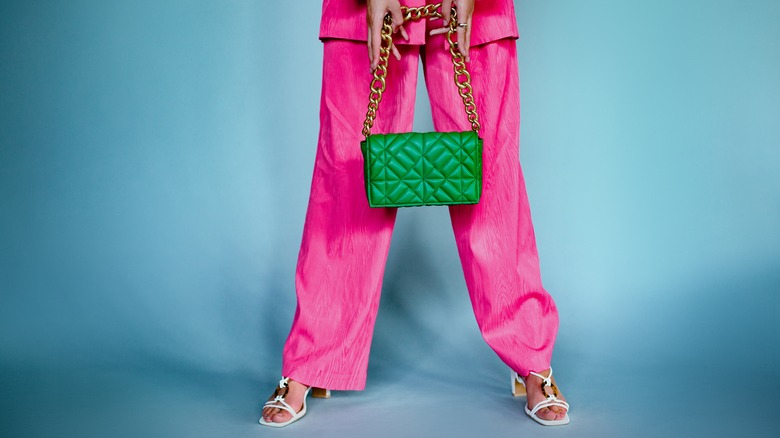 Victoria Chudinova/Shutterstock
If you want to keep it retro and take a step back to the '80s, the wide-leg silhouette is the perfect place to start. Regardless of your age, this design is comfortable and stylish. Even Jennifer Lopez wore a pair of wide-leg pants with a plain cropped tee and sneakers in 2022 (according to Harper Bazaar). People and Vogue both noted how shoppers seem to be hopping on the '80s-inspired trend. People recently reported that the ECUPPER Casual Wide-leg Cropped Pants experienced a whopping 95,000% rise in sales on Amazon. 
Other designs of similar wide-leg pants have been blowing up because of their "lightweight" and "temperature regulating" qualities (according to Daily Mail). If you're looking for designs from fashion elites, Vogue U.K. recently recommended trouser designs approved by their editors, which include printed options and parachute pants. The wide-leg look can be great for both casual and professional outfits. Harper's Bazaar noted that the wide leg design is one of their go-to looks for being back in the office.