Meghan Markle Looks Absolutely Stunning In Navy Blue As She's Finally Reunited With The Royals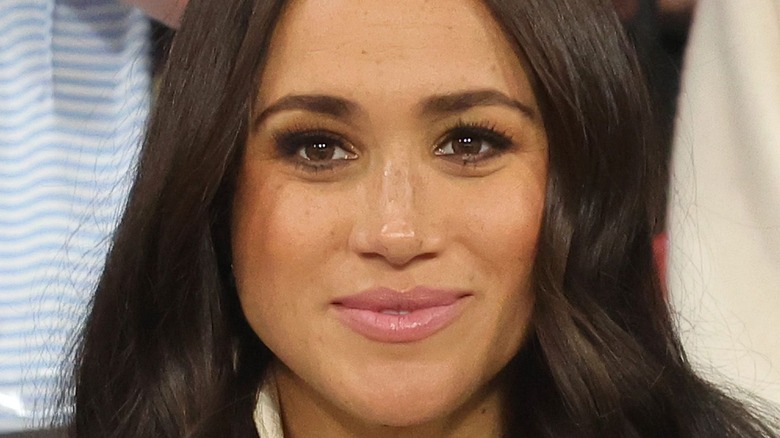 Chris Jackson/Getty Images
It's a moment that's been a long time coming. Although Meghan Markle and Prince Harry revealed they secretly reunited with the Queen this spring, fans have not seen the Duchess of Sussex with any member of the royal family in years. Now, the controversial former royal is in London for the Platinum Jubilee commemorating Queen Elizabeth's 70-year reign. And while she did not appear on the balcony for Trooping the Colour — unlike in 2019 — we still caught a glimpse of Meghan during the traditional ceremony (via Page Six).
Of course, royal watchers knew not to expect Harry or Meghan to appear alongside Kate Middleton, Prince William, and their three children at Buckingham Palace, as the Queen had already declared that only working members of the royal family would be invited to do so (via BBC).
Still, there she was, watching the parade from the Major General's Office, seemingly having a ball clowning around with Peter Phillips' daughters as well as Zara Tindall's children (via Harper's Bazaar). And let's just say that while fans were no doubt enthralled by Kate's stunning white ensemble for the occasion, Meghan's outfit also impressed onlookers immediately.
Did Meghan Markle and Kate Middleton coordinate?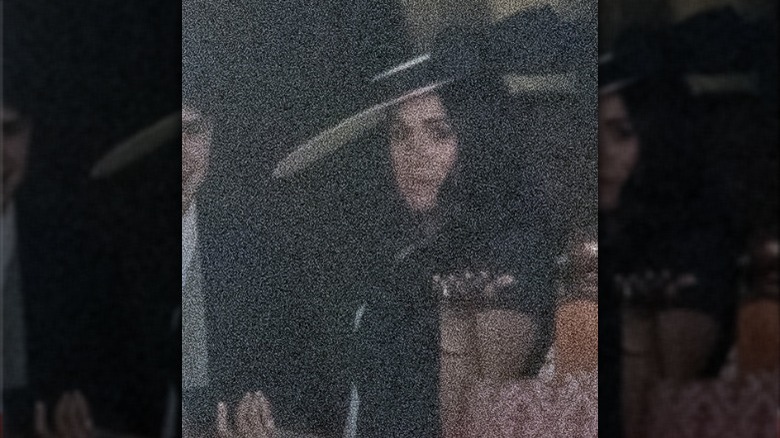 Backgrid
In her first public appearance alongside the royal family since 2020, Meghan Markle's outfit had everyone buzzing right away. As the Daily Mail reports, the mom of two chose a navy blue off-the-shoulder dress with a matching white-and-blue hat for the occasion, which did not include her taking center stage on the balcony of Buckingham Palace, but rather enjoying the parade from the sidelines.
Interestingly, it seems that Meghan coordinated with her sister-in-law as Kate Middleton donned a white dress with a white and blue hat.
Meanwhile, Meghan is a big fan of wearing blue, so her outfit choice should come as no shock to her followers. Remember her stunning blue gown for the NAACP awards? Even virtual appearances see Meghan opting for the flattering hue (via Purewow).
As the Daily Mail notes, the mom of two seems to wear blue more times than she doesn't opt for the hue. That choice may have something to do with what qualities people associate with blue, including loyalty and trustworthiness.
This may be the only time we see Meghan Markle at Platinum Jubilee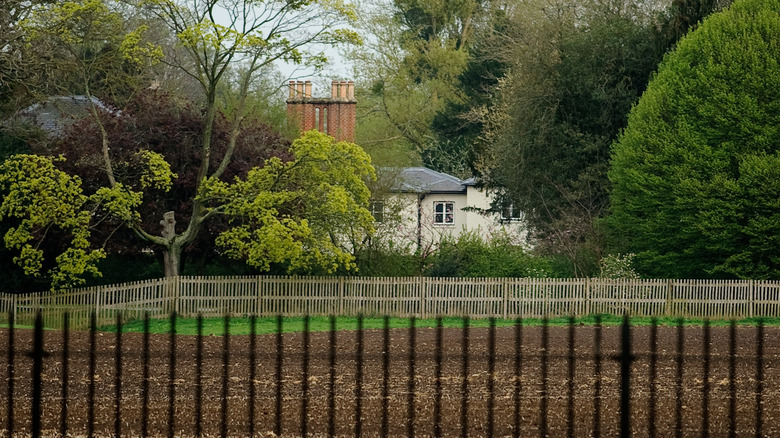 Gor/Getty Images
Fans took to Twitter en masse upon seeing Meghan Markle's polished ensemble and shared their admiration for the look. One person noted she looked like a queen, while another fan declared that the former actress had already stolen the show. And yet another fan hilariously observed, "She is the sugar in the boring Royal oatmeal."
Over and over, Twitter users were enthused over her dress choice and hat, calling her "stunning" and "beautiful."
But will fans get to see the Duchess of Sussex on any other occasions during her U.K. visit? It's been speculated that Meghan and Harry will hide out in Frogmore Cottage to assure their protection is not compromised. That said, we may get another glimpse of Meghan at a forthcoming church service and party in the coming days, where her fashion will undoubtedly be on point.