Expert Reveals The Royal Who Was Upset Over Prince Louis On The Balcony - Exclusive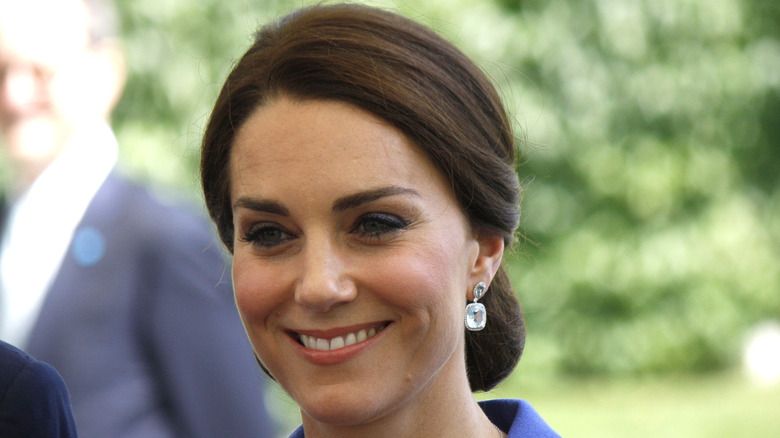 360b/Shutterstock
One of the Platinum Jubilee highlights was Prince Louis's reaction to the Trooping the Colour military parade. Per Los Angeles Times, Prince Louis joined his family on the balcony of Buckingham Palace for the parade, which featured 1,400 soldiers and 250 horses from the British army's Household Division and a Royal Air Force flyover that included 70 planes. While Queen Elizabeth, his parents, Prince William and Kate Middleton, and his siblings, Prince George and Princess Charlotte, stood nearby, Louis made various funny faces and, at one point, placed his hands on his ears and screamed. Even when they're in line for the throne, kids will be kids.
Blanca Cobb, a body language expert who has been featured on TODAY, HLN, and National Geographic, studied images from the event and told The List the youngest Cambridge might have tried the patience of some of his family members, but it wasn't his mother. One photo shows Kate, dressed in white, leaning down to say something to Louis as he pulls a face. "I don't think that Kate Middleton was secretly cross with Prince Louis for misbehaving on the balcony," Cobb said. "I think that Kate was trying to settle down Prince Louis in a loving, compassionate, and understanding way." Cobb believes Kate was trying to redirect Louis's behavior. "Perhaps, she asked him to remove his fingers from his mouth," she said. "Or, perhaps, she asked him what was wrong. Sometimes, a little attention from a parent is enough to redirect a child's behavior."
So if his mother wasn't overly bothered by Prince Louis's misbehavior, who was?
The young royal's shenanigans were seemingly tolerated by all but one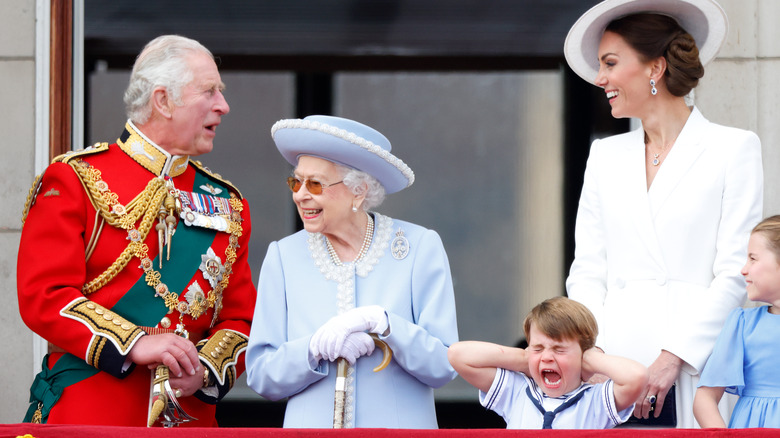 Max Mumby/indigo/Getty Images
Blanca Cobb, a body language expert, believes photos show that Kate Middleton used touch to calm her son when Prince Louis acted out during June 2's Trooping of the Colour military parade. The queen also seemed amused by his antics. However, photos indicated one person who didn't enjoy his behavior — his big sister, Princess Charlotte.
"Charlotte has her head down, eyes closed and forehead tension," Cobb said. "Most prominently, the muscle between her eyebrows is contracted, which indicates stress. Their mother, on the other hand, finds Louis' outburst a bit amusing. Look at Kate's fingers and you'll see that she's quite relaxed. She's casually holding on to her clutch while either laughing or yelling along with her son. Moms know that sometimes you have to try different tactics to redirect your children. Perhaps, Kate thought that the noise was bothering Louis. And a laugh is a light-hearted, nonverbal way of saying that she understands that the noise is bothersome and it's okay."
Even though Charlotte might have been annoyed at the moment, it's clear that the young princess takes her role as big sister very seriously. On the carriage ride to beginning Trooping the Colour, Prince Louis waved eagerly at the crowd long after his mother and siblings had stopped. Charlotte adorably shut his behavior down, gently grabbing his hand and returning it to his lap. No goofing around under Charlotte's watch!
Princess Charlotte is mindful of her public presence
Though Princess Charlotte is only seven, she's already careful to act politely in public. Earlier this year, at Prince Phillip's Thanksgiving service, Charlotte kept a solemn expression, according to Marie Claire. It wasn't until Kate Middleton told her, "You can smile," that the young princess flashed a grin at the cameras. Though she reportedly has a big personality in private, Charlotte can be shy in public, as experts told Express. Considering how overwhelming the crowds at royal events can be, the seven-year-old manages to act remarkably poised.
Of course, Charlotte isn't the first child to police her younger relatives at public royal events. As People notes, when Prince Harry was five years old and attending the same parade, he silenced his cousin, two-year-old Princess Beatrice, by putting his hand over her mouth. Totally cute, though less gentle than Charlotte's disciplinary big sister tactics. Funnily enough, in a "full circle" moment, this year, Prince Harry and wife Meghan Markle were spotted playfully shushing Zara Tindall's children, Lena and Mia, and Peter Phillips' daughter Savannah, as they stood on a private balcony watching Trooping the Colour.
While the queen seemed to enjoy the parade with her family at her side, the lengthy ceremony was still tough on her. Buckingham Palace announced that due to "some discomfort" during the event, Queen Elizabeth won't participate in June 3's service at St. Paul's Cathedral. The Platinum Jubilee continues through Sunday, June 5.