Here's How Brits Really Feel About Celebrating The Queen's Platinum Jubilee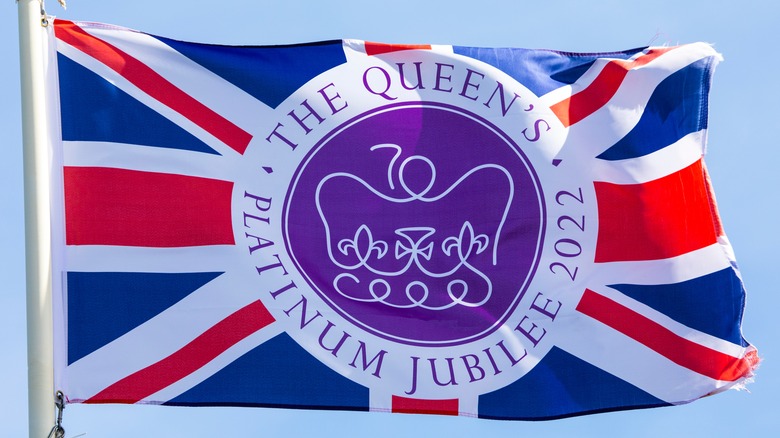 chrisdorney/Shutterstock
The Platinum Jubilee is a once-in-a-lifetime experience, but many Brits are opting to not take part in the celebrations. On May 18, market research and data analytics firm YouGov asked 3,319 adults whether they had any plans to celebrate Queen Elizabeth's 70-year reign. More than half (56%) answered that they don't have any plans and probably won't make any. In comparison, 20% said they'll probably do something even though they don't have anything organized. Only 14% of those surveyed said they would be celebrating, and 9% were unsure overall.
YouGov issued another survey to see how Brits genuinely feel about the monarchy ahead of the Jubilee celebrations a few days later. Out of the 1,668 adults polled, over 56% think that the royal family is "less important" than when Queen Elizabeth was coronated in 1952. However, this viewpoint is a decrease from the public's opinion of the monarchy in 2011, with 71% of those polled believing that the monarchy was less important when asked the same question
Britain's opinion on the royal family has changed substantially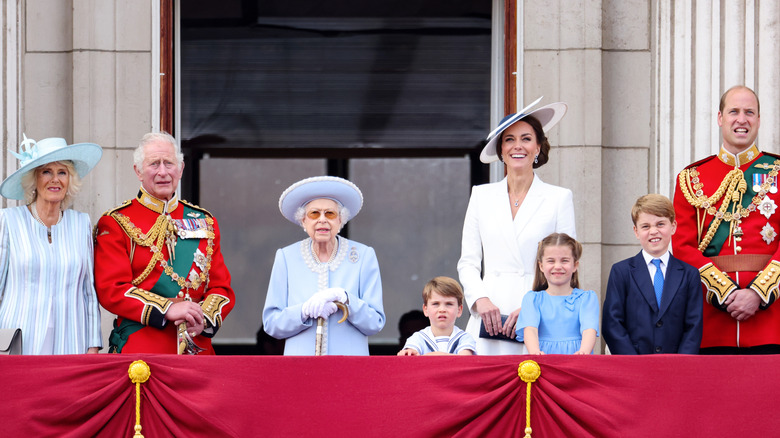 Chris Jackson/Getty Images
That's not to say that the Brits have lost faith in their royal family — far from it. As YouGov found, 62% of the British public are all for the monarchy continuing, with 22% arguing the opposite. Even so, the data collected reveals a stark generational divide among Britons. 77% of those surveyed who favored the monarchy were aged 65 and over, while only 33% of 18 to 24-year-olds held the same opinion. And as for whether the royal institution benefits the UK overall, more than half (56%) of those surveyed believe so. However, as YouGov notes, this outlook had decreased significantly from 2012 when 73% of Brits believed the same statement.
But it's clear that opinions of the British monarchy have generationally changed over the past decade. While Queen Elizabeth's popularity has remained generally positive (via YouGov), the ongoing cost of living crisis (via iNews) and a few years of scandals within the royal family have undoubtedly affected how Brits perceive the institution.
Brits aren't pleased with how much is being spent on the Platinum Jubilee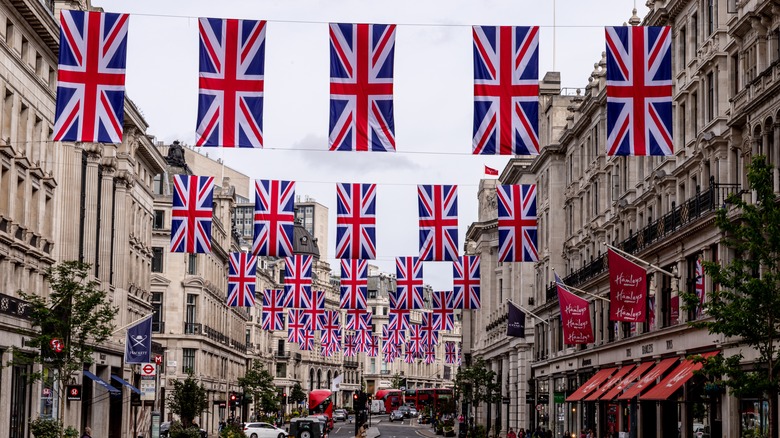 Clive117/Shutterstock
British households are currently facing financial turmoil as inflation continues to rise alongside increasing energy bills and fuel rates (via The Guardian). So finding out that the Platinum Jubilee celebrations are costing British taxpayers £28 million (via HuffPost UK) has left many Brits wondering why that money couldn't have been used to help those struggling. "I like the Queen as a person, and fair enough there should be a celebration of her ... But should we really put so much money into it when people are struggling to feed their children and put their heating on?" one Brit wrote on Facebook (via Birmingham Live). "Why can't we use all that money to help them instead?"
However, according to VisitEngland (via Liverpool Echo) the Platinum Jubilee is expected to boost the British economy by £1.2 billion as those celebrating visit pubs, restaurants, and other events held over the four-day bank holiday weekend.