Piers Morgan Defends His Explosive Tweet About Meghan Markle And Prince Louis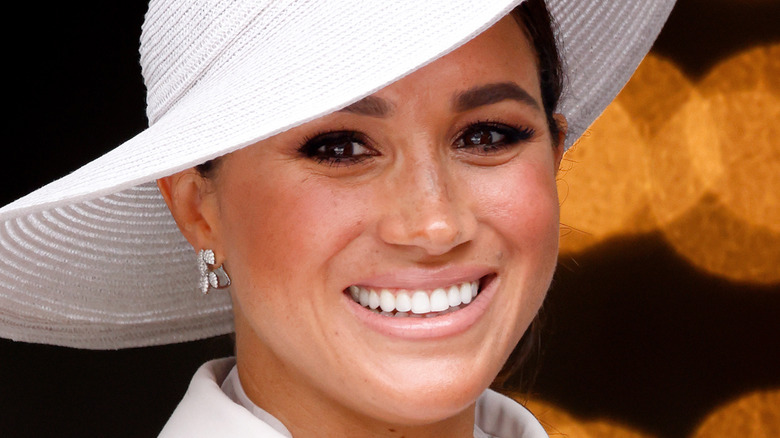 Max Mumby/indigo/Getty Images
Prince Harry and Meghan Markle have been defying critics' predictions that they would steal the focus away from Queen Elizabeth as she celebrates her Platinum Jubilee. As they promised, Meghan and Harry have been hiding out for the most part, emerging to take a quiet vantage point for the Trooping the Colour parade, and again for Friday's Service of Thanksgiving at St. Paul's Cathedral. They were even able to introduce the queen to her namesake, little Lilibet Diana, away from cameras and prying reporters, per Entertainment Tonight. 
Still, anti-Sussex sentiment is strong in many circles, which explains why there were boos among the cheers in the crowd as the couple exited the church service, according to Fox News. The British tabloids are still disdainful, reporting on the "frosty" relationship between Harry and brother Prince William and snarking about the family making the trip, despite Harry's concerns about getting sufficient security. 
One of the couple's most vocal detractors has been Piers Morgan. The journalist and TV host frequently sounds off on social media and his New York Post column about the Sussexes' California lifestyle, causes, and Netflix projects, so he couldn't resist taking a Jubilee-related jab. Posting photos of Prince Louis making faces and covering his ears during the Trooping the Colour flyby, he tweeted, "Is this when Aunty Meghan arrived?"
This angered many royals fans, who felt Morgan was spending too much time slamming Meghan and Harry instead of paying tribute to the queen, according to My London. But, Morgan isn't one to back down quietly.
Piers Morgan says Meghan and Harry are a joke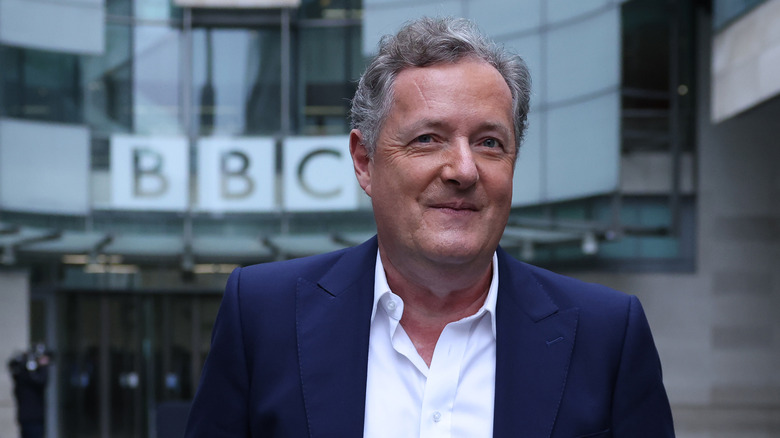 Hollie Adams/Getty Images
Piers Morgan's tweet linking Prince Louis's grimaces to his "Aunty Meghan" Markle went viral, racking up more than 20,000 likes. It also got a fair share of protests from followers who accused the journalist of obsessing over the duchess. "Why do you have so much energy for Meghan but none for [Prince] Andrew?" asked one. Another scolded, "Just stop it. This is suppose[d] to be about the Queen." Many others brought up Morgan's old anecdote of having had drinks with Meghan the same night she met Prince Harry (via BBC), and called him out for still carrying a grudge. 
The insults just rolled off Morgan's back. He recently told the New York Post that the reaction to his tweet just proves how many people side with him against the estranged royals. "Most people laughed because they're now global laughing stocks after all their hypocritical money-grabbing royal-bashing antics," he declared. He went on to bash the critics: "But Meghan and Harry's dwindling number of humorless deluded woke fans were triggered into fury, yet again, because they genuinely believe the Sussexes are the world's biggest victims. This belief, like my tweet, is hilarious."
Morgan proceeded to double down on his slam by posting another tweet, this time a video of a small crowd cheering him as he appeared on a balcony. "So, to recap... Boris Johnson got booed, the Sussexes got booed, and this is what happened to me..." he wrote.