Queen Elizabeth Attended Her Platinum Jubilee Pageant In A Way That No One Expected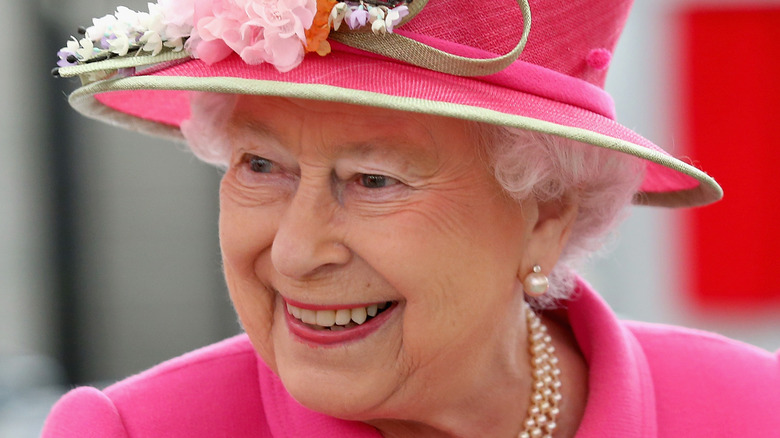 Chris Jackson/Getty Images
The Platinum Jubilee is the celebration of Queen Elizabeth II's 70th year as queen. No other monarch in British history has been on the throne as long; the only other ruler in European history to beat her record is King Louis XIV who ruled France for 72 years, per Time. The four-day series of events kicked off with the Trooping the Colour parade, which the Queen watched from the balcony of Buckingham Palace. She was later joined on the balcony for the flyover by other working royals, including William and Kate, also known as the Duke and Duchess of Cambridge, and their kids. Queen Elizabeth was also at the lighting of the beacons at Windsor, per USA Today.
Sadly, her planned appearance at Friday's Service of Thanksgiving at St. Paul's Cathedral was canceled, after the queen reportedly had "discomfort" from Thursday's events, via BBC. She did watch the service, where the Archbishop of York thanked her for "staying the course," from Windsor Castle on TV. She did, however, make an appearance at the final hurrah for the Platinum Jubilee in a completely unique way.
Queen Elizabeth's coronation footage on loop in the Gold State Coach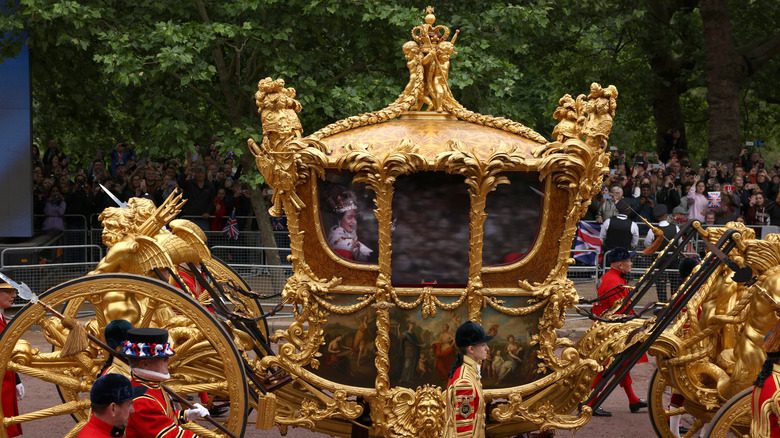 Dan Kitwood/Getty Images
The Platinum Jubilee Pageant is the final big event for the celebration of Queen Elizabeth's 70-year reign, featuring a parade and finishing with a performance by British musician Ed Sheeran, per NBC News. And people lining the parade route may have been surprised to see the queen waving at them from the Gold State Coach. Well, not the "real" queen. Instead, it was a hologram of the queen from footage of her original coronation Gold State Coach ride, via NBC News.
Some people were amazed, not just at the queen's digital appearance, but that some in the crowds waved back at the hologram, like this Twitter user.
Whether the Queen is inside or not, the Gold State Coach is itself quite the sight. The elaborate, gilded coach has been used for coronations in Britain for 200 years, and it has been 20 years since it last moved through the streets of London, per The Telegraph. but it turns out that while it's very pretty, it's not a fun ride. The queen revealed in an interview for the documentary "The Coronation" that riding in the carriage was "horrible. It's not meant for traveling at all." But from the footage, she's all smiles and doesn't show that it bothers her.