The Cambridge Family Outshines The Queen On The Buckingham Palace Balcony
Chris Jackson/Getty Images
It might be Queen Elizabeth's celebration, but the Cambridges are clearly the life of the party. It's not very often that you see Prince William and Kate Middleton's three children — Prince George, Princess Charlotte, and Prince Louis — all together, but when they come out in public, it's in full force. All three of the Cambridge kids managed to steal hearts on both sides of the pond when they appeared at Queen Elizabeth's Jubilee Concert, as well as at Buckingham Palace's balcony with their parents and other senior members of the royal family, per Us Weekly. 
During the concert, which Elizabeth celebrated virtually, the monarch thanked her well-wishers for all of the support they've shown throughout the celebratory weekend. According to the Daily Mail, the queen also said that she hoped that the "renewed sense of togetherness" that people all across the UK have shown will continue on. And while everyone has a reason to celebrate Elizabeth and her 70 years of service, it's George, Charlotte, and Louis who all managed to steal the spotlight during Gan Gan's big weekend.
The Cambridge kids were front and center for the jubilee celebrations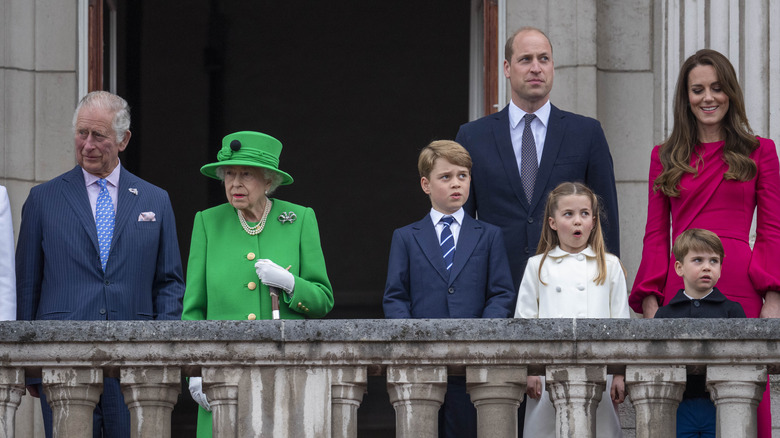 Wpa Pool/Getty Images
At this point, it's safe to say that the Cambridges are pros when it comes to Buckingham Palace balcony appearances. Along with Queen Elizabeth and Prince Charles, Prince William, Kate Middleton and their three children, Prince George, Princess Charlotte, and Prince Louis sang "God Save the Queen" in almost complete unison, much to the delight of the royal fans who were watching below, per the Daily Mail. And while Louis did bare all of his emotions during the Trooping of the Colours, he did throw in a meme-worthy silly face when he teased his mother during the concert. If that weren't enough, he also apparently told his mother "not today" (we can only guess) when she tried to calm him down during a separate moment.
And even with Louis behaving rather mischievously throughout the entire weekend, both George and Charlotte managed to share a moment with their great-grandmother before wrapping up the weekend's events, as detailed by the Daily Mail — a lot of fans couldn't help but notice that George is almost as tall as his great-grandmother as well. Seeing how the Cambridge children managed to provide a lot of hilarious entertainment during the jubilee celebrations, a lot of fans can't wait to see what's in store for their next royal engagement.