Here's Where You Can Stream Trixie Motel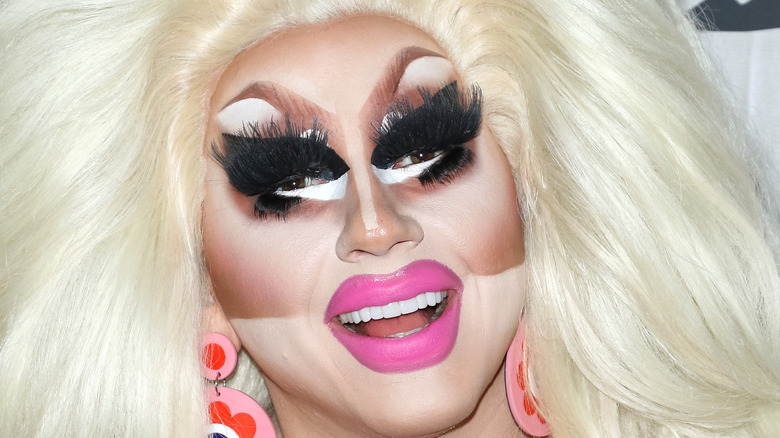 Jim Spellman/Getty Images
"Trixie Motel" Season 1 is finally here, and we couldn't be more excited. 
As Out Traveler notes, the series was first announced back in 2021 and sees "RuPaul's Drag Race" fan favorite and "All Stars 3" winner Trixie Mattel turning a dilapidated Palm Springs motel into the "ultimate drag paradise." HGTV confirms that Mattel and her team, which includes several well-known celebrities, renovated seven bedrooms total alongside a commercial kitchen and a pool area.
The project was funded entirely by Mattel and is being spearheaded by the reality star; her partner, David Silver; and interior designer Dani Dazey. As Jane Latman, president of HGTV, acknowledged, "Trixie is an entertaining performer, but most people don't associate her with renovation." Regardless, she enthused, "We know Trixie will create a fantasy-filled motel makeover with grit, wigs, and fun. It'll be a series unlike any we've seen." 
Suffice to say, "Trixie Motel" is sure to be a must-watch for fans of the unique drag performer and newcomers alike. Here's how to watch it now. 
Trixie Motel is a Discovery+ exclusive
After months of anticipation, "Trixie Motel" finally kicked off exclusively on Discovery+ on June 3, 2022. 
Per AL.com, the series is eight episodes long and is available to stream week to week on the platform. Decider reports that "free labor" on the project was provided by a whole host of famous faces, including reality star Lisa Vanderpump, comedian Nicole Byer, and "Property Brothers" star Jonathan Scott. Trixie's BFF and fellow podcaster Katya will also, naturally, be on hand to help.
Decider notes that the show is tonally similar to HGTV team-up favorite "A Very Brady Renovation," thanks primarily to its confidently kitschy aesthetic. However, "Trixie Motel" notably strikes out on a different path since, unlike the vast majority of home renovation shows, it's led by queer people rather than yet more "straights crying about their 'open concept.'" 
Trixie is, obviously, a beloved drag queen, so anticipation is high, but the word is good thus far, especially considering all the, er, moving parts. As this particular reviewer put it, "I cannot think of a better, brighter, and bawdier summer series than 'Trixie Motel.'"
Trixie Mattel believes fans will be lining up to stay at her renovated motel
As it turned out, the main reason you won't see Trixie Mattel on "All Stars 7" is because she was super busy elsewhere. Namely, the drag superstar was renovating a motel for what she's hoping will be another hit reality TV venture. 
In an interview with Out Traveler, the "Drag Race" alum stated confidently, "There has never, ever, ever been a motel like this, and there has never been a renovation show like this. It is going to leave people's jaws on the floor." 
She added, "The property is so beautiful, and we have created something that truly feels like the heart of [Palm Springs]." As Trixie explained during a chat with E! News, her main goal with the motel was to create a space where fans could feel comfortable being themselves. 
Trixie also wanted to ensure that her spot felt like it belonged in Palm Springs, too. She described the show, which chronicles the whole process, as "self-deprecating and comedic, of course, but it's earnest."
As for what's next, the drag superstar is currently juggling her motel, comedy shows, a lucrative music career, managing a gay bar, running a cosmetics company, and plenty more besides. It's pretty clear why Trixie didn't have the time to return to "Drag Race" once again.