Kate And William Reflect On Platinum Jubilee Weekend With A Subtle Nod To Louis' High Jinks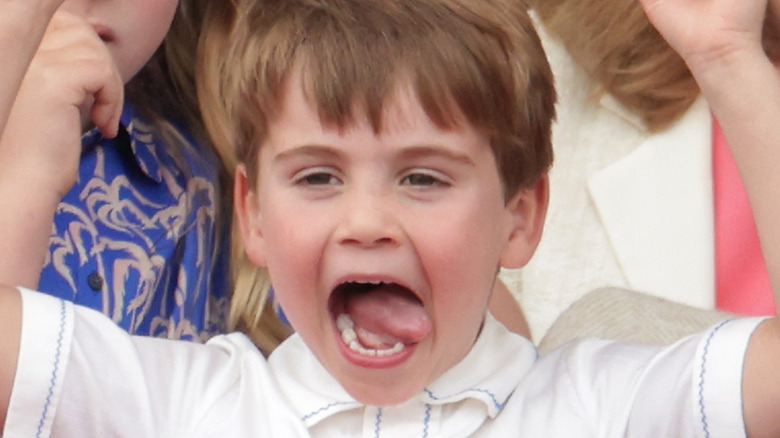 Chris Jackson/Getty Images
Queen Elizabeth's Platinum Jubilee, celebrating 70 years of her being on the throne, has culminated, and by all accounts, everything seems to have gone off without a hitch. The queen has had some well-publicized health issues in recent months, and there were concerns she wouldn't be able to attend her own celebrations. Thankfully, Her Majesty managed to make a couple of notable appearances during the festivities.
As the Independent noted, the queen showed up at Trooping the Colour, but pulled out of the thanksgiving service at St. Paul's Cathedral, alongside the Epsom Derby, "with great reluctance," citing mobility issues. She did, however, make a surprise appearance on the balcony at Buckingham Palace, to mark the end of the celebrations, much to the delight of fans watching in person and at home. The queen was joined by Kate Middleton and Prince William; Prince Charles and wife Camilla Parker Bowles; and great-grandchildren Prince George, Princess Charlotte, and Prince Louis. "Powerful images and a reminder that the future is in good hands," wrote one social media user, while others admitted they were holding back tears at the sight of the monarch.
Per Sky News, Elizabeth acknowledged, "I have been humbled and deeply touched that so many people have taken to the streets to celebrate my Platinum Jubilee." Despite how happy everybody was to see the queen up and about, though, the biggest talking point of the weekend was undoubtedly Prince Louis' hilarious behavior. Even his parents couldn't deny it, in their post-Jubilee note.
The Cambridges know their cheeky son was the star of the weekend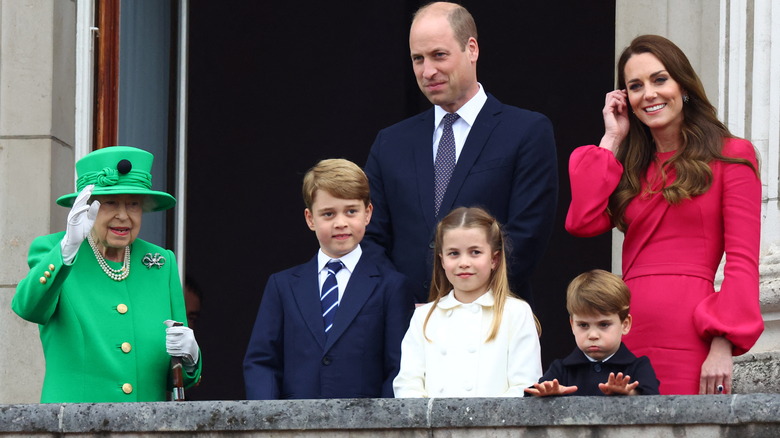 Wpa Pool/Getty Images
Kate Middleton and Prince William took to their official Twitter account to share their gratitude for everybody who made the queen's Platinum Jubilee weekend so special. "What a fantastic weekend of celebrations. Seeing people across the nation coming together with family, friends and loved ones has been extremely special. Thank you to everyone who turned out to show their gratitude to The Queen and her inspiring 70 years of leadership," the royal couple wrote.
They continued, "From the crowds on the Mall to communities hosting street parties up and down the country, we hope you had a weekend to remember." The most notable nod came right at the end of their message, when the Duke and Duchess of Cambridge stated, "We all had an incredible time, especially Louis... [eyes emoji]." They shared the subtle reference alongside a stunning black-and-white shot of the little prince standing next to his father, with both of them clad in full regalia.
As one user responded, "Louis stole the show!" while another wrote simply, "He's adorable." A third seemingly spoke for everyone by sharing, "Precious Louis! We've loved seeing his cheeky and lovable character this weekend" alongside several photos of the youngster hilariously pulling faces. However, although he was a big hit with internet users, an expert revealed the one royal who was upset over Louis' behavior on the balcony was his disapproving older sister, Princess Charlotte.
Prince Louis' behavior even kept his family amused (for the most part)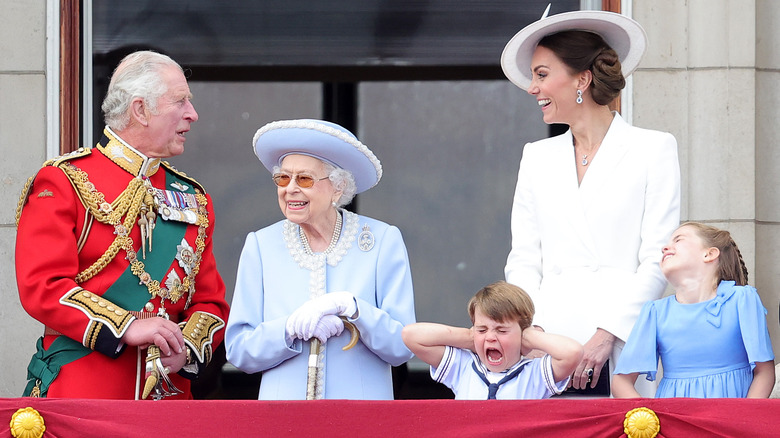 Chris Jackson/Getty Images
Children can't be expected to sit still through endless, and to them presumably quite dull, formal events even when they're royal. Prince Louis, the youngest child of the Duke and Duchess of Cambridge, was caught on camera letting his feelings about the queen's Platinum Jubilee known over the weekend. As the Los Angeles Times reported, Louis was caught covering his ears and looking super uncomfortable during Trooping the Colour, the annual public celebration of Her Majesty's birthday. The prince was on the balcony at Buckingham Palace alongside his parents, siblings, grandfather Prince Charles, and the queen herself.
There was a massive military parade and a Royal Air Force flyover with 70 planes, so it was understandable Louis found the display a bit too loud. Thankfully, per People, his family mostly found his reactions funny, including Her Majesty. However, during the subsequent Platinum Jubilee Pageant, the little prince began testing his mother's patience. Page Six reported a viral clip shows Louis placing a hand over Kate Middleton's mouth after she tries to calm him down and get her son to behave himself, likely aware the whole world is watching. Zara Tindall's husband, Mike Tindall, even intervened at one point to let Louis know he was keeping a close eye on him.
Although the Jubilee was hugely exciting for everybody involved, and the British public in general, for the royal kids, it clearly felt like a bit of a drag.