Kate Middleton's Reaction To Prince Louis' Platinum Jubilee Tantrum Has Twitter In A Tizzy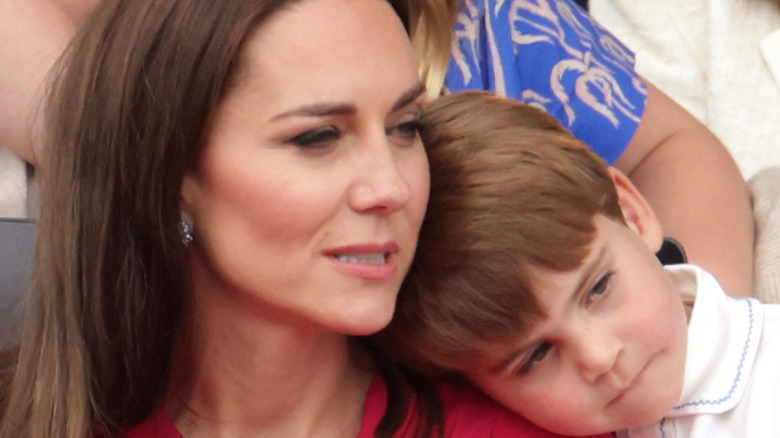 Chris Jackson/Getty Images
The eyes of the world were on Queen Elizabeth II during her Platinum Jubilee celebrations last week. However, one particularly feisty royal stole the show during the festivities. Prince William and Kate Middleton's youngest child, Prince Louis, appeared to be unimpressed during the week's many events and was even caught sassing his mother on Sunday, per Page Six.
During the celebration, cameras caught Louis having a tantrum as he seemingly didn't want to sit quietly and watch the parade. The 4-year-old was spotted making faces at Kate and even attempted to put his hand over her mouth to silence her. At one point, Louis even pressed his thumb to his nose and wiggled his fingers while sticking his tongue out of his mouth to taunt his mother.
Of course, Kate tried her best to settle the restless child with a smile on her face. However, after the young prince opted to stand on his chair and throw a cushion, Kate decided that it was time to remove Louis from the event and take a break with her little boy.
Fans who followed the royals throughout the Platinum Jubilee celebrations know that this wasn't Louis' first time stealing the show. Earlier in the week, the royals gathered on the balcony of Buckingham Palace for the Trooping the Colour event, which Louis didn't seem happy about as he put his hands over his ears and screamed during the Royal Airforce flyover (via The Things).
Of course, Louis isn't the first royal child to be caught making faces at an event. Others, including his very own brother, Prince George, have often stolen the spotlight with their adorable and rambunctious behavior over the years (via Us Weekly).
Prince Louis isn't the first royal to misbehave in public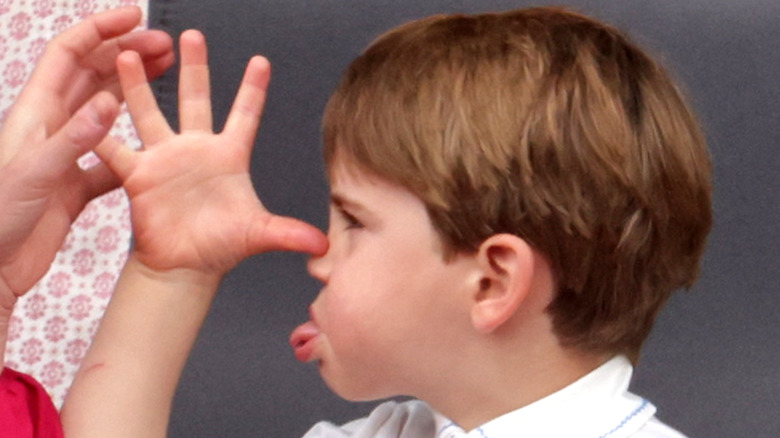 Chris Jackson/Getty Images
Although Prince Louis gave many something to talk about with his antics during Queen Elizabeth's Platinum Jubilee celebrations, he certainly isn't the first young royal to entertain fans in such a way (via Hello). In fact, Prince William and Kate Middleton's other children, Prince George and Princess Charlotte have also been caught being a big rambunctious during public outings. In 2019, Charlotte was photographed sticking her tongue out to the crowd when the Cambridge family appeared at the King's Cup regatta.
Charlotte and Louis' big brother George also made headlines when he served as a pageboy at Pippa Middleton's wedding and seemed to be misbehaving. Kate was then forced to give her eldest child a stern talking to before heading back to the festivities. Even William himself was known to be a bit rowdy as a child and was once photographed pinching his teacher during a tennis lesson. Prince Harry himself has also been caught making silly faces and was snapped sticking his tongue out during an appearance on the balcony at Buckingham Palace as his mother Princess Diana carried him.
According to Express, William and Kate like to discipline their children with conversation and time-outs, which usually last one minute for each year of their age. Now, fans are flocking to Twitter to share their thoughts about how the Duchess of Cambridge handled Louis' Platinum Jubilee behavior following their viral moment, and Kate is being praised for his patience during the situation.
Twitter praises Kate Middleton after Louis' viral moment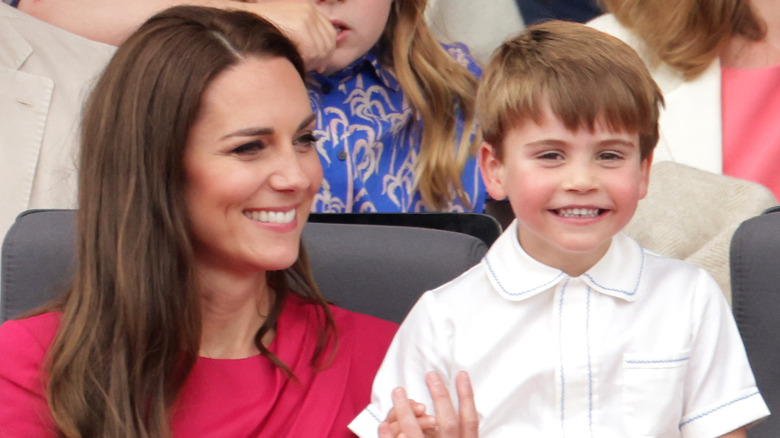 Chris Jackson/Getty Images
After the video of Prince Louis' tantrum during the Platinum Jubilee went viral, fans had plenty to say about the little boy and his mother, Kate Middleton. It appears that the moment made Kate an even more relatable mother as other parents around the world could sympathize with the situation.
Fans flocked to social media to share their thoughts on Louis' behavior and praise Kate for how she handled it with grace. "I remember that age..instead of terrible twos it was terrible 4's. She did well did our Catherine," one royal enthusiast tweeted. "He's 4 he had a moment Kate handled it like every other mother does except millions of eyes were on her," another fan wrote.
"#PrinceLouis was just a typical 4-year-old boy at a long pageant. This old granny thinks he was very good, not like some who would be climbing over the seats or running around. A credit to both his parents and loving family. So lovely to see his interactions with them all," a third social media user commented. "He was great and the Duchess did a fine job with him... not easy for a 4 year old.. fabulous children," another stated.
Louis serves as a reminder that, while he may be a prince, he's still a child like any other.