Two The Young And The Restless Icons Share A Milestone Anniversary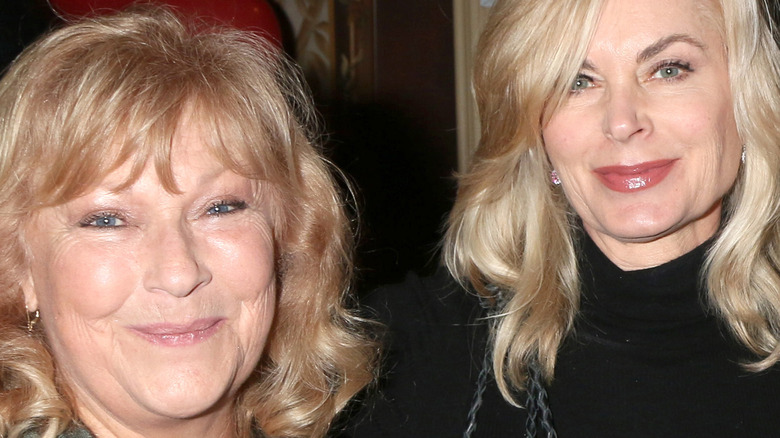 Kathy Hutchins/Shutterstock
Actresses Eileen Davidson and Beth Maitland just celebrated an achievement that only a few soap stars have the privilege of reaching: a 40-year career on "The Young and the Restless." Both women joined the show in 1982 and play sisters Ashley Abbott and Traci Abbott, respectively — two iconic characters that have helped shape the beloved soap for decades.
Davidson originated the role of Ashley Abbott in 1982 when she arrived in Genoa City after college, according to Soap Central. Originally characterized as a smart businesswoman and respectable heroine, she quickly succumbed to the typical soap tragedies which included suffering from cancer, several failed marriages and pregnancies, and of course, a few crimes. Currently, the character resides in Paris and only periodically returns to Genoa City. Throughout her career, Davidson also appeared on "Days of Our Lives" and has been nominated for four and won two Daytime Emmys for her work on both "Y&R" and "DOOL."
Maitland made her acting debut on "Y&R" when Traci Abbott came to Genoa City shortly after her sister Ashley (via Soaps in Depth). In all her time on the soap, Traci has remained the most trustworthy and honorable member of the Abbott family and continuously does her best to keep everyone on the straight and narrow, which is no small task. Traci resides in New York City where she works as a novelist and occasionally returns to Genoa City, much like her sister Ashley, when the family is in crisis. Maitland has also been nominated for two and won one Daytime Emmy for role as Traci Abbott.
Traci and Ashley Abbott have made amends over the years
Sisters Ashley and Traci Abbott have had a complicated relationship over the decades they've spent together on "The Young and the Restless." In her younger years, Traci suffered from low self-esteem due to growing up in the shadow of her older sister who she believed was more beautiful and successful than herself — in fact, she even went on to write a book detailing that experience (via Soap Central).
Both women spent time married to Brad Carlton (Don Diamont), who is the father of Traci's only child Colleen Carlton and was killed off the show in 2009, along with his daughter. Their competition for his affection put a strain on their sibling relationship for many years before they were both able to move on and put it behind them. In regard to Brad, Beth Maitland once said in an interview with TV Insider, "You cannot control anybody else's choices, feelings, or decisions. You can only be true to yourself. That is what defines us — how we deal with circumstances over which we have no control!" — a very wise perspective for a soap character to have!
Despite their differences, Ashley and Traci were able to come together in moments of crisis. Brad's death, their father John Abbott's death, their brother Jack's health scares, and Ashley's loss of her baby Faith, were just a few of the moments the two found support in each other. The sisters currently reside on different continents and don't seem to be stepping on each other's toes nearly as much as they used to.
The Young and the Restless celebrates Davidson and Maitland's 40 years
In May, "The Young and the Restless" had a joint celebration to honor the two women who have spent the majority of their careers bringing the Abbott sisters to life. According to Soaps, the on-set party included blown up pictures of magazine covers featuring iconic moments from the show, cupcakes with the women's faces on them, and heartfelt speeches from some of their co-stars, including Don Diamont (ex-Brad Carlton), Peter Bergman (Jack Abbott), Jason Thompson (Billy Abbott), and Tracey E. Bregman (Lauren Fenmore).
Maitland took to Instagram to express her joy, sharing photos of the celebration and captioning one, "Still on a euphoria hangover! I don't have enough years left to thank you all!"
Several other members of the cast shared congratulatory messages on social media, including Diamont, Melissa Ordway (Abby Newman), and Christian LeBlanc (Michael Baldwin). Lauralee Bell, who plays Christine Blair and is also the daughter of the show's creators William J. Bell and Lee Phillip Bell, shared on Instagram, "Incredible time celebrating [Maitland] and [Davidson] on their 40th anniversary. I have so much love and respect for them both and can't imagine [Y&R] without them as the awesome Abbott sisters!"