Why You Might Want To Consider A Lace Wedding Dress
The_Molostock/Shutterstock
According to Brides, lace is usually seen as being "delicate and feminine." Both are words that many would associate with a typical wedding dress. However, this definition is at odds with some of the trends most seen for wedding dresses in 2022. Many current looks embrace modernity and new trends with a strong emphasis on individuality and self-expression. However, the famed lace wedding dress is still seen today; in fact, it doesn't seem to be going anywhere soon. It isn't just regular folks getting married in lace, either — always ready to set trends, many royals wore lace to their weddings, too. Notably, Queen Elizabeth in 1947 and Kate Middleton in 2011 rocked lace gowns.
A lace wedding dress doesn't have to be completely covered in lace, either. Although they are often associated with being old-fashioned, the wide variety of wedding dresses available nowadays means you can go for almost any cut featuring lace, from mermaid and A-line to a bohemian look. You can be sexy, modest, or a mixture of the two. 
The case for a lace wedding dress is strong, and here's why we think you should consider one. 
Lace is a versatile material to incorporate into your dress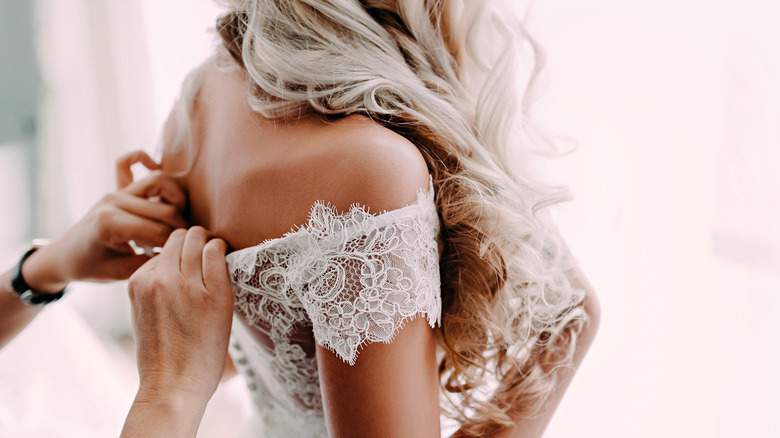 Stakhov Yuriy/Shutterstock
One of the main reasons you should consider a lace wedding dress lies in the versatility of the material (via The Best Wedding Dresses). You can tone it down for a reception look or go all-out if you're being wedded in a traditional church. Lace is also more likely to look expensive on a budget, though fraying seams will always give away the quality of an item. As mentioned above, the flexibility of a lace wedding dress means it can be adapted for many types of weddings. Whether you're getting married in a low-key beach ceremony or throwing a black-tie dinner party, lace looks good on mini dresses, midi silhouettes, and floor-sweeping gowns alike. It can also be adapted to many different necklines, from strapless to V-neck.
Of course, lace will make a dress appear more traditional even if the dress itself has a contemporary silhouette. A good example of this is Kate Middleton's wedding dress, which featured a more modest look due to the lace sleeves covering her arms and chest (via Marie Claire). Even though the style of Kate's dress wasn't necessarily old-fashioned, her lace sleeves nodded to the queen's lace-covered wedding dress and gave it timeless appeal.
There are many different types of lace you can choose from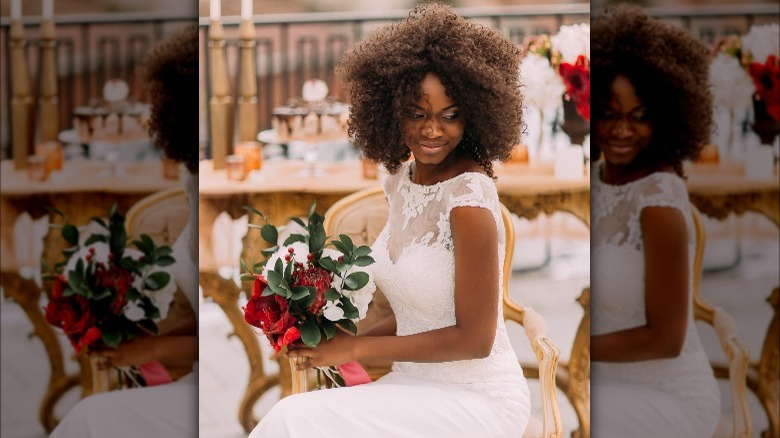 Andrii Kobryn/Shutterstock
There are several different varieties of lace (via The Best Wedding Dresses). One of the most commonly seen is Chantilly lace, which creates a dreamy look and was also the type of lace used for Kate Middleton's sleeves (via Vanity Fair). Another popular type is brocade, which is commonly used for bodices due to its thicker texture. Less delicate than most lace types, brocade is often used to convey grandeur and wealth (via Fabric Lore). 
Lace can be used on almost any part of a wedding dress depending on the look you're hoping to achieve. For example, lace around the waist can give you a more streamlined silhouette, but only if the material is thin. Thicker types like brocade will have the opposite effect. A lace skirt gives you the chance to combine modern and traditional looks whilst allowing you to keep a less restrictive shape. Or, if you are getting married somewhere that requires you to wear a simpler dress, a lace back is a great way to incorporate detail and stay on theme. Finally, a lace bodice, the most popular by far, allows you to get creative with the shape of your dress and go for either a close-fitting or free-flowing look.
No longer stuffy and old-fashioned, you could truly shine in a lace wedding dress on your big day.