These Wedding Dresses Will Be Totally On-Trend For Spring 2022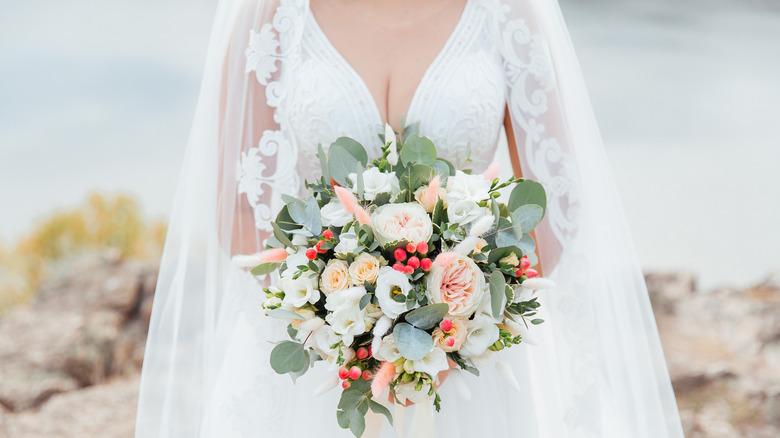 OlegBlokhin/Shutterstock
Every new spring season means it's time for warmer weather, beautiful flowers, and a whole new batch of fashion trends. According to Glamour UK, some significant trends for spring 2022 include low-rise bottoms, sheer fabrics, miniskirts, lots of straps, vibrant yellow hues, peek-a-boo skin, and bras paired with jackets. We love all these trends and can't wait to embrace these bright, sexy styles!
Not only does a new spring season mean it's time for some new streetwear trends, but the beginning of springtime calls for some new wedding trends, too. Fashionista noted that some of the many wedding dress trends that were taking over 2021 included bold, maximalist gowns, as well as subtle yet stunning little details such as beads. Floral inspiration, dramatic sleeves, and short wedding dresses were also prominent trends. While we adore those beautiful trends, we're ready to embrace everything trendy for this spring's wedding dresses. Wedding dress shopping can be really hard, but we've now gathered all the wedding dress trends that will make you even more excited to say "I Do" this year.
Have fun with feathers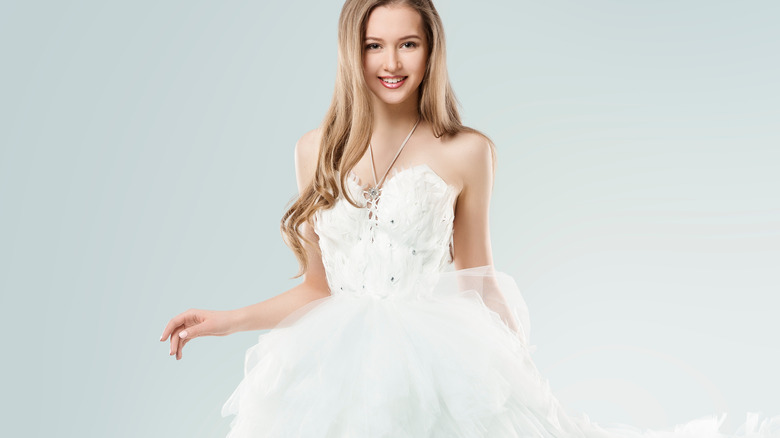 Inara Prusakova/Shutterstock
Feathers are perfect for a fashionable, flirty look. According to Brides, designers Elie Saab and Marchesa Notte Bridal have been increasingly using feathers in their dress designs. While daring brides looking to make a statement should look for dramatic gowns covered in feathers, those who prefer a more minimalistic look should explore subtle feathery details instead.
If you want to add some feathers to your wedding dress, a bolero jacket is a great option. BHLDN is currently selling their ivory Bubish Berlin Bolero for just under $400. This jacket can help add some feathery fun to your wedding look.
The floral trend is here to stay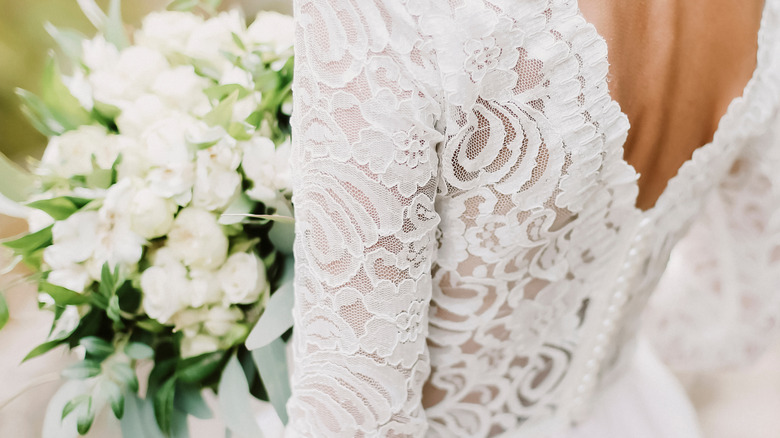 paralisart/Shutterstock
Floral-inspired wedding dresses were a significant trend in 2021, and this lovely look is going to stay trendy in spring 2022, too. According to Fashion Week Online, designer Ines Di Santo's goddess-inspired Spring 2022 bridal collection drew some inspiration from "The Goddess of Nature and Abundance," with many of the dresses in this collection featuring delicate floral details.
If you're looking for a flowery wedding dress, David's Bridal is selling the Floral Tulle Wedding Dress with Removable Sleeves for slightly below $1,500 right now.
Princess and fairy-inspired wedding dresses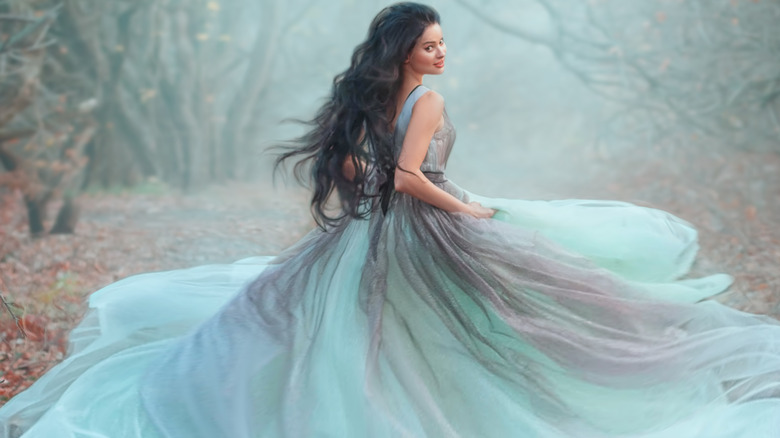 Ironika/Shutterstock
Traditional brides who believe in magic will love this next trend. According to Kleinfeld Bridal, Pnina Tornai's LOVE Collection for 2022 is all about making brides feel like princesses on their big day. Tornai further explained this trend, saying, "My newest collection is inspired by a fairytale world — lots of princess silhouettes, whimsical fabrics, and delicate details." Who doesn't want to look dreamy on a dreamy day?
One of our favorite dresses from this collection is the Love by Pnina Tornai Style #14896N Spaghetti Strap Sweetheart Neckline A-line Wedding Dress with Pleated Skirt, which combines a traditional silhouette with glamorous touches.
Ballet-inspired bridal gowns bring effortless romance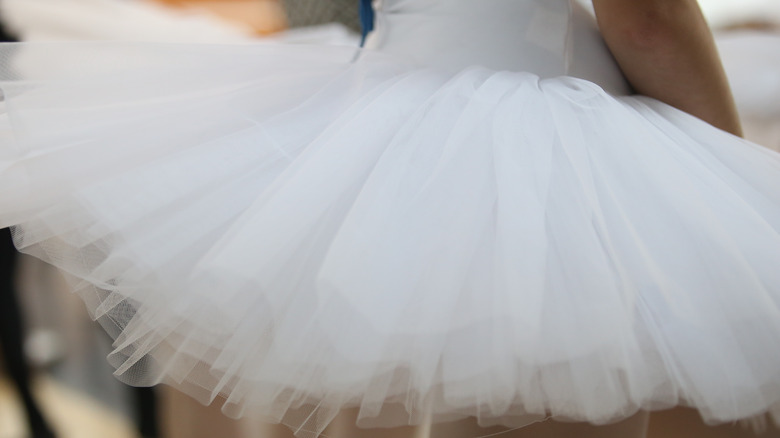 Svetlana Avva/Shutterstock
Classy brides who want a romantic look but don't necessarily want to look like princesses will love that ballerina-inspired wedding dresses are totally trending this spring. Justin Alexander Signature found inspiration in ballet for their Spring/Summer 2022 collection, and we're falling in love with this graceful, elegant trend.
One of our favorite ballerina-esque wedding dresses is Justin Alexander Signature's Off the Shoulder Fit and Flare Gown with 3D Floral Appliqués. This romantic dress features the perfect blend of grace, sophistication, and flirtation.
Get sexy with slits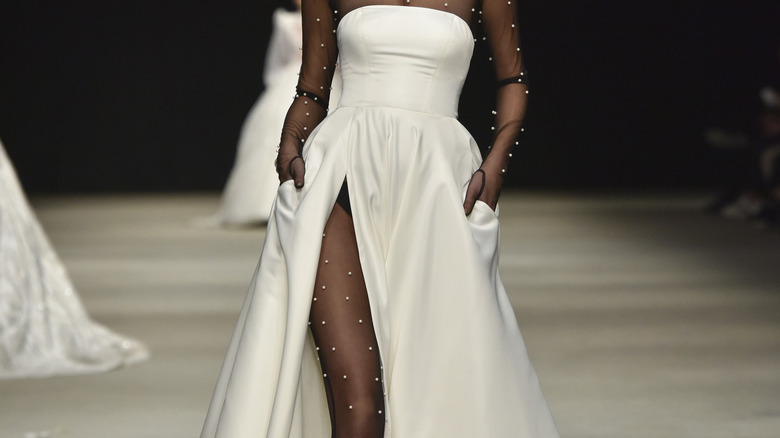 Ekrem Serif Egeli/Getty Images
It's 2022, and women shouldn't be afraid to look seductive on their big day. Less traditional, fun-loving brides will love to show some leg at their wedding, and spring is the perfect season to do this because of the warmer weather. According to Wedding Forward, thigh-high slits are specifically becoming more popular for wedding dresses, and we're obsessed with this sexy style.
Brides who love beading and slits will get the best of both worlds with the Lara Greenly Sleeveless Beaded Wedding Dress, currently available at David's Bridal for slightly below $600.