General Hospital's Parry Shen Reveals Where Brad's Real Mafia Ties Come From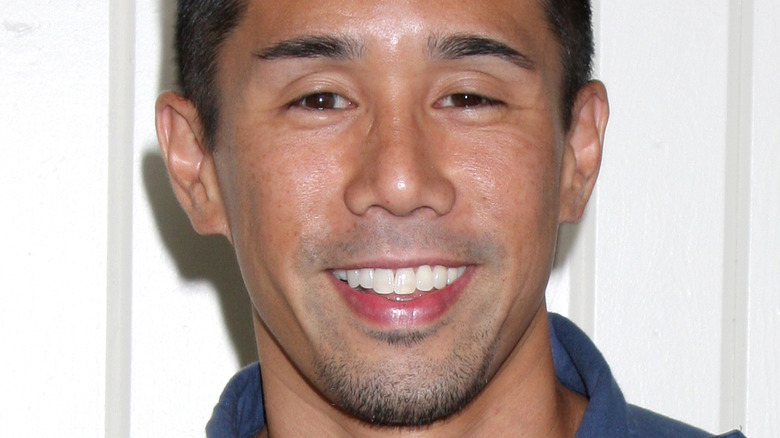 Kathy Hutchins/Shutterstock
Actor Parry Shen joined the cast of "General Hospital" in 2013 after 15 years in the entertainment industry. His character Brad Cooper arrived in Port Charles as a smarmy hospital lab technician who's arrogance and deviousness got him into plenty of trouble. In his early years, Brad was most well-known for his friendship with Dr. Britt Westbourne (Kelly Thiebaud) and the love triangle between himself, Felix DuBois (Marc Samuel), and Lucas Jones (Ryan Carnes).
Brad and Lucas fell in love and eventually married, which seemed to calm Brad's scheming ways. Though, in 2018 Brad made a terrible decision when the newborn baby that he and Lucas had just adopted died suddenly from SIDS (via Soap Central). Distraught and panicking, he came across Nelle Benson (Chloe Lanier) and agreed to switch his infant with her healthy baby whom she was trying to hide from its father Michael Corinthos (Chad Duell). Eventually, the truth came out and Lucas quickly divorced Brad and he was shipped off to prison for his crimes. 
At the tail-end of 2021, Brad was released from Pentonville and was taken in by his aunt, mob boss Selina Wu (Lydia Look). Now that the Wu family is coming back into the forefront of "GH" after several decades, let's take a look at where exactly Brad Cooper comes from.
Who is the Wu family?
Though some viewers might have forgotten, during a recent video with co-star Kelly Thiebaud, Shen reminded everyone that Brad's ties to the mob were introduced on "General Hospital" a long time ago, according to SoapHub. He said, "It happened in 2013, December 15. I got a script and that's when I met Lucas . . . we start connecting because we find out that he's from a mob family and I said yeah . . . I'm from a mob family too." Brad confessed to Lucas that he was the biological son of Kim Wu, who was prominent in the mob scene of Port Charles in the 1980s. 
The Wu family was introduced on "GH" in 1985 as part of a scheme by Sean Donely (John Reilly) to steal an ancient Aztec treasure. When Donely's plan was foiled by Robert Scorpio (Tristan Rogers), a feud began which set Robert, Anna Devane (Finola Hughes), Felicia Cummings (Kristina Wagner), and Frisco Jones (Jack Wagner) in competition with Donely and the Wu family to see who could get the jewels first (via Soaps in Depth). Kim eventually kidnapped Robert and Anna's daughter Robin Scorpio (Kimberly McCullough) who was unknowingly in possession of the priceless black pearls that were hidden inside her doll. Eventually, Frisco and Kim faced off and just as Kim was about to stab Frisco, a man named Yank Se Chung (Patrick Bishop) arrived and hit Kim over the head, killing him instantly.
After the end of the Aztec storyline, the Wu family faded away, until 2015 when they were mentioned again. Port Charles kingpin Sonny Corinthos (Maurice Benard) arranged a meeting with the heads of the five prominent mob families and it was revealed that Kim's sister Selina Wu was now in charge of their criminal enterprise, per Soaps in Depth.
Will Brad become part of the mob?
Selina Wu has been popping up more and more in Port Charles since 2017 and has recently become even more prominent. She became an ally to the Corinthos organization when she saved Carly Corinthos (Laura Wright) and Jason Morgan (Steve Burton) from a car bomb planted by the heads of two rival mobs, on their wedding day (via Soaps in Depth). She has also proven to be a fair business associate to Sonny Corinthos since he returned to town in 2021.
However, Selina is just as ruthless as any other mobster. While her nephew Brad Cooper was in prison she agreed to help him get released if he would deliver a specific meal to inmate Peter August (Wes Ramsey) — little did Brad know that the food was poisoned and Selina was trying to use him to commit murder. Thankfully for Brad, he was released from Pentonville and Peter survived that ordeal.
Selina has been keeping Brad on a tight leash since his release, ensuring that he was unable to get a job at General Hospital and instead hiring him to run the poker games she holds at The Savoy nightclub, which are legal (so far), per Soap Opera Spy. What Brad doesn't know is that Selina has threatened his best friend Britt Westbourne to stay away from him so she can have full control over his life.
As time goes on, will Brad realize that he's being manipulated and stand up to his aunt? Or will he follow in his father's footsteps and choose a life of crime?