Lily Sheen Talks The Unbearable Weight Of Massive Talent And Nicolas Cage - Exclusive Interview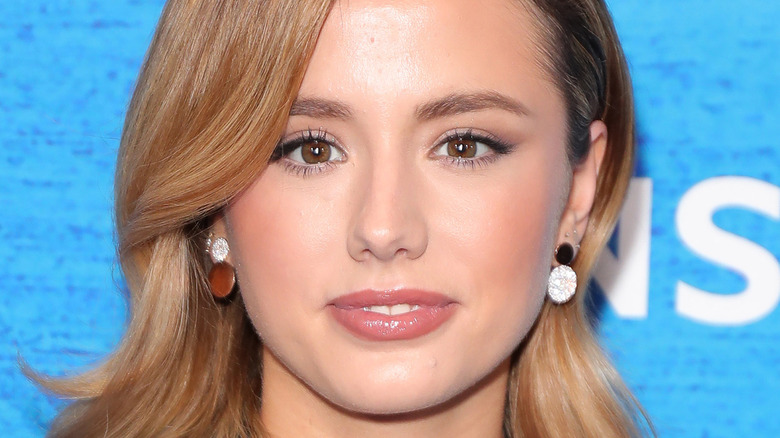 Leon Bennett/Getty Images
Following small roles in "Underworld: Evolution," "Click," and "Everybody's Fine," Lily Sheen is ready for the spotlight. For her first main role, Sheen plays the daughter of Nick Cage — played by Nicolas Cage, obviously — in "The Unbearable Weight of Massive Talent," which you can now watch on digital. As a huge fan of Cage's work, Sheen was understandably excited to be cast as his daughter in the comedic thriller, which also stars Pedro Pascal and Sharon Horgan. 
Speaking about Cage's diverse back catalog of movies, the conversation also turned to "Willy's Wonderland," the comedy-horror flick in which the actor faces off against murderous animatronic characters in a kids' restaurant. "I've never seen him do a ton of horror. I know he's going to be playing a few more horror characters," Sheen tells The List. "He's the quintessential guy who can do that weird, creepy vibe." 
To mark the digital release of "The Unbearable Weight of Massive Talent," Lily Sheen spoke to The List about working with one of Hollywood's most iconic actors, growing up with famous parents, and who her dream collaborators would be.
Lily Sheen on being cast in The Unbearable Weight of Massive Talent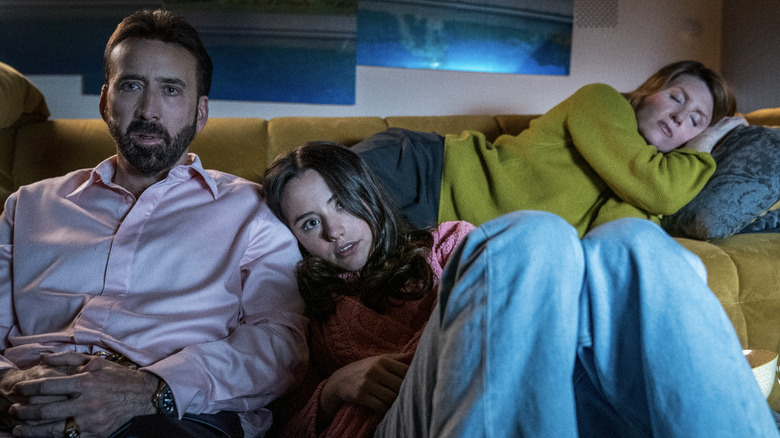 Katalin Vermes/Lionsgate
How did you get involved in "The Unbearable Weight of Massive Talent," and what drew you to the script?
I actually auditioned the first day. I live in New York. The first day that we went into lockdown in March of 2020 was my first audition, and I didn't hear anything. I loved the script. It was very Charlie Kaufman, hyper-reality, dark comedy, which is all the stuff that I love, and I love Nic Cage. I thought "Oh my god. Of course I'm going to audition for this."
Then, I didn't hear anything. I thought "Ah, well, they gave it to someone else." I finally heard back in August [2020] — they wanted to see me again. I went through a few more auditions, and then I got it. The entire way, I felt like, "This is going to be the last of it. I'm not going to get better than this." Then, it really happened. 
It genuinely didn't feel like a real situation until I got to the set. It was amazing. I've been obsessed with Nic as an actor and as a man. I've been, "The man, the myth, the legend," forever. I had done that whole "Caging" thing, putting pictures on people's lockers in school. It felt like I weirdly manifested. It was insane. It's so exciting. It still feels insane.
Nicolas Cage plays your dad in the film. What was that like, and did he give you much advice along the way?
Yes. This is my first real adult movie role, and I was very nervous — incredibly nervous. I wanted everyone to like me and to take me seriously and all that. I had a whole plan of how I was going to act on set. He was immediately incredibly warm and incredibly inviting. Because he is a dad, he has that great dad energy. I know he's having a new baby now — I think he's having a daughter — which will be great because he was fantastic with me.
We had a really similar interest. I'm really into horror, and he's really into horror and very niche interests that I didn't expect from him at all. He was incredibly forthcoming, which I didn't expect. I thought, "He's Nic Cage, he's not going to give me the time of day." But he was really sweet. I was trying to absorb as much of his Cage essence as possible. He was great about that.
The cast of The Unbearable Weight of Massive Talent was 'hilarious'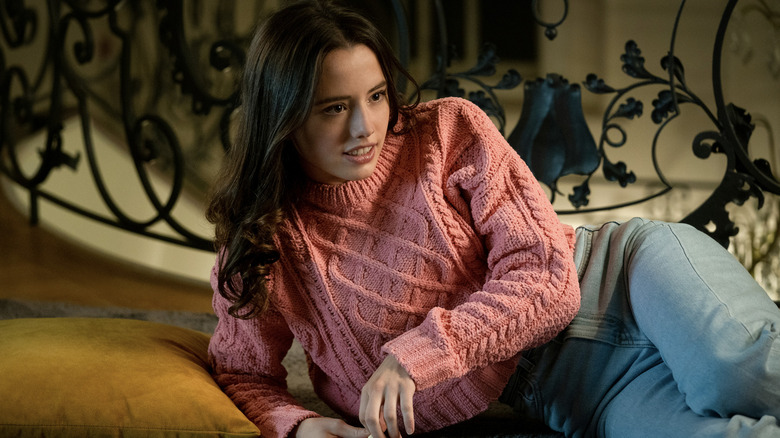 Katalin Vermes/Lionsgate
I also love Sharon Horgan, who plays your mom. You're so lucky to have worked with her and [Nicolas] Cage and Pedro Pascal. Are there any standout moments from the set working with these hilarious people?
She's incredible. It really did feel like working with the masters. They're so good. Sharon is incredible. We'd be on set for 12 hours, all of us really tired, and she'd be like, "Okay. I'm going to go home and write my script." 
She was always incredibly busy, and on it and focused and smart. Most of her lines were improv because she's hilarious. She was always coming up with quirky little things, and you'd hear the producers and the director laughing off stage. It was amazing. 
Pedro's so funny as well. They're all — as they should — they feel so free, which was cool to see for my first experience, because I certainly did not feel very free. It was nice to be able to loosen up with them and watch them make each other laugh and have fun. I learned a lot from watching them play about ... I was lucky. They're all also the loveliest people alive. I was very, very lucky.

Are you hoping for a sequel?
I would love it. I don't know what they could do. They could do Cage in space or something, and get [Shaquille O'Neal] involved. That would be something. I hope they do. Tom Gormican, the director, and Kevin Etten, the writer — they're amazing. They are incredibly hands-on, and it's clearly a passion project for the two of them. It really showed through. I want them to keep working, even if it's not to do with this. I want them to keep going.
Picking one favorite Nic Cage film is impossible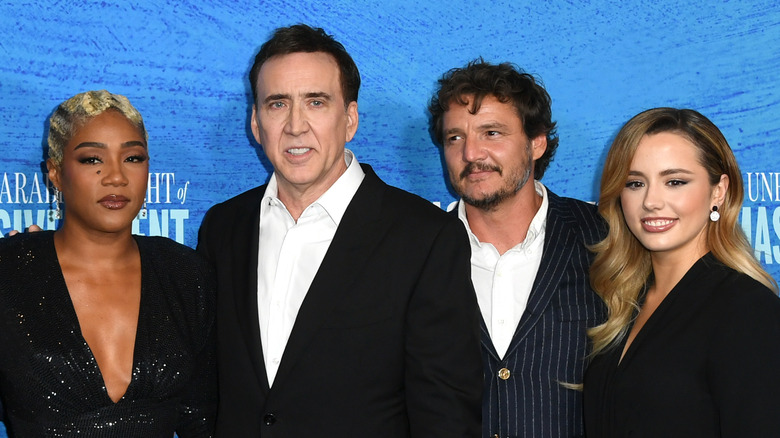 Jc Olivera/Getty Images
Do you have a favorite Nicolas Cage movie?
It's hard. I'll say one, and then I'll go home and I'll be like, "That's not my favorite. I like this one, too." But right now, I'm in a big "Adaptation" mode, which I loved. I hadn't seen it until quite late. When I saw it, I was like "Oh. Why aren't we all talking about this all the time?" It's really insane. But I love that. I loved "Pig." 
Every single one of his performances is completely different. It almost doesn't feel like you're watching the same actor every time, and he's playing around every time. You can go through [his] catalog and find any movie for any mood that you'd like to have and watch it.
That's so true. He doesn't always get taken seriously enough.
I know. He should be now. He's having such a good year.
Have you seen "Willy's Wonderland"? He was amazing in that.
I love that. I've never seen him do a ton of horror. I know he's going to be playing a few more horror characters for certain projects in his career. He's the quintessential guy who can do that weird, creepy vibe.
Lily Sheen grew up surrounded by actors and directors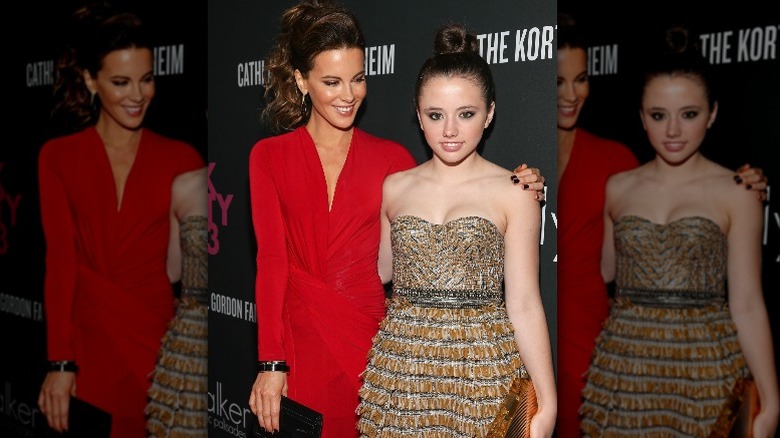 Imeh Akpanudosen/Getty Images
You grew up in the entertainment industry, because your parents, Kate Beckinsale and Michael Sheen, are both very famous. Did they give you any advice before you started work on this role?
To be honest, they're not super advice-y people. They've been incredible. It's been lovely, any time I need help, or I need to curl up and cry ... [laughs]
In terms of acting in general, it can be quite a scary industry regardless. Even if you're not someone like me who's had this incredible privilege of having people actually in the industry. On so many levels, I feel lucky to have them, but even as allies, to be able to call up and to understand the process ... The audition process, it's horrible. They've always been great about being able to pick me up a little bit and put me right back.

Do you watch everything your parents make? Do you have favorite films that they're in?
I don't. One of my favorite of my mom's is "Alice Through the Looking Glass," the movie that she did when she was pregnant with me. I love "Alice in Wonderland." I think it's just on DVD or something, but that's my favorite. It's amazing. All the performances are so cool, and I haven't seen another "Alice Through the Looking Glass" movie besides the Tim Burton one. It was really special.
My dad, he pops up in everything — turn on the TV, I'll see him in something. But they're amazing. I'm in awe of their careers. You go, "That's not my mom, that's someone else." But I guess that goes to show how good they are.
What was it like growing up in the entertainment industry? Did you know you always wanted to pursue acting?
It's always been the world that I was in. It always felt very normal, and I always had this great respect for everyone involved in the film process. My grandpa [Roy Battersby] is a director, and I got to see all the different sides and learn about it and love it. For a while, when I was younger, I was very clear in, "I'm not going to be an actor, I'm going to do something different. I'm going to be something different." But I love it; it's the best thing in the world.
As I got older, it became a real vehicle for me to be able to work out various emotions and experiences, and that's the thing that I loved the most about it — being able to play versions of yourself that you couldn't be. That's how it was with Addy [Cage in "The Unbearable Weight of Massive Talent"]. She was a version of me when I was 16 that I would have loved to be — someone who's super adamant about their identity. I want to be taken seriously, and I didn't feel necessarily like that when I was 16. But it's cool to be able to slip into someone else's body, and I know it's a cliché. But that's what ended up solidifying it for me.
Lily Sheen would love to work with David Lynch and Yorgos Lanthimos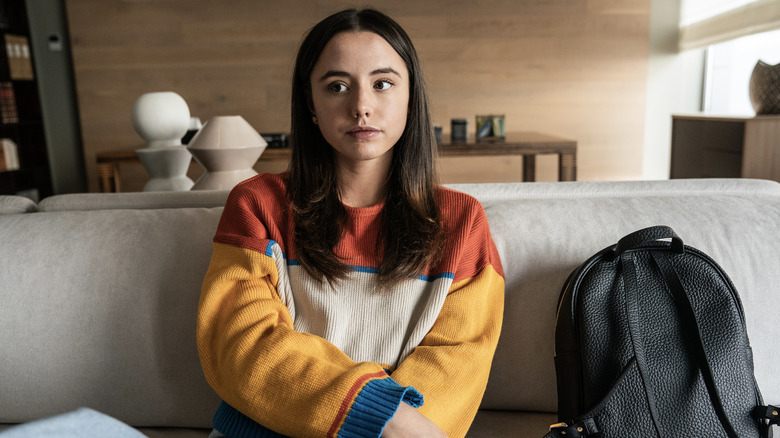 Katalin Vermes/Lionsgate
"The Unbearable Weight of Massive Talent" marks the start of your career. Who are you hoping to work with next? Writers, directors, actors?
I say it all the time; I'm a huge [David] Lynch fan. But I'm super excited about the Yorgos Lanthimos movie that I know that they just finished ["Poor Things"]. I love Yorgos Lanthimos — I've been obsessed. His movies helped me figure out my own passion, when I first saw "The Killing of a Sacred Deer." It's also such a heightened version of reality. Everything feels like a play, and it feels like you're in a different reality than this one, but you can't exactly figure out what is different. That, I love. I love that general unease that you get, and the playfulness ... I love it. I'd hope one day, maybe, I can work with him.
Because you're a creative person, are there other things you'd like to do outside of the acting space? Do you have any other aspirations, either in the entertainment industry or outside of it?
Writing has always been my primary passion. I've always been interested in writing short stories and writing essays, personal essays. It's very pretentious to say. But I love writing, and I'd love to be able to be writing and acting and working in fiction, [with] novels. That would be amazing.
Would you like to move behind the camera in the future?
I would love to. I'd love to be creatively working as much as possible. That's my goal in any area that I can find.
"The Unbearable Weight of Massive Talent" is available now on digital, and will be on 4K Ultra HD, Blu-ray, DVD, and On Demand June 21 from Lionsgate.
This interview was edited for clarity.