Tragic Details About The 24-Hour Surveillance Britney Spears Faced During Her Conservatorship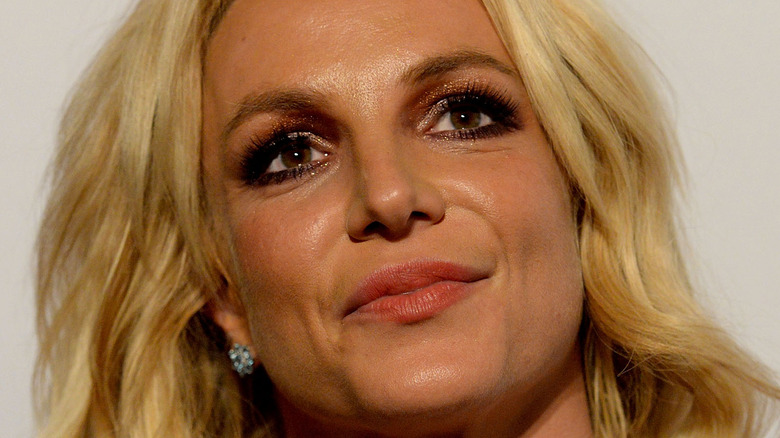 Scott Dudelson/Getty Images
Britney Spears has had a hold on society since her days on Disney's "The Mickie Mouse Club" with co-stars Justin Timberlake, Christina Aguilera, and Ryan Gosling. She went on to enjoy a prolific music career and release generation-defining hits. However, after being placed under a conservatorship controlled by her father Jamie Spears in 2008, fans became concerned for her autonomy. They ultimately started the #FreeBritney movement and released content like the Britney's Gram podcast in 2017. Fan-led investigations got the ball rolling, but popular interest piqued in June 2021 when Britney delivered her first public statement against the conservatorship, per Variety.
The New York Times wrote about her private attempts to end her conservatorship and turned their research into a documentary called "Controlling Britney Spears," which is available on The New York Times website and Hulu. Other documentaries followed: Netflix released "Britney vs. Spears," which contained a voicemail that revealed Spears had tried to end her conservatorship as early as 2009. CNN dropped "Toxic: Britney Spears' Battle For Freedom," which featured interviews that revealed the extent to which her access to medical care was controlled by the conservatorship. 
Though Britney was unable to hire her own lawyer until 2021, a judge called for the end of the conservatorship in November of that year. The ending of the conservatorship brings relief to fans and members of the movement, but details of the arrangement serve as a cautionary tale for the legal control of a person's life.
Her devices were allegedly monitored by her conservator at all times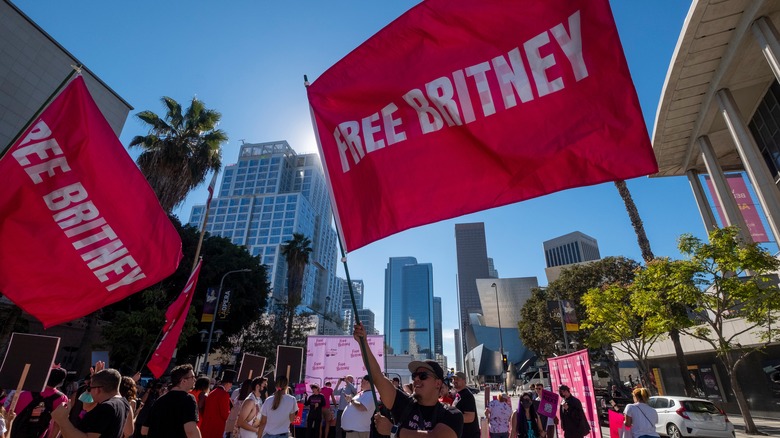 Ringo Chiu/Shutterstock
As details of Britney Spears' conservatorship under her father Jamie Spears emerged, members of her team began coming forward with stories. The security company hired to monitor Britney Spears, Black Box Security, has grown in popularity among high-profile Hollywood clientele since 2008, partially due to Britney's presence on their client list, per The New York Times. However, in Britney's case, a former member of her security team named Alex Vaslov told The Times' documentary interviewer that the team's involvement in her life extended far beyond the boundaries of personal privacy.
"It really reminded me of somebody that was in prison," Vaslov said. "And security was put in a position to be the prison guards essentially." Britney was not only physically restricted — unable to even drive under conservatorship, per People — but her social life was closely monitored. Vaslov said that Britney's phone was connected to an iCloud account accessible by her conservator's iPad and iPod. Her texts, calls, and general data were all subject to scrutiny by her father and former business manager. The Times also verified screenshots of messages with those closest to her, including family members and her fiancé Sam Asghari.
Vaslov also shared that he was once asked to delete a USB drive while working for Black Box Security, but he had instead copied the data. It turned out to be over 180 hours of audio recorded from Britney's bedroom, which was confirmed by the Times.
Jamie Spears claims his actions were not illegal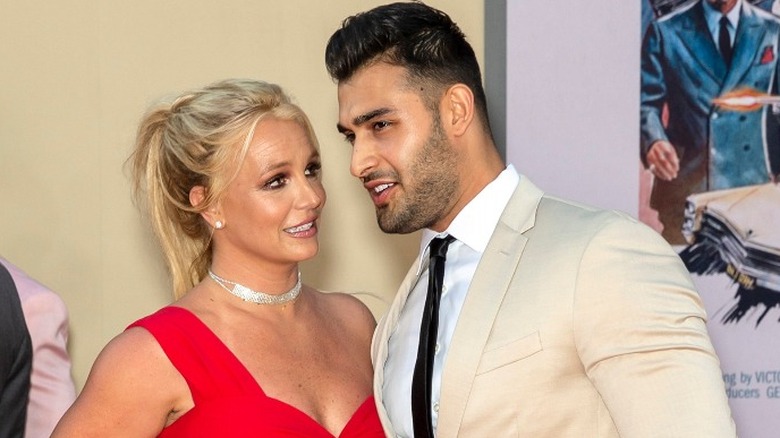 Ovidiu Hrubaru/Shutterstock
Despite Black Box Security's involvement in Jamie Spears' seemingly unethical and potentially illegal monitoring of his daughter, the CEO Edan Yemini's lawyer released a statement saying otherwise. "Mr. Yemini and Black Box have always conducted themselves within professional, ethical and legal bounds, and they are particularly proud of their work in keeping Ms. Spears safe for many years," they told The New York Times. Jamie' lawyer released another statement to the same effect: "All of his actions were well within the parameters of the authority conferred upon him by the court."
After his removal as conservator, Jamie submitted a 27-page petition to the court — reviewed by Variety — which asked for Britney Spears to continue paying his legal fees, which started at $1,200 an hour for counsel.
Britney's happy ending — exiting her conservatorship — was marred by her father's involvement. However, she still celebrated her newfound freedom and privacy by getting engaged to Sam Asghari and enjoying new legal rights outside of her conservatorship. She also thanked the Free Britney Movement via a now-deleted Instagram post (via CNN). "The #FreeBritney movement — you guys rock... Honestly, my voice was muted and threatened for so long, and I wasn't able to speak up or say anything... I honestly think you guys saved my life, in a way. 100 percent."