The Two Men The Bold And The Beautiful's Brooke Shared With Her Daughter Bridget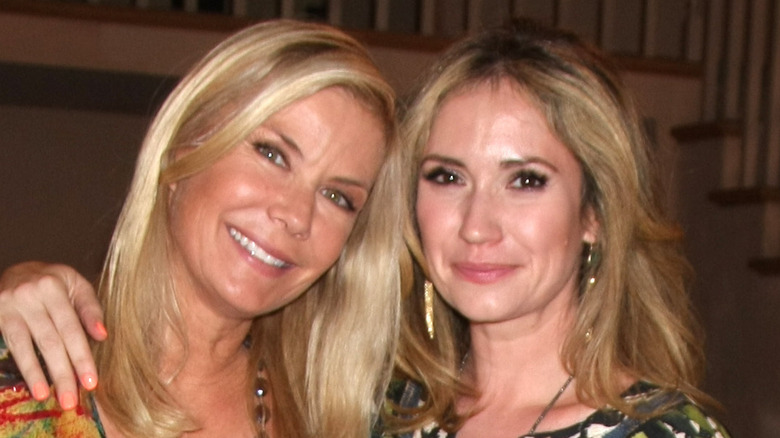 Kathy Hutchins/Shutterstock
Brooke Logan often comes to mind when people think of "The Bold and the Beautiful." Her love story with Ridge Forrester (Thorsten Kaye) is legendary, and their romance has fueled storylines for decades. However, he isn't the only man she's fallen in love with in the show's 35 years on air. Brooke's history with men has been questionable at best, and it can get messy. Sometimes her thirst for love even puts her in a chaotic love triangle with a member of her own family.
Per Showbiz CheatSheet, in recent years, Brooke's slept with her sister Katie Logan's (Heather Tom) husband, Bill Spencer (Don Diamont). No matter how much effort Brooke exerts to avoid him, they always find themselves in a compromising circumstance. Being at odds with a member of her family over a man isn't anything new, though. Fighting with her sister is one thing, but Brooke's gone to war with her daughter Bridget Forrester over not one but two different men.
Keep reading to find out what happened when both Brooke and Bridget fell in love with Deacon Sharpe (Sean Kanan) and Nick Marone (Jack Wagner). 
Brooke had an affair with Bridget's husband, Deacon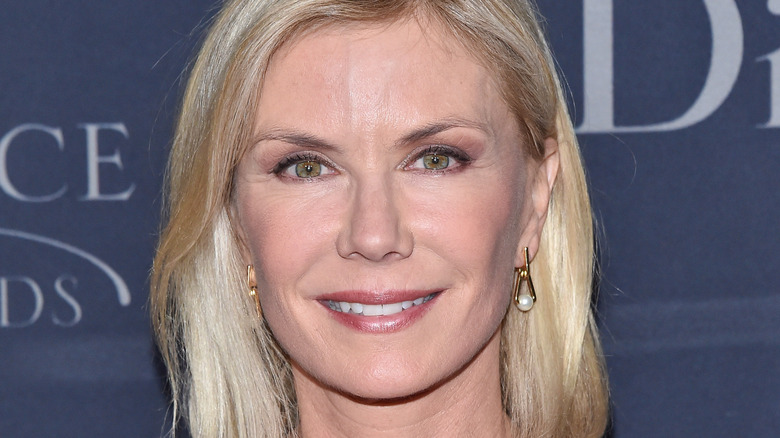 DFree/Shutterstock
Brooke Logan isn't afraid to cross moral lines to get what she wants. Historically, if she sets her sights on a man, she will get him regardless of what it takes. Unfortunately for Bridget Forrester, that applied to her as well. In Brooke's defense, she tried to fight her undeniable attraction to her daughter's husband, Deacon Sharpe. However, the passion and chemistry were too intense to ignore. Having an affair is one thing, but what came after their sexual encounter was far worse; Brooke became pregnant by Deacon.
She made an admirable attempt to conceal the identity of her baby's father. Despite multiple attempts to pass her baby off as a different man's, Bridget learned the truth about her mother's and husband's betrayal. Overhearing the truth on a baby monitor and not directly from her mother made it all the more painful to endure. In a cruel twist of fate, Bridget even assisted in the birth of the child (via Soaps In Depth).
However, the two women were able to reconcile and move on. Bridget divorced Deacon, and things got better between her and Brooke (via Showbiz CheatSheet). Deacon wouldn't be the only man they shared over the years, though. Nick Marone is another figure both women found themselves enthralled with, and his presence hit both of their lives like the shipwreck that brought him to town.
Brooke also had an affair with Bridget's husband, Nick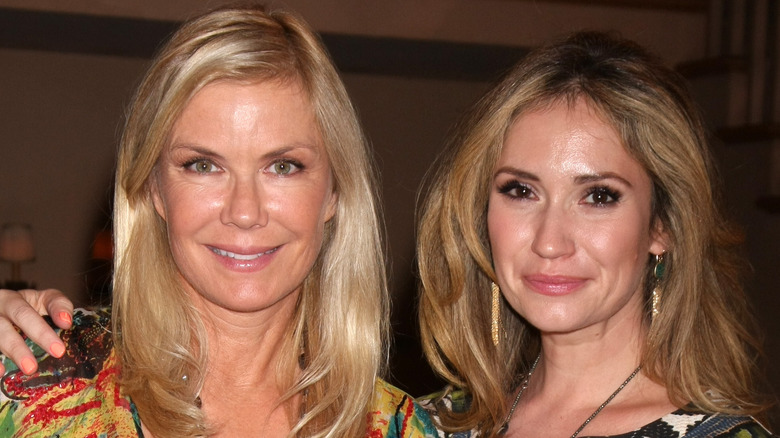 Kathy Hutchins/Shutterstock
Fool Bridget Forrester once; shame on you? Fool her twice; shame on her? Is that how the saying goes? Bridget forgave her mother following Deacon Sharpe's betrayal. They made a lot of progress following the affair, but, like any good soap opera, "The Bold and the Beautiful" had another twist for the mother and daughter. In a curveball that would affect the family for years, another man came in between them. This time it was Nick Marone, who also happened to be Ridge Forrester's biological brother (via Soaps In Depth).
Brooke Logan was involved with Nick first, but they called it quits after a complicated paternity situation. Nick eventually found love with Bridget, but their happiness didn't last. Brooke's thirst for love reared its ugly head, and she betrayed Bridget. Her daughter learned about the affair more quickly this time, but there was a wrinkle making things just as messy as before. Bridget was pregnant with Nick's child, and she had to wrestle with that fact while processing her mother once again sleeping with her husband. The child was stillborn, and the couple went their separate ways (via Soaps In Depth).
The biggest lesson in all of this is that love triangles between mother and daughter never end well. "The Bold and the Beautiful" has given two prime examples of that, but somehow after everything, Brooke and Bridget are back on good terms in the present.