How To Recreate Veronica Lake's Iconic Hairstyle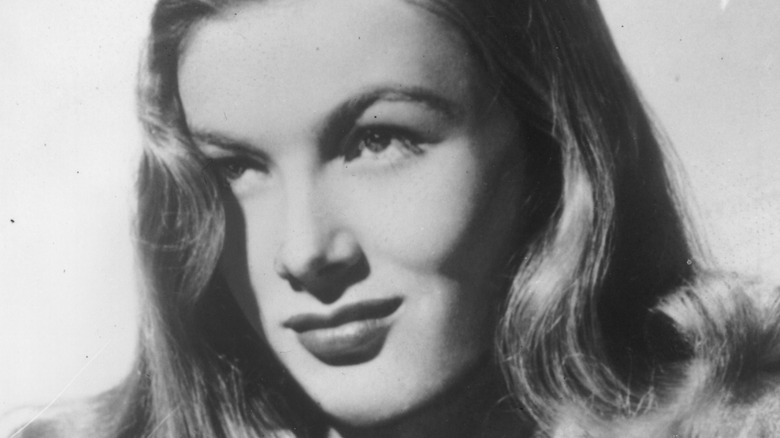 Keystone/Getty Images
Veronica Lake may no longer be a household name, but the actress of Hollywood's golden age was a pioneer in her own respect. She helped develop one of the most popular types of character in the 1940s, the femme fatal (via Entertainment Weekly). The femme fatal was a mysterious woman, capable of doing criminal things at times, and often the most important role in the film noir genre.
Lake played the perfect femme fatal in films like "The Glass Key," "This Gun For Hire," and "The Blue Dahlia," which has been rumored to be the inspiration behind the nickname given to Elizabeth Short- aka The Black Dahlia — who was murdered in Los Angeles in the 1940s (via IMDb).
Now that retro looks are coming back in style, many are seeking inspiration from stars of the golden age, like Marilyn Monroe and Audrey Hepburn. If you are looking to get a captivating vintage hairstyle, look no further than Lake, whose hair was once a controversial topic.
The government once asked her to cut her hair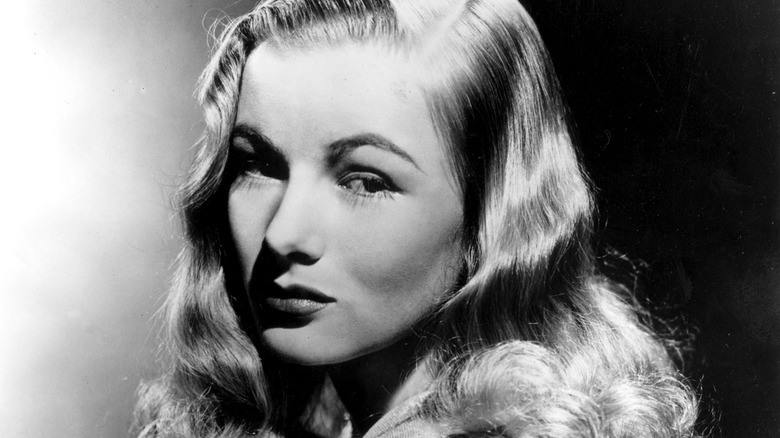 Keystone Features/Getty Images
Veronica Lake's long and flowing locks are admired now, but they were once a topic of controversy during her lifetime. During the 1940s when pin curls and pompadours were all the rage, Lake started a trend with her long locks and peek-a-boo bangs (via Fashion Gone Rogue). Soon, more and more women in the United States were growing their hair long and letting their bangs fall over their eyes, much to the dismay of the older generation who were strict about keeping their hair short and in tight curls.
The actress came to fame during World War II, which prompted the government to ask her to chop her gorgeous locks due to the style's popularity as women took on roles in factories to help the war effort (per The Vintage News).
The issue with long hair in these working conditions is that it puts women at risk for workplace injuries. Hair was getting stuck in the machines, leaving the US government pleading with Lake to cut her hair. She instead released a tutorial to help women pin their long hair back, allowing them to keep the new peek-a-boo do while staying safe from workplace injuries.
With such a fascinating history behind Lake's iconic hairstyle, you might be even more excited to try the style for yourself. Don't worry, we have all the tips to master the look.
Recreating her look can be done in under 30 minutes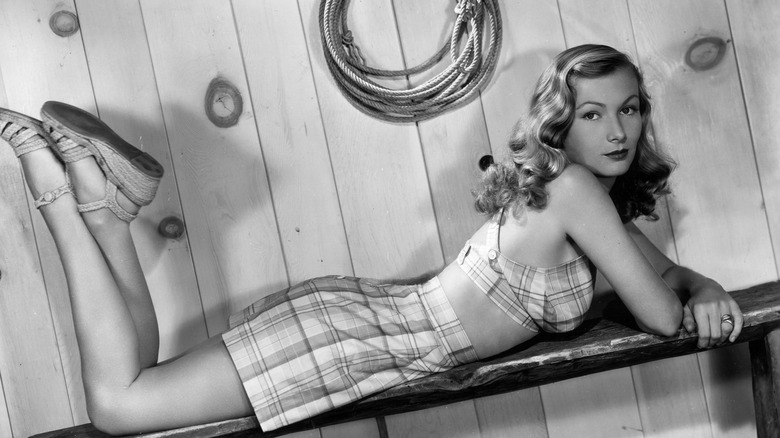 Fox Photos/Getty Images
Thankfully, copying Veronica Lake's iconic hairstyle can be done easily. Recreating her beautiful vintage waves and peek-a-boo bangs can be done in under thirty minutes, according to The Beauty Department.
The Beauty Department recommends parting your hair to the side before curling. There was something magical about the peek-a-boo side part Lake had that can't be recreated as well on a middle part. You'll use a barrel or wand iron that is 1" for the best results.
The key to capturing this look is to make sure your curls are falling in a perfect pattern. You'll want to get your hair as hot as safely possible, but holding the iron to your hair for prolonged periods isn't always best. Sometimes, it's better to go over the piece of hair twice.
If you're having trouble getting your curls to stay, The Wedding Community suggests curling a piece of your hair and securing it up with bobby pins and letting it cool, then removing the pins and brushing the curls out to loosen them. This will leave you with those classic 1940s curls inspired by Lake!