The Cherry Nail Art Trend Will Make You Hungry For More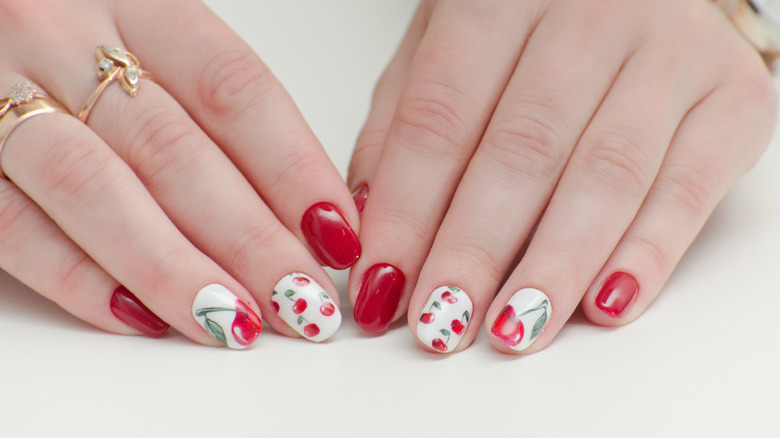 Serhii Yevdokymov/Shutterstock
When it comes to self-care, there's nothing like throwing a little bit of pampering into your routine. Face masks and bubble baths are great at-home options to show yourself some love on a night in, but what about options for beauty as well? Getting your nails done — or even doing them yourself — can feel like a form of self-care for many people. With hundreds of colors or patterns to choose from, the possibilities for a great manicure design are endless.
According to Statista, the nail salon industry earns about eight billion dollars a year in the United States alone, so it's safe to say that getting a fresh mani-pedi set has become routine for plenty of Americans. Especially in the warmer months, fresh and fun nail designs are flaunted on many fingers and toes. For the summer, Harper's Bazaar reports that bold designs and colors are all the rage, so it comes as no surprise that one of this year's hottest nail trends involves a particularly bright theme color.
This summer nail trend is fresh and fruity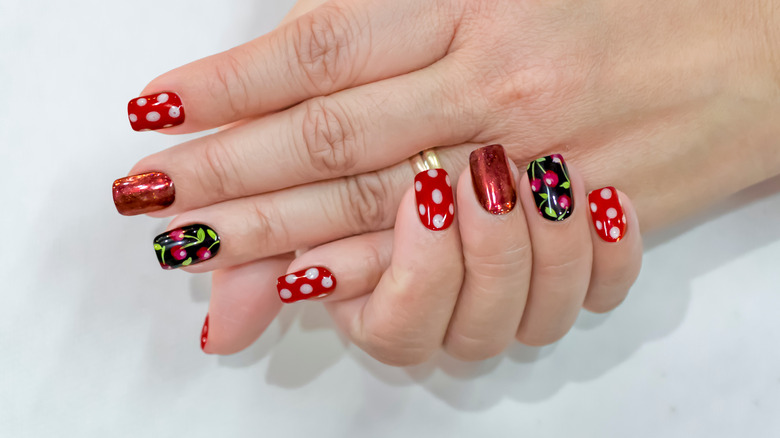 Nittaya Saternram/Shutterstock
A cherry nail design is easy to DIY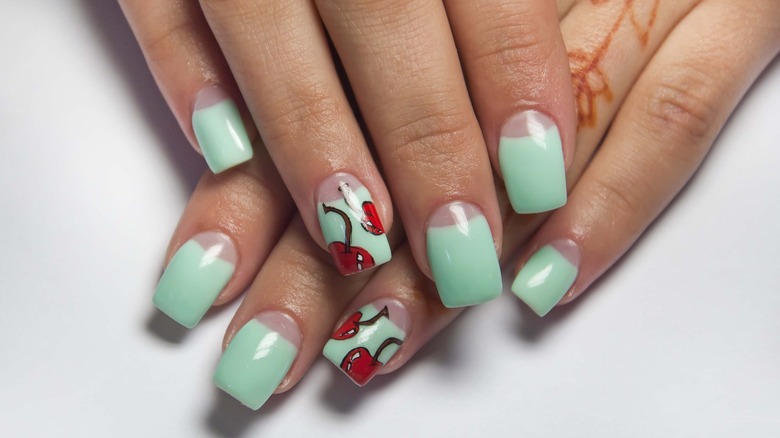 Dina Shuba/Shutterstock
If you prefer to save some cash or time at the salon by doing your own nails, there are plenty of ways to achieve a flirty and fun cherry nail look at home. According to StayGlam, using a thin brush or a dotting tool can help you perfectly shape the tiny fruit designs on your own nails, or you can choose to freehand it if you've got the skills. Designs like this blue and cherry nail look can be recreated using blue, green, red and white color polishes — shades that you probably already have in your collection! Simply coat your nails with the light blue base (or whatever complementary shade floats your boat), and apply dots of red for the cherries, green lines for the stems, and tiny white strokes for the "shiny" effect.
To make even more of a glam statement, you can always go with a look like this decked out and sparkly set. After finding some red rhinestones or cherry nail charms online, you can apply them with nail glue on top of the design of your choice. If you want to get really creative, you can make each individual nail into a different look, showing off your unique style.