Tips To Help You Keep Rhinestones On Your Nails Longer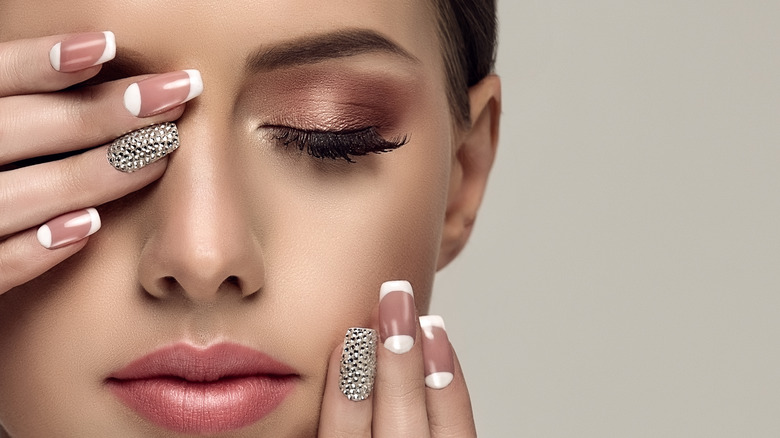 Sofia Zhuravetc/Shutterstock
A manicure is a relaxing self-care practice that just makes you feel good. After all, walking out of a salon with a fresh new mani can put a spring in your step. 
Of course, if you can't get to the salon, you can always learn how to give yourself the ideal at-home manicure. It also helps to find out how to keep your nails healthy in between manicures, too.
When it comes to nail art, it seems like there's a manicure for every season and event. A modern French manicure is a great look for summer weddings and bridal showers. If you're a trendsetter, you might want to go for the nail art trends everyone will be asking for this year. These include stiletto nails, two-toned French manicures, tips with bling, and tiny accents spread across your nail bed (via Refinery 29).
If you're naturally creative or just want to be a little bolder, rhinestones make a nice touch to a manicure. Here's how to make them last.
There are many size and color options for rhinestone manicures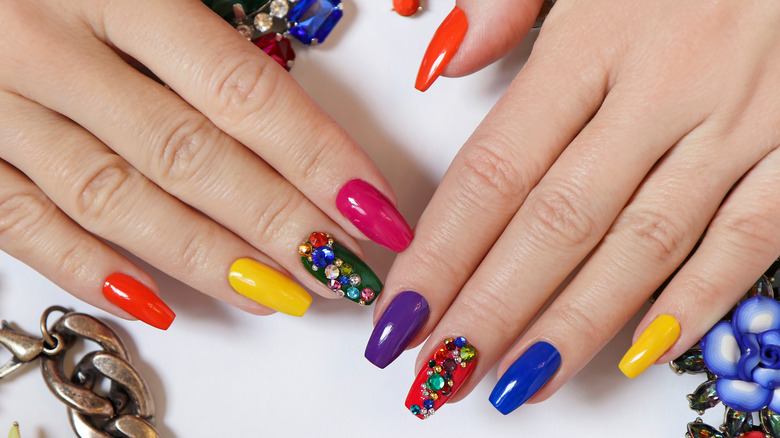 marigo20/Shutterstock
There's nothing like adding a few shiny rhinestones to your finished manicure for extra glam. Rhinestones come in all shapes and sizes (Makeup Tutorials) so you can choose according to your taste. The most popular size is a #5, which is approximately 1.75 mm to 1.85 mm (via Nails Magazine).
If you want to make a statement, chose large, colorful rhinestones, and arrange them however you choose. Add a bunch to each nail — and leave no stone unturned!
But you don't have to go over the top to make your nails stand out. For a less busy look, simply arrange a couple of rhinestones on each nail. For a demure manicure, apply a tiny silver rhinestone in the middle of one or two nails.
While choosing gem color and size are surely big decisions, the more difficult part may be trying to keep your new rhinestones attached to your nails once the manicure is completed.
Keep your rhinestones in place longer with these tips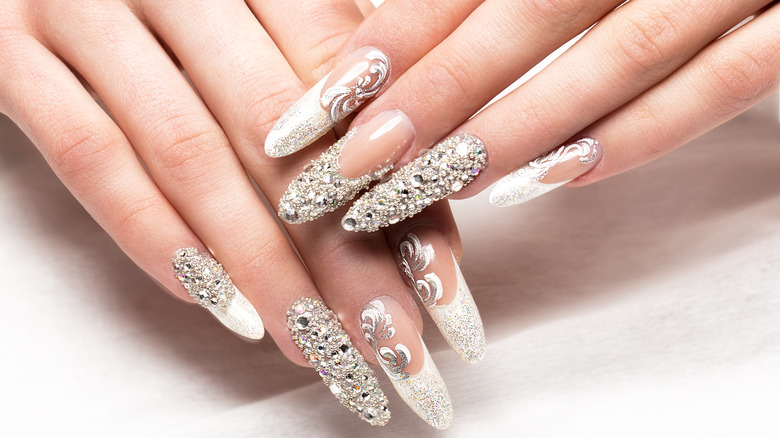 KOBRIN PHOTO/Shutterstock
According to Rhinestones Unlimited, there are tried-and-true ways to keep your rhinestones on your nails longer. Before you even apply a rhinestone, pay attention to what nail polish you use. Gel manicures last longer and, in turn, will keep the gems in place for a longer period of time.
Next, use an adhesive that contains resin, and only use what you need. Since resin acts as an instant glue (via Nails Magazine), applying too much could backfire. Rhinestones Unlimited recommends "using a bead about half the size of the crystal you're about to place."
Once you're finished placing each rhinestone, it helps to add a clear topcoat to your entire nail to seal the deal. But don't go over the rhinestone, which will dull its shine. Instead, paint around it.
To keep your shiny rhinestone manicure fresh and undamaged, it helps to use gloves when you do the dishes or clean around the house.