How To Do Your Hair So It Looks Like Marilyn Monroe's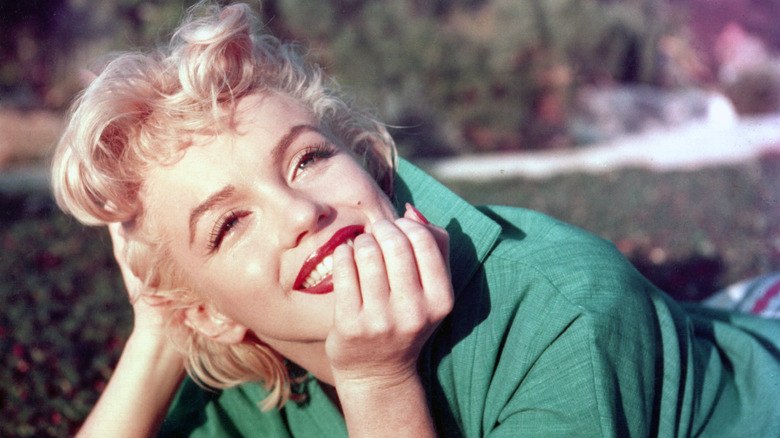 Baron/Getty Images
Whenever you see a photo of Marilyn Monroe, you'll notice her signature bright blond bouncy curls. They were as much a part of her appeal as her beauty mark, red lipstick, and iconic outfits. Despite her tragic death in 1962 (via Los Angeles Times), the actress' star has continued to shine bright, with many stars such as Kim Kardashian taking inspiration from her landmark looks. The obsession with figuring out her life continues too, as a new film titled "Blonde" is set to be released this year (via The Guardian). Unlike previous films focused on Monroe like the 2011 flick "My Week With Marilyn," "Blonde" will apparently offer a new perspective on Monroe's life.
There's no doubt that part of Monroe's mystery stems from her beauty, which helped catapult her to the top of Hollywood. As discussed in the Observer, her beauty and glamour are part of the reason she is so known still today. However, you might not know how to achieve Monroe's beautiful statement curls by yourself, which is why we've laid it out step by step so you can look and feel like a true Hollywood starlet. 
Marilyn Monroe was known for her bouncy, glam hairstyle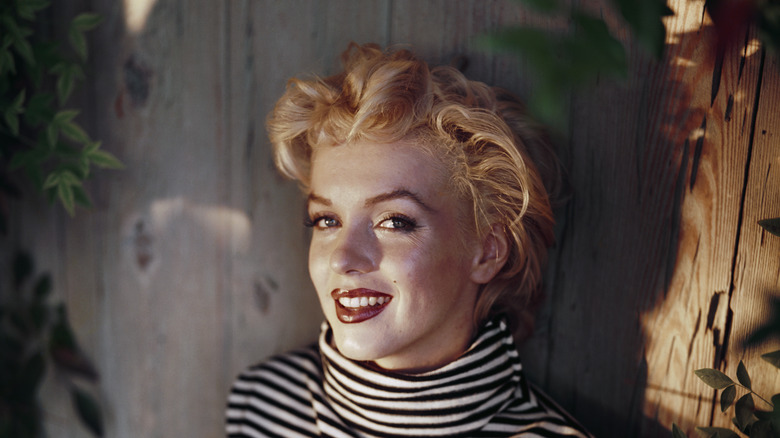 Baron/Getty Images
There aren't as many steps as you might think to achieve Marilyn Monroe's classic, larger-than-life curls. As outlined in Live About, only four are required to achieve her iconic look. This technique will come out the best on hair that's shoulder-length. On shorter hair, you won't get the same effect due to lack of length, and with longer hair, the curls may not be as voluminous.
The first step is super easy and involves making sure you have all the tools you need, namely hot rollers, mousse, a brush, comb, and some hairspray. If your hair is on the frizzier side (no judgment here, we've all been there), you might want to get some smoothing serum too. You'll also want to make sure you're starting with clean, wet hair for a fresh base. Next, brush your hair until it's completely tangle-free and run a generous amount of mousse through it, root to tips. After you've done this, part your hair on your preferred side and dry it thoroughly. Make sure you're creating volume whilst drying by lifting your hair from its roots with your fingers. 
Her peroxide blond hair was always immaculately styled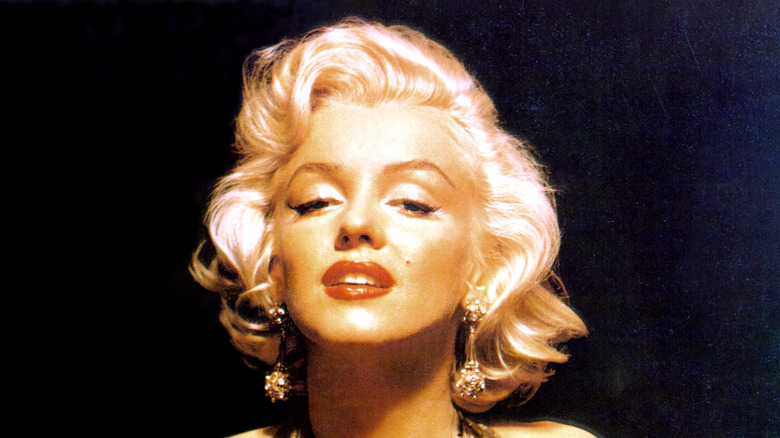 Michael Ochs Archives/Getty Images
The next two steps are where it gets a little tricky, but persevere so you can have Marilyn Monroe-esque curls of your own. Continuing with the tutorial from Live About, you'll want to heat up your rollers. This is also the time to add smoothing serum if your hair is looking a little frizzy. Start to place the rollers in your hair, the trick is to use the biggest on the hair around your crown, and the smallest rollers on the hair that frames your face.
To make things simpler, start at the front where your hairline is and work your way backward, making sure the curl is rolled away from your face and not toward it. Never go for a section of hair bigger than two inches, as you want to make sure all hair is contained and tucked into the roller for an even look. When done, let the rollers cool completely. The time this takes varies from person to person depending on how long and thick your hair is, so it's best to just keep checking.
Finally, brush your hair gently to get rid of any roller marks. With the comb mentioned earlier, work your way through your hair and backcomb the flatter areas for extra volume and shape. Finish with hairspray, and there you have it! Add some red lipstick and walk out feeling confident with your sexy new curls.