Prince Andrew Is Set To Attend Another Major Royal Event After Jubilee Absence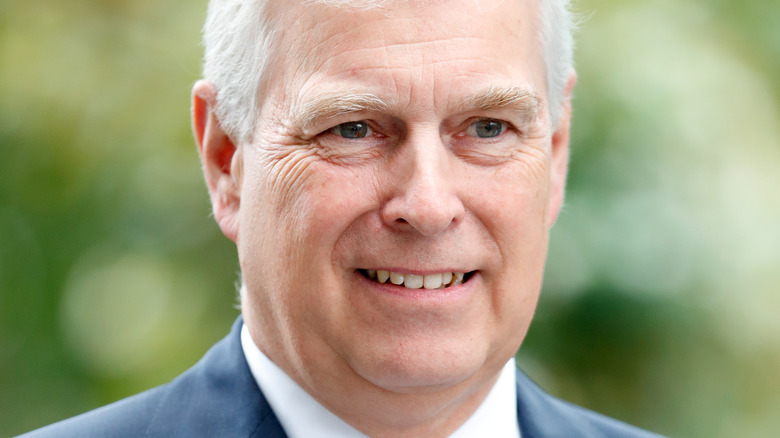 Max Mumby/indigo/Getty Images
Prince Andrew was noticeably absent from Queen Elizabeth's Platinum Jubilee, which saw her celebrating a milestone and unprecedented 70 years on the British throne. Of course, the monarch's son was not the only royal who skipped high-profile events like standing on the balcony of Buckingham Palace during the Trooping the Colour parade.
While he is no longer a working royal, and had his titles stripped as he faced allegations of sexual abuse, Prince Harry and Meghan Markle were also excluded from certain Jubilee privileges since they do not presently carry out any official royal duties (via Forbes and People). But just as fans were bracing for the potential humiliation Andrew would face as his brothers Prince Charles and Prince Edward and sister Princess Anne stood beside other senior members of the royal family, the disgraced Duke of York made a shocking announcement (via BuzzFeed News).
Indeed, he shared that he had tested positive for COVID-19. But concerningly, he had recently been with the Queen, who only recently battled her own case of the contagious illness, admitting it left her feeling "exhausted" (via ABC News). And not surprisingly, people immediately began questioning the timing of Andrew's supposed diagnosis, including a royal expert.
Royal fans worried about Queen Elizabeth and questioned the timing of Prince Andrew's COVID-19 diagnosis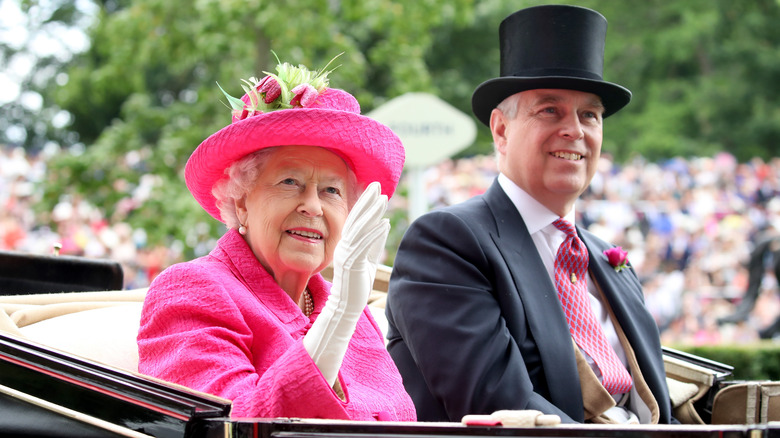 Chris Jackson/Getty Images
Twitter immediately lit up with suspicions upon Prince Andrew announcing he had tested positive for COVID-19 on the exact day of the Trooping the Colour balcony photo opp (via Reuters). And then, a palace spokesperson confirmed he would miss the only Jubilee event he was actually invited to, saying, "The duke has tested positive for COVID and with regret will no longer be attending tomorrow's service."
An example tweet reacting to the situation read, "BREAKING: Prince Andrew has sadly been forced to skip the jubilee celebrations after faking a positive Covid test x." Meanwhile, royal expert Kinsey Schofield, author of "R is for Revenge Dress: A Princess Diana–Inspired Alphabet Book for Grown-Ups," told The List exclusively about the Archbishop of Canterbury also testing positive that week, "I'm not into conspiracies but awfully suspect that both men have COVID!"
Schofield noted the coincidence in light of the Archbishop having recently vehemently defended Andrew's image, telling ITV, "We all have to step back a bit, he is seeking to make amends and I think that's a very good thing."
Now, with his illness behind him just as the Jubilee celebrations wrap up, Andrew is expected to attend another very public event.
Prince Andrew is still a knight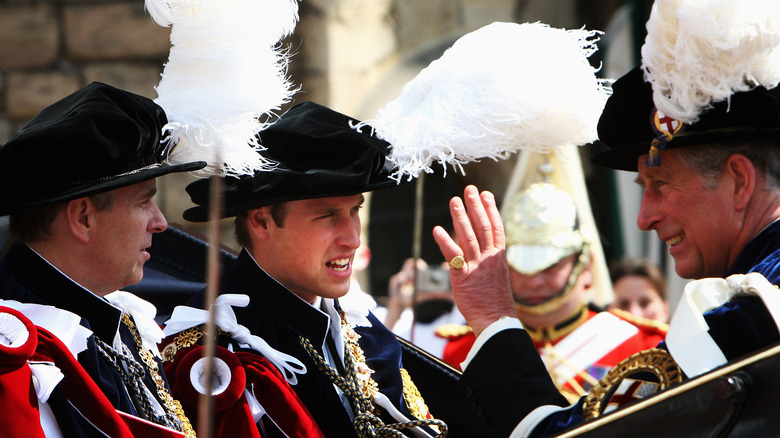 Chris Jackson/Getty Images
According to the Daily Mail, Prince Andrew is now "COVID-free." And now, the controversial duke is set to attend Garter Day at Windsor Castle on Monday. What is Garter Day you ask? The occasion dates back 700 years ago to when King Edward III created an order of knights named — you guessed it — the Order of the Garter (via Royal.uk).
Today, the event is considered to be highly prestigious, and given that fact, it's not exactly shocking that some royal fans are put out by Andrew's reported presence. When royal expert Omid Scobie pointed out in a tweet that Andrew remains a knight in the Order of the Garter and would therefore likely be a big part of the event, commenters immediately began scratching their heads. "​​That recovery from convenient Covid-19 was quick," one person wryly tweeted, with plenty of other people opining that given the royal's alleged actions, he shouldn't be allowed to keep his knighthood.
Meanwhile, the Daily Mail notes that Queen Elizabeth's participation at the high-profile event has not been confirmed, with the palace having recently admitted the 96-year-old has been experiencing mobility issues.