The Real Reason Tampax Is Blaming Amy Schumer For The Tampon Shortage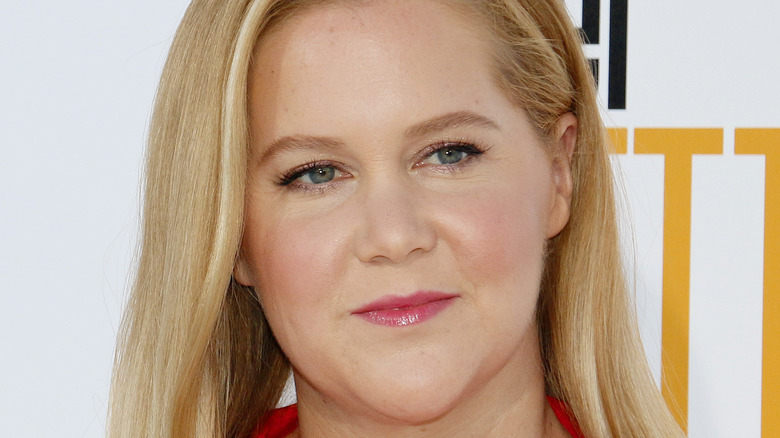 Tinseltown/Shutterstock
Amy Schumer, like so many other celebrities and public figures, has endorsed products over the years. Remember her Beautycounter ad? Meanwhile, the comedian has also endorsed candidates for office (via Insider). But now, the actress' latest endorsement has landed her in hot water in a rather odd way.
In an interview with Time, Procter & Gamble spokesperson Cheri McMaster talked about the national tampon shortage, saying, "Retail sales growth has exploded" in referring to Schumer stumping for the Tampax brand in 2020. McMaster noted that the company has seen explosive demand and is staffing its only factory 24 hours a day, seven days a week to keep up. So yes, believe it or not, the parent company feels that the star, who appeared in commercials for Tampax two years ago, is responsible for the shortage of its products.
The accusation defies logic especially since as Yahoo! Life points outs, other brands of tampons are also experiencing supply chain issues, much like other products like baby formula. And again, Schumer's commercials, which aimed to normalize women's periods, aren't exactly new.
Given the bizarre insinuation from Procter & Gamble, now, the "I Feel Pretty" star is fighting back with her trademark humor.
Amy Schumer has the perfect response to accusations about the tampon shortage
Taking to her Instagram, Amy Schumer answered the accusation from Procter & Gamble that she is somehow to blame for women not being able to buy tampons nationwide — since she is known for her self-effacing humor, it's no surprise that the star did so in her own way.
As a caption to a clip of an article about her being responsible for the shortage, Schumer wrote, "Whoa I don't even have a uterus." Indeed, the mom of one endured a hysterectomy and appendectomy in 2021 to help free her of a painful struggle with endometriosis (via NBC News).
Hysterically, star friends took the comments section of the actress' post to support her, with Kerry Washington notably joking, "I knew it."
Jokes aside, one has to wonder whether the former lovefest between Schumer and Procter & Gamble is officially over. As fans may recall, a company press release excitedly announced in 2020, "When we chose to focus on tampon and period education, we knew Amy Schumer was a perfect fit because Amy doesn't shy away from anything" (via New York Post). And as People reports, the star once dressed up as a Tampax tampon for Halloween in a comedic show of support for the brand.