Amy Schumer Shocks Fans With An Update About A Recent Surgery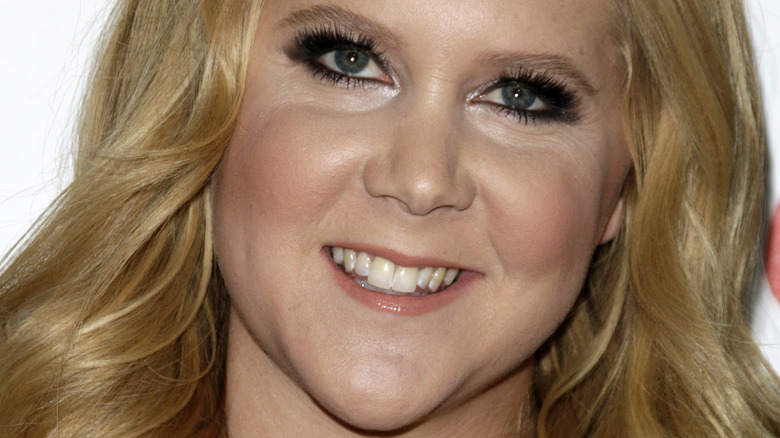 Kathy Hutchins/Shutterstock
Amy Schumer is one celebrity who has been open about her health and parenting journey. The star documented her difficult pregnancy with her son Gene in an HBO Max special called "Expecting Amy." Then, she candidly shared her IVF experience with fans via Instagram, recounting in part, "Hey! So ivf went like this for us. They retrieved 35 eggs from me. Not bad for the old gal right? Then 26 fertilized! Whoah right? For all of those we got 1 normal embryo from that... So we feel lucky we got 1! But what a drop off right?" (via USA Today).
Now, Schumer has taken fans along for the ride for another major development in her life. Again taking to Instagram, the comedian recorded a video from her hospital bed, telling the camera that it was the morning after her surgery. "My uterus is out," Schumer says, adding the doctor found 30 spots of endometriosis on her uterus, and also removed her appendix (via People).
The "I Feel Pretty" actress also captioned a photo of herself wearing a hospital gown, "If you have really painful periods you may have #endometriosis."
According to Healthline, endometriosis is a condition in which the lining of the uterus grows outside the uterus, and often causes heavy bleeding and severe pain.
Amy Schumer's celebrity friends show their support after her courageous share
Star friends of Schumer's quickly rallied around her in the comments section of her post.
Padma Lakshmi has long been forthcoming about her struggles with endometriosis (via WebMD). "Thank you so much for sharing your endo story. Over 200 million women worldwide suffer with this. Hope you feel better soon!" she commented on Schumer's Instagram share, also tagging the page for the Endometriosis Foundation of America.
Debra Messing also showed her support for Schumer, commenting, "Oh my goodness, 30?! So happy they are gone and you won't have that pain anymore. Heal well Am!"
Vanessa Carlton, Elle King, Carrie Ann Inaba, Selma Blair, and Savannah Guthrie, who said, "You are a warrior mama," also flooded the comments section of Schumer's brave post.
Meanwhile, the star, who suffered from hyperemesis gravidarum while pregnant with Gene, and her husband Chris Fischer, have explored the possibility of having a second child via a gestational carrier, with Schumer saying perviously, "I decided that I can't be pregnant ever again. We thought about a surrogate, but I think we're going to hold off for right now" (via Today and People).