If You're An Enneagram Type 2, This Cocktail Is A Must-Try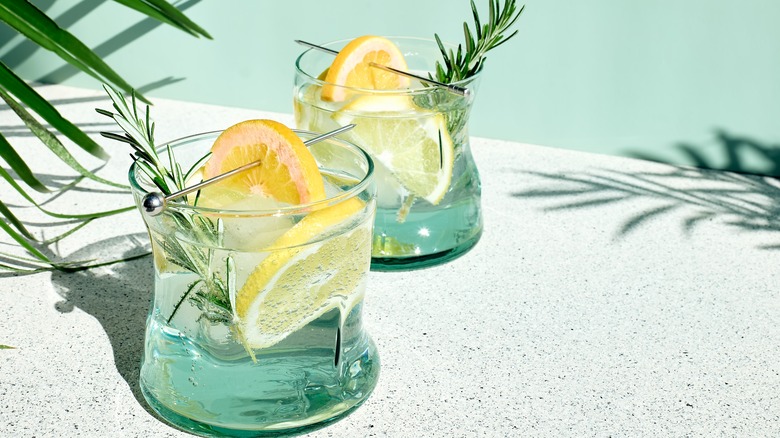 Caterina Trimarchi/Shutterstock
If you're tired of your usual go-to choice of drink, you're not alone. Perusing various best cocktails lists on the internet can get overwhelming, but it doesn't have to be. Tying in simple choices, like your evening drink to your Enneagram Type, could be your answer. The Enneagram is a personality indicator, much like the Myers-Briggs test. Learning more about your Enneagram can give you insight into your personality, which Enneagram type you're most compatible with, your biggest motivators, and your strengths and weaknesses. 
If you're an Enneagram Type Two, aka The Helper, you may be great at giving drink recommendations to everyone but yourself. According to the Enneagram Institute, Type Twos are "generous, demonstrative, people-pleasing, and possessive." Constant givers, Type Twos sometimes need to be reminded to take time for themselves and prioritize their needs. If you're an Enneagram Type Two in search of a new signature cocktail, look no further.
You can never go wrong with a mule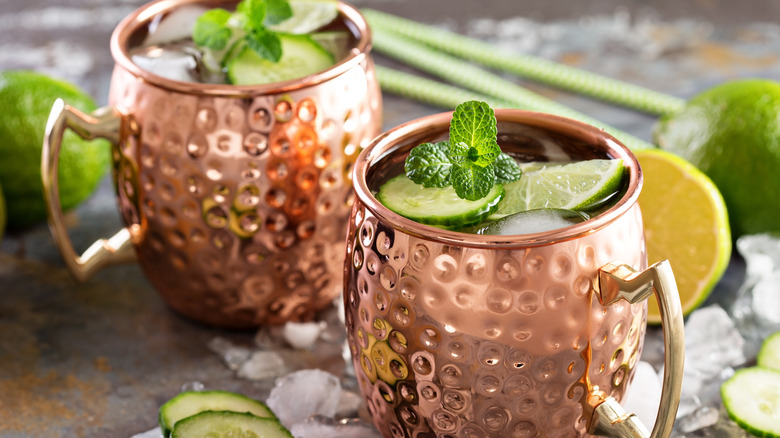 Elena Veselova/Shutterstock
There's a reason you can find a Moscow mule on nearly every drink menu you lay eyes on. Like Enneagram Type Twos, a good Moscow mule and its fizzling nature will warm you up and keep things just sweet enough. A combination of vodka, ginger beer, and lime is refreshing and well-loved by both bartenders and happy-hour-goers. And with the key motivation of desiring love, Type Twos can be sure to feel confident enough to chase their heart desires if they select a mule.
Not a big fan of ginger beer but still want the vodka-based beverage? That's okay; the mule can still be for you. In a rundown of the country's most unique mules at bars across the nation, bartender Jeff Sousa of The Inn on Shipyard Park in Mattapoisett, Massachusetts, changed his mule recipe by swapping ginger for pineapple in the Mattapoisett Mule. "This take on the Mule is for those who may not select ginger beer as one of their favorite mixers," he told the Thrillist. "The formula creates a drink that's more refreshing and drinkable while retaining all of the original ingredients." With opportunities to mix and match ingredients to fit your palette, a mule simply never fails.
How to make your own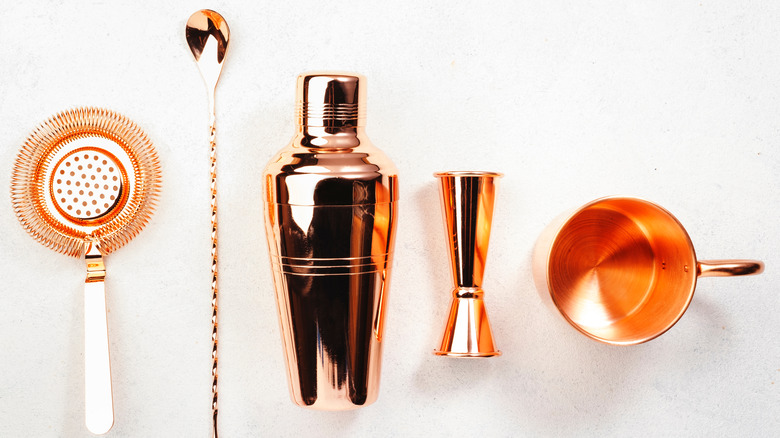 5PH/Shutterstock
Making your own Moscow mule is ridiculously easy, but the most challenging part might be acquiring one of the cute copper mugs they tend to be served in. According to Advanced Mixology, all you need for a classic Moscow mule is 4 to 5 ounces of ginger beer, two ounces of vodka, half an ounce of lime juice, and lime to garnish. First, put your lime juice into a chilled copper mug or Highball glass. Measure and pour out your vodka, and then add as much ginger beer as you desire, depending on how strong you would like the cocktail. Making more than one for friends is simple, and they will surely be impressed by your whimsical lime garnish. 
But even mule variations are perfect for amateur mixologists. For a jalapeño mule, aka Kicking Mule, add fresh mint and one or two jalapeño slices to the original recipe. Muddle the mint, jalapeño, and lime juice to start, and then follow the recipe as it was originally written. The same can be done for a summery strawberry mule. With five or six small strawberries, muddle or shake them in a shaker tin with your lime juice. Add vodka and ice, shake, and strain into your copper mug.