How The June 14 Full Moon Will Affect You If You're A Sagittarius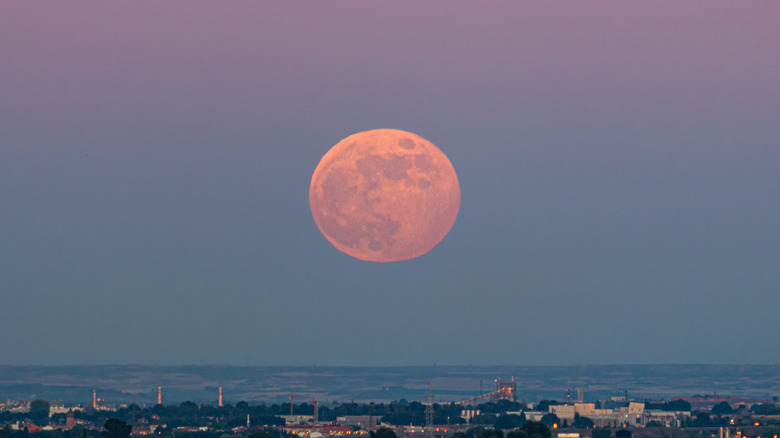 Ivan Morato photography/Shutterstock
A full moon is a beautiful sight, but what exactly does it mean? Unlike a crescent moon, a full moon is created when the sun appears directly opposite the moon (via Yoga Journal). When the Earth is directly in the center of these two, the moon can "reflect light from the sun," which then results in us being able to see the full size of the moon. A full moon can also mean different things depending on the zodiac sign it lands in. For example, a Cancer full moon will provide a different outlook than a Taurus one.
Interestingly, some full moons, including the upcoming one, are referred to as a Strawberry Moon by the "Algonquin, Ojibwe, Dakota, and Lakota peoples" (via Nylon). This is because it occurs at a similar time to the berry harvest. The June full moon is also a supermoon, otherwise known as a perigee-syzygy moon, which means it will appear closer to Earth and it'll shine brighter for a longer period of time (per National Geographic). On June 14, this moon will appear and create many different opportunities for each zodiac sign. If you're a Sagittarius, here's what you can expect during this celestial occurrence. 
The June full moon will bring plenty of opportunities for something new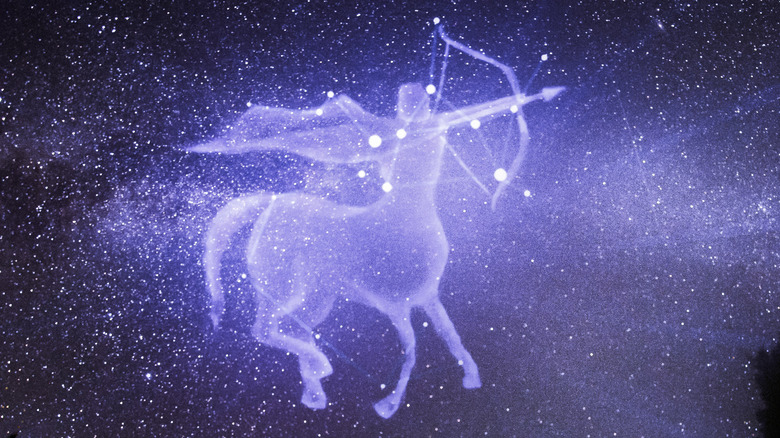 Elena11/Shutterstock
As Sagittarius signs are always full of spirit and possess a strong sense of justice (via InStyle), the upcoming full moon is sure to make you feel fired up. You'll be able to see the moon on June 14 (which is a Tuesday) at approximately 7:52 a.m ET, so make sure to set an alarm if you're not the type to get up early. By witnessing the beauty of this full moon, you may feel inspired to do a number of things. 
According to Elite Daily, June's full moon "is all about shedding light on truth, knowledge, and wisdom." To some of us, this may mean finally taking a stand on an issue you feel strongly about but haven't had the courage to explore. For others, it could be the opportunity to cross the finish line on a project you've been working on for a long time, as the moon will give you a burst of energy to make that final push. Additionally, unlike previous moons that have caused emotional turmoil, June's full moon will bring only good energy (via Nylon). This is partly because it's ruled by Jupiter, a planet that holds positivity and daring above all.
Sagittarius should lean in to their personal growth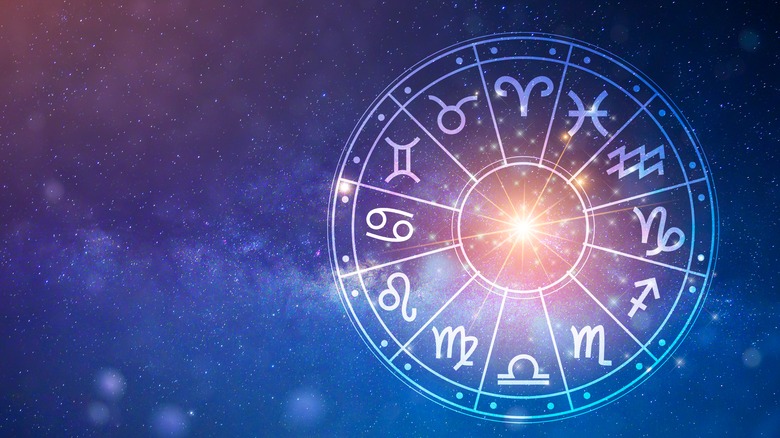 sarayut_sy/Shutterstock
If you're a Sagittarius, the upcoming full moon is your chance to become the main character. InStyle reports that Sagittarius signs are constantly thinking about how to make things bigger and better, which is why they can reach their full potential by letting themselves be guided by the full moon. You can achieve this by thinking about what you can do to make changes in your life. Full moons are also "culmination points," meaning Sagittarius signs should take the chance to wrap up things they've been working on. This doesn't have to just pertain to work — personal projects and relationships count, too. 
This period also provides you with a good opportunity to reflect on how, as a Sagittarius, you can present yourself authentically in existing and new relationships (via Bustle). Stop thinking about how you appear to others and tell yourself that the most important person in your life is you. Whether you have changed in the past few months or not, use this full moon to honor any growth or setbacks for the future.
Sagittarius or not, make sure to set your alarm on June 14 so you can make the most of what this full moon will bring into your life!