Who Creates All Of Kourtney And Kim Kardashian's Stunning Manicures?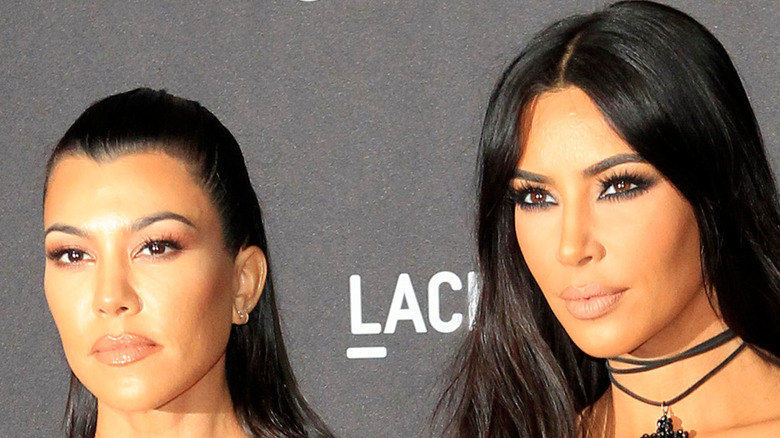 Kathy Hutchins/Shutterstock
Over the years, the Kardashians have had many top-tier beauty and style moments. Their hands are dipped into multiple platforms and generate buzz with every carefully planned look. After years in the spotlight, their hold on fashion isn't debatable. But one aspect of their beauty routine we can't get over are their elaborate manicures. 
Kourtney and Kim's nail game is always on point. The reality stars share celebrity nail artist Kim Truong, who regularly posts snapshots of their gorgeous manicures on Instagram. Per Truong's Instagram "look book," the nail genius has worked with a slew of celebrities, including Katy Perry, Kerry Washington, and Anya Taylor-Joy. 
Yahoo! Finance reports that Truong's 2022 April spring nail design for Kourtney took over the internet and had fans rushing to copy the floral look. It was a huge departure from Kourtney's current style, which has borrowed elements from husband Travis Barker's rocker vibes. In a sweet moment, Truong crafted matching floral manicures for Kourtney and daughter Penelope. The Kardashians always have stylish nails, thanks to Truong's designs. Let's take a look at some of their most talked-about manicures.
Kourtney Kardashian's wedding nails were minimalist heaven
Kourtney Kardashian's whirlwind wedding weekend was packed with style moment after style moment. In a May 29, 2022 Instagram post, nail artist Kim Truong posted a close-up of the bride's stunning nude manicure and shared she used gel polish brand Gelish's "Cover Pink" shade in the caption. Though the design was simple, it complemented her short wedding dress. PopSugar dubbed Kourtney's pink, minimalist nails the "'90s supermodel manicure." Her low-maintenance nails prove that sometimes simple is best.
Truong is also the mastermind behind another one of Kourtney's wedding manicures. For wedding number two (she had three in total), Kourtney said "I do" at the courthouse with a creative nail design, according to The Zoe Report. In an Instagram post, Truong shared a glimpse of Kourtney's stunning ruby-infused french manicure. The nail artist used real Swarovski crystals and a red gel polish to achieve the look.
Weddings weren't the only special 2022 events that featured chic nails from the Kardashians.
Kim Kardashian's Met Gala manicure was peak perfection
Kim Kardashian's Marilyn Monroe moment at the 2022 Met Gala will go down in history. While social media was flooded with pictures of her glamorous look from different angles, Kim Truong reminded fans of the minor details. In a May 3, 2022 Instagram post, the nail expert zoomed in on Kim's sleek manicure. Her light pink nails deserved as much fanfare as Monroe's record-breaking $5 million dress, per Glamour.
To get Kim's nails that heavenly shade of pink, Truong combined two nail polish colors, J18 and Crème, from vegan brand The Gel Polish. Kourtney has also rocked the simple nude manicure using the Crème shade, but with an edgy twist. As Truong shared on Instagram, the style popped with "a thin line down the center of the nail" in black.
Over the years, Truong has designed stunning manicures for the Kardashians. We're excited to see the evolution of her nail art on the red carpet.