Kourtney Kardashian And Travis Barker Marry For Third Time In Italy Ceremony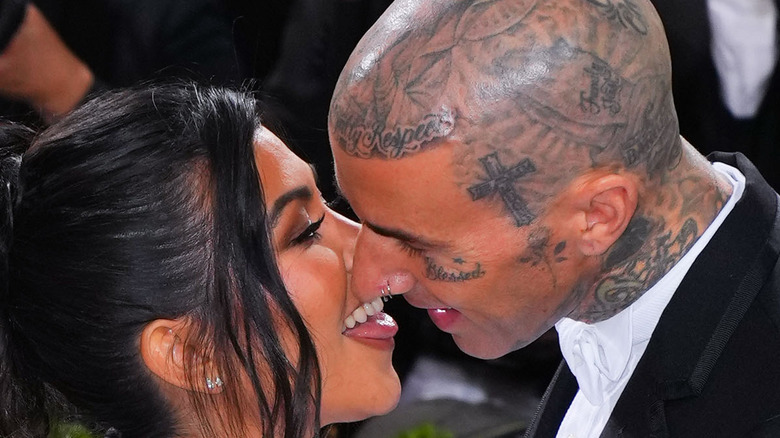 Gotham/Getty Images
This time they really, really, really did it! To the delight of friends and fans, Kourtney Kardashian and Travis Barker's third wedding took place on May 22, 2022, in Portofino, Italy. 
Prior to their nuptials in Italy, the two had previously said "I do" in a practice ceremony in Las Vegas in April and made it official at the courthouse in Santa Barbara on May 15, according to Us Weekly. A source told the outlet that the couple was also planning a big ceremony "in the near future," and it seems that near future was just one week later. For a couple who isn't shy about showing off the PDA on the red carpet, it makes sense that they wouldn't want to keep their wedding day to just a private courthouse ceremony. 
An insider had also previously shared that the couple didn't "want a big wedding," but instead were hoping to have an "intimate ceremony and party for family and close friends" (via People). That's exactly what they had, but of course, when it comes to the Kardashians, nothing is ever that intimate. 
Photos of the ceremony have already been posted to Instagram
As reported by People, Kourtney Kardashian and Travis Barker's lavish ceremony was attended by close friends and family members, including the couple's combined six children. The bride's mother, Kris Jenner, and her sisters — Kim and Khloé Kardashian and Kylie and Kendall Jenner — were there as well, along with assorted nieces and nephews.
Travis and Kourtney's elegant wedding wear was created by Dolce & Gabbana. The groom wore a simple black suit, while the bride donned a sleeveless white minidress accessorized by a huge, stunning veil embroidered with flowers and a portrait of the Virgin Mary. Kourtney carried a small bouquet of red and white roses, and the candlelit altar was adorned in roses as well.
Just hours after the ceremony, the newlyweds posted the first photos of their nuptials, both using the same caption: "happily ever after." Travis' daughter, Alabama Luella Barker, also captured a couple of wedding moments on her Instagram Stories, including a selfie where she and Kourtney mug for the camera.
People also reports that the nuptials took place on the grounds of a villa owned by Dolce & Gabbana, while the reception was held in a magnificent castle called Castello Brown. Famed tenor Andrea Bocelli was scheduled to perform at the wedding.
This may not be the last wedding celebration for Kourtney and Travis
If Kourtney Kardashian and Travis Barker were at all nervous as they said their vows, it wasn't for lack of practice. As you know, this was the third time the couple has exchanged vows. The first time was actually a spur-of-the-moment decision "after an epic night and a little tequila" in Las Vegas on April 4, where they were wed by an Elvis impersonator, via TMZ. Alas, the marriage wasn't really legal, because the couple hadn't obtained a license beforehand.
There were no such worries the second time around. Kardashian and Barker had a legal wedding ceremony the weekend before their Italy bash, since they had to be officially wed in the U.S. before they could tie the knot in Italy, per People. This one, too, was a simple affair with just a few family members serving as witnesses. 
This romantic Italian weekend would seem to be the perfect end to the Kardashian-Barker (KarBark? TravKourt?) wedding saga. Think again! Vanity Fair reports that the newlyweds are planning yet another mega-party very soon — this one in Los Angeles, "so that all of their extended family and friends will be able to attend." (That's a lot of wedding cake.)
Congratulations x 3 to the happy couple!