The Truth About Britney Spears' Longtime Crush On Brad Pitt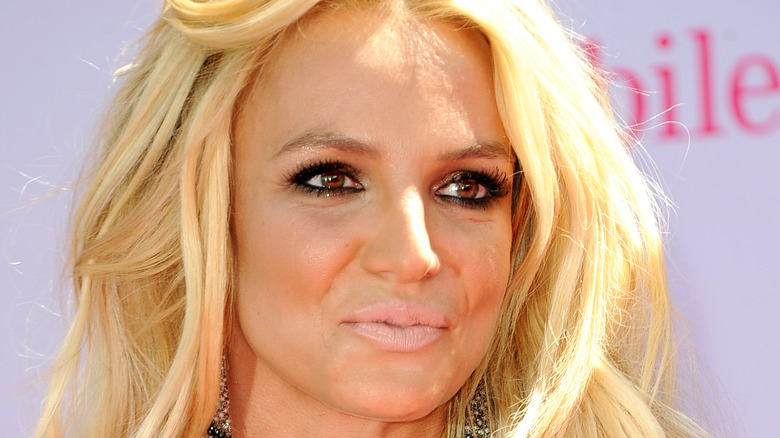 Tinseltown/Shutterstock
Britney Spears and Brad Pitt have a lot in common. They're both incredibly famous and what's more, the two stars have had complicated love lives. Pitt has been married multiple times — twice to be exact — to Jennifer Aniston and Angelina Jolie. The A-list actor also counts Gwyneth Paltrow and Juliette Lewis as exes (via Us Weekly).
Meanwhile, Spears is on her third marriage, having wed Kevin Federline, Jason Alexander and Sam Asghari. She also famously dated Justin Timberlake. Someone the singer may have wanted to date? You guessed it — Pitt. In fact, the pop star is completely open about crushing hard on the "Fight Club" actor for more than just a minute.
"My first celebrity crush was Brad Pitt," the mom of two told an Australian talk show in 2016 (via Elle UK). In 2015, the "Toxic" singer also shared on a morning radio show, "The most starstruck I was with was probably Brad Pitt. I saw him probably 10 years ago at the Teen Choice Awards" (via Daily Mail).
And yes, that moment was as unforgettable for Spears as you might expect.
Britney Spears thinks she made a fool of herself in front of Brad Pitt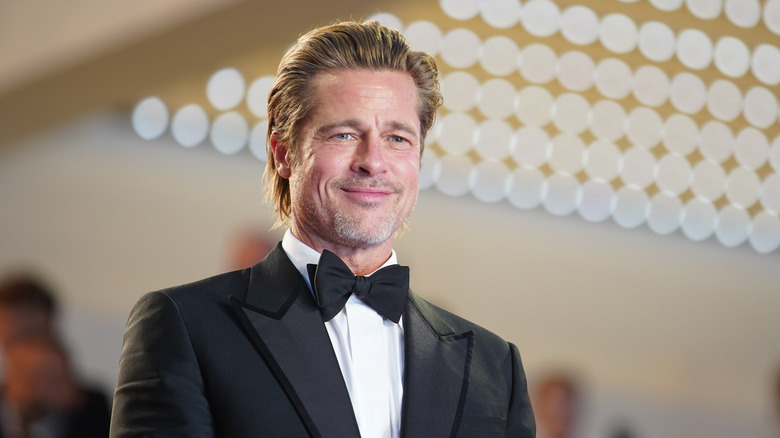 Denis Makarenko/Shutterstock
Since Britney Spears is such a long-time admirer of Brad Pitt, one can imagine how excited she was to meet him at the Teen Choice Awards circa 2005. As the singer recounted, "I completely died. I ran. I was dressed in high heels [and I ran] towards him!" (via Daily Mail).
The biggest star in the world enthused to Pitt that she was a huge fan of his. And then, like the rest of us, was very hard on herself about how she acted "uncool" and "like an idiot." In her mind, the moment saw her acting like a preschool child. Yikes!
Flash forward to 2016, and when Spears talked about her feelings for Pitt at that time, she shared she was acutely aware of his single status (via ET Online). Could a Britney and Brad moment have happened in alternate universe? Consider that previously, the pop princess even expressed an interest in becoming a nanny for Pitt and Angelina Jolie's kids. Yes, that is how obsessed she is with the one and only Brad Pitt.
So is Britney Spears' husband Sam Asghari intimidated by his wife's devotion to the desirable star?
Britney Spears especially likes early Brad Pitt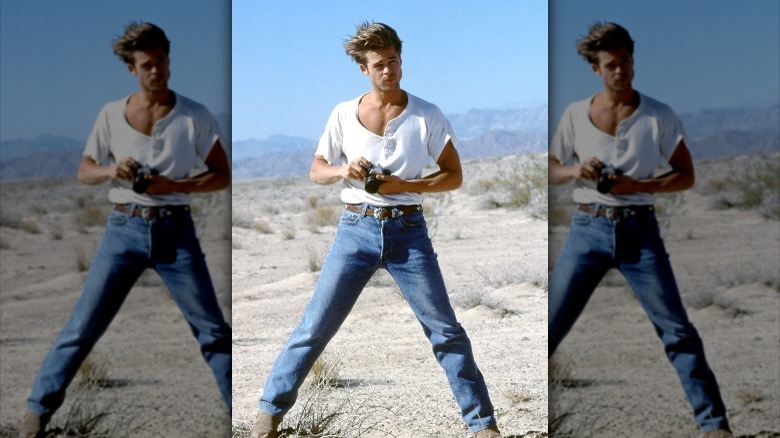 Avalon/Getty Images
Don't worry Britney Spears fans! Sam Asghari, whom Spears wed in June of 2022, is completely in the know about his wife's crush. The model posted a video of himself to Instagram giving the singer a bit of good-natured grief over her framed photo of the actor from his "Thelma & Louise" days, saying, "We got a huge problem."
But clearly Asghari is just having a bit of fun, as Spears can be heard giggling in the background about her treasured photo of Brad Pitt. It's worth noting that other celebrities have also admitted to having a thing for Pitt, including Kendall Jenner and hilariously, Dax Shepard.
And besides, it's natural to have crushes. Just ask the object of the singer's affection himself. As the actor told W Magazine in 2020, "I always had crushes. I had crushes in kindergarten, first grade, second grade. I had crushes. I always had crushes."