The Story Behind Bo And Hope's Royal Wedding On Days Of Our Lives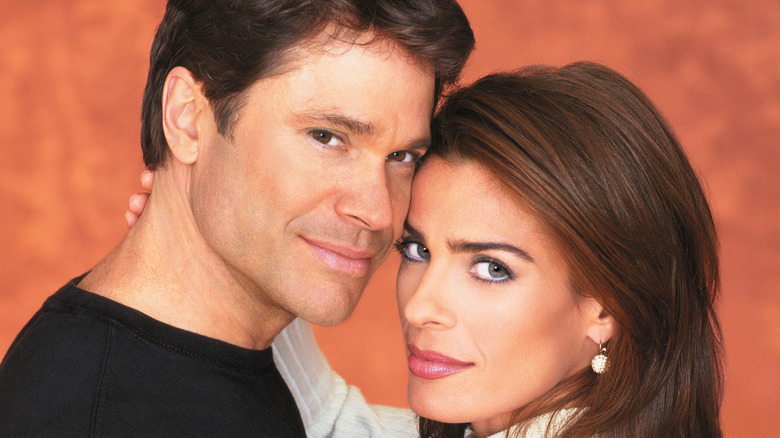 Getty Images/Getty Images
"Days of Our Lives" has created some truly epic super couples over the years. Pairings such as John Black (Drake Hogestyn) and Marlena Evans (Deidre Hall), Justin (Wally Kurth) and Adrienne Kiriakis (Judi Evans), Ben Weston (Robert Scott Wilson) and Ciara Brady (Victoria Konefal), Steve Johnson (Stephen Nichols) and Kayla Brady (Mary Beth Evans), Will Horton (Chandler Massey) and Sonny Kiriakis (Zach Tinker), and so many more have kept fans engaged and entertained for decades, per Cheat Sheet. The NBC soap opera knows how to build romances that their viewers love, and that's exactly what they did with the characters of Bo (Peter Reckell) and Hope Brady (Kristian Alfonso).
Bo and Hope are known as one of the most beloved and most popular soap opera couples ever, and over the years it seems that they've been through it all. They've had countless make-ups and breakups, created a family together, lost a child, and lost each other. They've walked side by side during epic adventures and also done unthinkable things in the name of love, per Soaps.
Of course, they've also had their fair share of weddings. While each of Bo and Hope's weddings has been memorable in their own ways, there is one that tends to stand out as the most lavish of them all.
Bo and Hope have been married three times over the years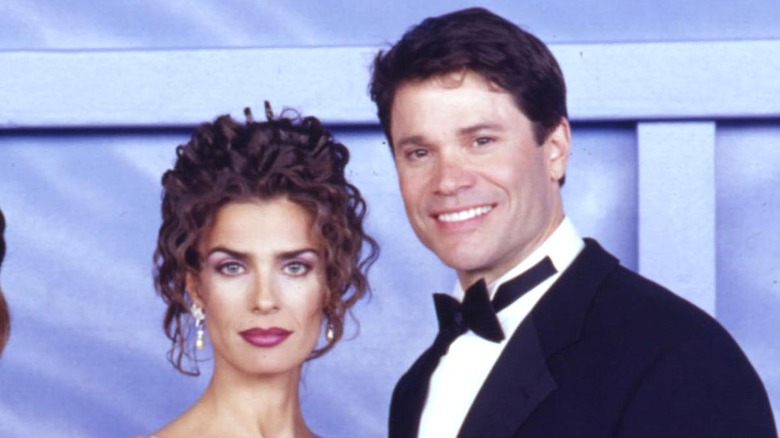 Getty Images/Getty Images
Bo and Hope Brady have had some of the most memorable wedding moments in "Days of Our Lives" history and it all started when fans watched Bo ride up on his motorcycle and interrupt Hope's wedding to Larry Welch. Bo kidnapped Hope from the ceremony that day and the two rode off into the sunset. After getting Hope away from Larry, he confessed his love for her and they got back together by sharing a steamy kiss, per Soap Hub.
Bo and Hope had a total of three weddings during their run on "Days of Our Lives." In 2000 the couple tied the knot at the hospital while Hope was giving birth to the couple's second child, Zach. Hope screamed out in pain as the pair recited their vows to one another, per Soaps. The pair also renewed their vows with a sweet ceremony after some tough times in their relationship. "Twenty-four years have gone but you know what? I look into your eyes and I see the man I fell in love with when I was just a girl, the man who never fails to surprise me, even now," Hope told the love of her life during the ceremony.
However, it will always be the couple's first wedding that viewers will remember the most. A truly royal affair that had drama, romance, and intrigue.
Bo and Hope's first wedding was definitely fit for royalty
According to Soap Opera Digest, Bo and Hope Brady's first marriage took place in 1985. As many "Days of Our Lives" fans may remember, the couple both had strong ties to law enforcement and worked as detectives for the Salem Police Department for many years. During one juicy storyline, Bo and Hope helped stop a criminal known as Dragon, who had plotted to kill members of the British royal family, including a character named Lady Joanna. The royals were so grateful to the young couple for their involvement in the case that they offered to throw them an extravagant wedding ceremony befitting a member of their own royal family.
Bo and Hope's friends and family members flew to England for the lavish occasion, but things took a turn when a character named Emma attempted to kill both Bo and Hope after the ceremony. Thankfully, ISA agent Shane Donovan saved the pair and salvaged their epic wedding day.
Glamour reports that Bo and Hope's wedding scenes were filmed on location in England and that the gown that Kristian Alfonso wore during the episodes cost around $35,000. She also wore an attention-grabbing headpiece with the dress. The wedding truly is one of the most memorable to ever take place on "Days of Our Lives," and fans loved watching every minute of the drama surrounding the storyline.