How To Replicate Jennifer Lopez's Morning Skincare Routine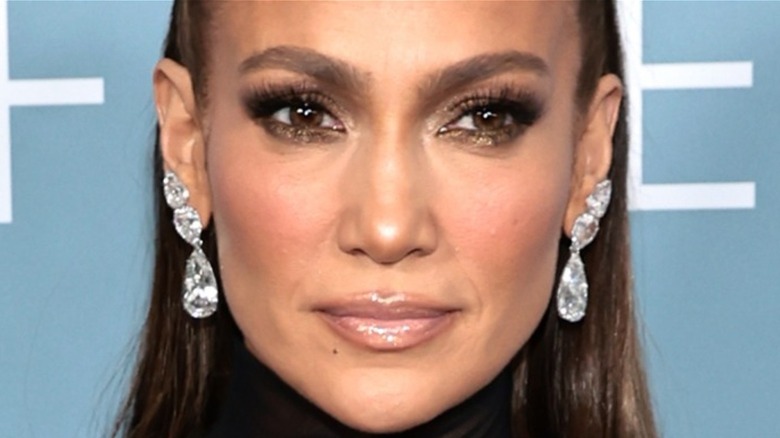 Jamie Mccarthy/Getty Images
We may receive a commission on purchases made from links.
Jennifer Lopez's tenure in the entertainment industry has been filled with superior beauty and fashion moments. In the early 2000s, she made velour tracksuits cool, per W Magazine. Her iconic Versace gown at the 2000 Grammy Awards helped birth Google Images and was ahead of its time with its low cut neckline and sheer material, according to Marie Claire UK. Fast forward decades later to when her long-anticipated skincare line JLo Beauty brought beauty lovers one step closer to getting her glowing skin (via Page Six). 
Lopez' stunning transformation from a Fly Girl dancer in "In Living Color" to a global phenomenon and beauty icon was paved with bold career moves and looks that paid off. One thing you never knew about Lopez is that her aesthetics are inspired by '60s icons Marilyn Monroe and Jackie Kennedy Onassis. Refinery29 crowned her the "ultimate beauty icon" and pointed out that the "Hustlers" star expertly cycles through the same six beauty trends and manages to make them look fresh every time. She's always been in the spotlight, which explains her love of show-stopping, metallic eyeshadow, per PopSugar.
For anyone wondering how she gets her radiant skin, worry no more. 
Jennifer Lopez credits her genes and low-key cleansing regimen for her glowing skin
Jennifer Lopez's skin looks great on any day ending in -y. During a 2014 appearance on Today, she attributed her youthful skin to her genes (via Oprah Daily). "My mom and my grandma have beautiful skin, so I was blessed with that, and I'm fortunate in that way," she explained. She is a self-proclaimed skincare fanatic and makes healthy skin a priority — hence why she doesn't drink coffee.
With her superstar status, many people would assume that her morning routine is as long as her music career. But the "Medicine" singer is full of surprises. On April 6, 2022, Lopez dropped a promotional video for her beauty brand on Instagram. In the video, she dished on the JLo Beauty products she uses to prep her skin for the day.
The beauty guru centers her minimalist skincare routine on cleanser, facial serum, SPF-infused moisturizer and eye cream. According to the video, she uses JLo Beauty's That Hit Single Gel-Cream Cleanser while showering and applies That JLo Glow Serum with Olive Complex. According to its product page, the facial serum is designed to improve skin texture and combat dryness.
Though it's her brand, Lopez swears by this serum and is adamant about its healing properties. She likened it to taking "vitamins for the face" in her tutorial. Per Allure, she uses it for both her morning and nighttime routine.
The last two steps of her morning routine are the cherries on top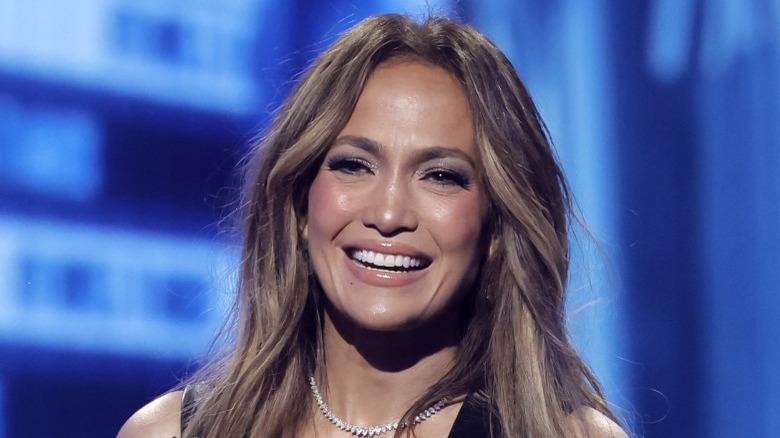 According to her Instagram beauty tutorial, Lopez sneaks in as many moisturizing, hydrating products as she can. Once the facial serum has dried, she recommends applying JLo Beauty's That Big Screen Moisturizer with Broad Spectrum 30 SPF to protect your skin from the sun's harsh rays.
As for the application process, she gently rubbed the moisturizer over her entire face and collarbone in the video. Long live beauty products with dual purposes. In the final step of her skincare routine, Lopez suggested lifting and brightening the eye area with That Fresh Take Eye Cream. The "Marry Me" star stressed that this eye cream caters to more than under eye circles.
On days where you're in a rush and with only a minute or two to spare, the glow serum will tide you over. In her March 7, 2022 Instagram beauty tutorial, Lopez revealed that she often uses the facial serum to restore her skin while filming on location.
Her skincare regimen is two-fold. She nurtures herself inside and out. As seen in her April 6 Instagram video, Lopez is a firm believer in speaking positivity into existence and incorporates a daily positive affirmation into her beauty routine.