Psychic Makes A Bold Claim About Princess Anne's True Feelings Toward Meghan Markle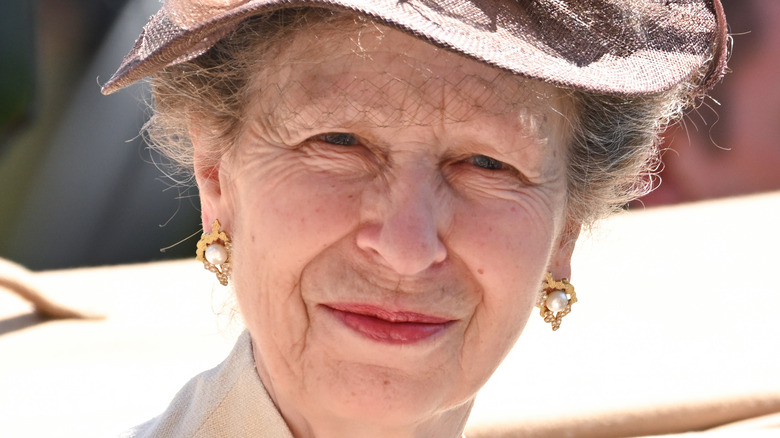 Karwai Tang/Getty Images
If there's one member of the royal family that isn't afraid to tell it like it is, it's Princess Anne. The only daughter of Queen Elizabeth has declined royal titles for her family (via Express) and even seemingly admitted to reading People Magazine when she snubbed the team behind "The Crown." Basically, she's unofficially the "coolest royal" out there, according to Vogue. She's also honest.
This time she's getting honest about her feelings towards Meghan Markle. Well, kind of, and, if the rumors are true, there's some bad blood in the family. At first glance, Anne and Meghan seem like they could get along swimmingly. Both the royals aim for a more normal life; Princess Anne through her removal of titles and Meghan through the rebellious act of leaving the royal family. And they probably would've gotten along fine if it weren't for exactly that — the whole leaving the royal family thing.
The 71-year-old daughter to the queen is extremely loyal to her family, which might have caused some tension between the two family members. One psychic is weighing in, and you won't believe what Princess Anne might allegedly think about the Duchess of Sussex. 
Princess Anne can 'see right through' Meghan Markle, according to a psychic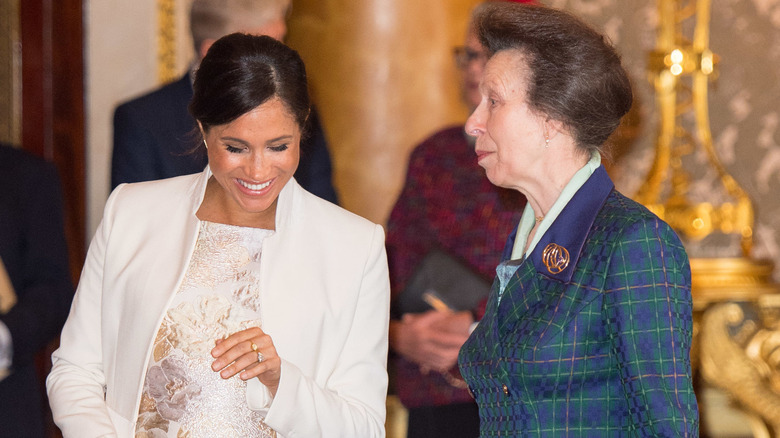 Wpa Pool/Getty Images
From body language experts to psychics, there are tons of people out there who claim to know exactly what the royals are feeling at all times. According to a popular television psychic, Princess Anne is not the biggest fan of Meghan Markle, and she's not the only one in the royal family, either. 
"[Princess Anne] doesn't need to say anything, you can see it in her eyes. You take one look at her and you can see what she's thinking, she's totally transparent," TV psychic Deborah Davies tells the Mirror. "Princess Anne is just like her dad was, Prince Philip could see straight through Meghan Markle." The comment alludes to Meghan being the one to cause a rift in the royal family. If that's true, that's some royal tea. 
While we can never truly know what the royal family is thinking (unless, you know, they go talk to Oprah for a tell-all interview), that doesn't make it any less fun to try and figure it out. Something tells us Princess Anne won't be sitting with Oprah any time soon though, so we'll have to stick to psychics. 
Prince Philip was allegedly weary of Meghan Markle, too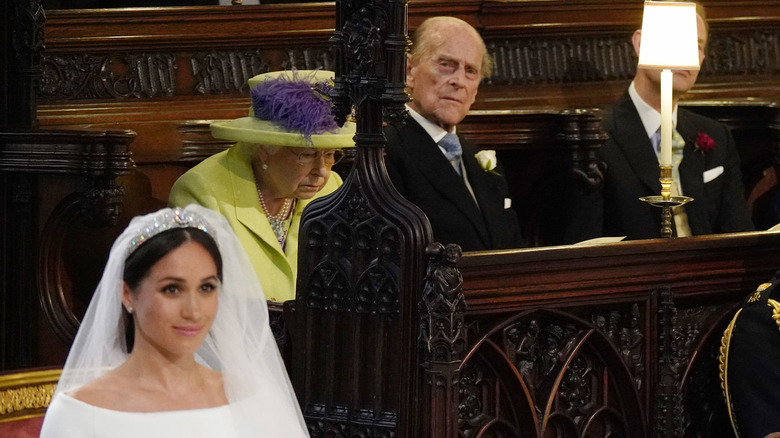 Wpa Pool/Getty Images
This isn't the first time that it's been said that Prince Philip didn't care for Meghan Markle. If rumors are true, then the grandfather of the royal once gave Prince Harry some pretty bleak advice. According to The Irish Sun, Prince Philip, who passed away at the age of 99 in 2021, once told Prince Harry, "One steps out with actresses, one doesn't marry them."
That's pretty bold advice for someone looking to get married. The publication also reports that Prince William was hesitant about how quickly his brother was jumping into marriage. Prince Harry waited just 16 months before popping the question to Meghan Markle (via Good To). In the real world, that happens all the time, but other royals, like Prince William and Kate Middleton, waited ten years to tie the knot (via Us Magazine). 
As mentioned before, there truly is no way to know exactly what the royals are thinking at any given time. While the family without a doubt likely had their opinions on the matter — as every family does — we won't know what the royal family members think until they say it themselves.