Royal Insider Reveals Significance Of Viral Moment Between Prince Louis And Prince Charles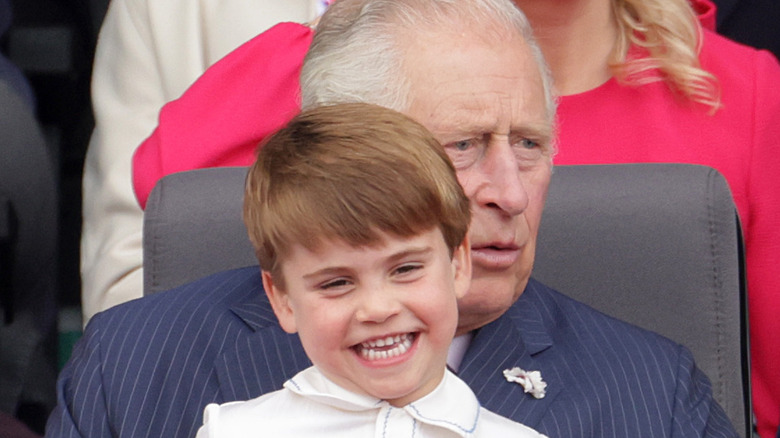 Chris Jackson/Getty Images
Prince Charles isn't exactly known for his warm and fuzzy vibes. As such, he's not one of the most-liked royals according to multiple polls, also in part due to his treatment of Diana during their marriage (via Reader's Digest). His younger son Prince Harry hasn't minced words about his own strained relationship with the Prince of Wales, with royal biographer Penny Junor even going so far as to refer to the would-be monarch as a "remote figure" in his kids' lives when they were young (via Mamamia).
Perhaps the heir of arrogance associated with the heir apparent is a reason so many people are fixated on a recent interaction between Charles and his grandson, Prince Louis. First, it's important to set the scene that during the Queen's Platinum Jubilee parade, the youngest child of Prince William and Kate Middleton won the hearts of viewers worldwide with his over-the-top antics that essentially humanized the 4-year-old royal.
Of course, like any mom of a preschooler trying to keep him from creating a public spectacle, Kate needed a break as Louis' boredom escalated (via Kidspot). It was time to call for reinforcements. But just who the overwhelmed royal mom turned to in a time of need surprised, well, everyone.
Kate Middleton called on Prince Louis' grandpa for help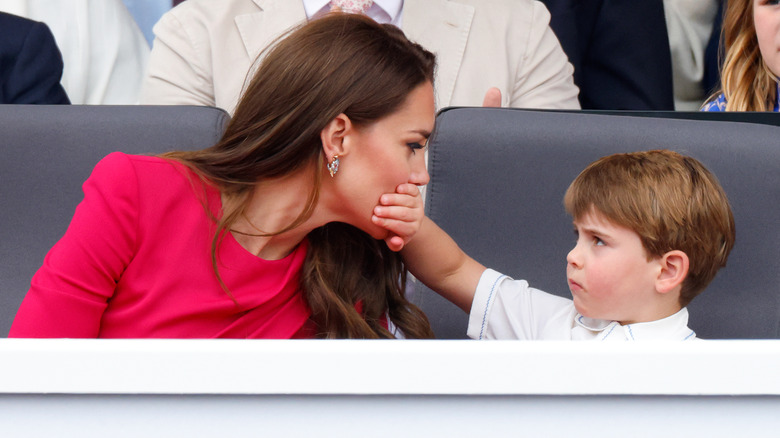 Max Mumby/indigo/Getty Images
As Prince Louis' wild gesticulations went from covering his ears to covering Kate Middleton's mouth, clearly the worn-out mom was ready for a break. As Page Six reported, surrounding family members tried everything to calm the restless child, with his cousin Mike Tindall jokingly telling the tot he was watching him.
Then, with Prince George reacting with amusement and big sister Charlotte appearing unimpressed, the wayward little prince was sent over to his grandpa, Prince Charles. Would the 73-year-old scold little Louis for acting out during the prestigious gathering? While some folks may have expected this type of interaction between the future king and his grandson, the moment played out completely differently.
As People reports, instead of sternly lecturing Louis, Charles started bouncing the boisterous boy on his lap. The cute encounter didn't go unnoticed by a royal expert who told the outlet that the seemingly-normal exchange holds deeper meaning than we may have guessed.
Prince Charles is said to be a wonderful grandpa, although he wasn't a great father at times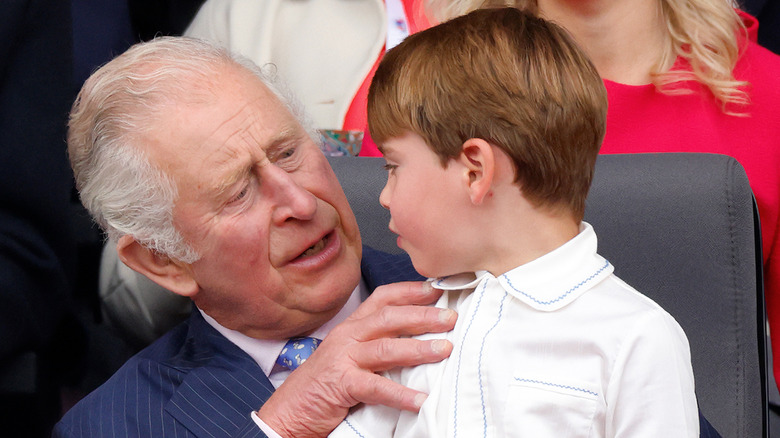 Max Mumby/indigo/Getty Images
Talking to People, a so-called palace insider revealed their take on Prince Charles sweetly distracting Prince Louis during the jubilee festivities that seemingly overstimulated the 4-year-old.
"How utterly charming that was," the source said, adding, "When you consider that he has been said to be a remote parent, to see him do that was charming." The outlet further noted that it has always seemed as if the two royals have a special bond, with Showbiz Cheatsheet noting that Charles appears to have a close relationship with each of Prince William and Kate Middleton's kids.
Ultimately, the consensus seems to be that while Charles was not the best father in the world, with his relationship with his sons characterized by periodic tension and a complicated dynamic, he is a terrific grandparent.