Here's What Kristine Leahy Looks Like Going Makeup-Free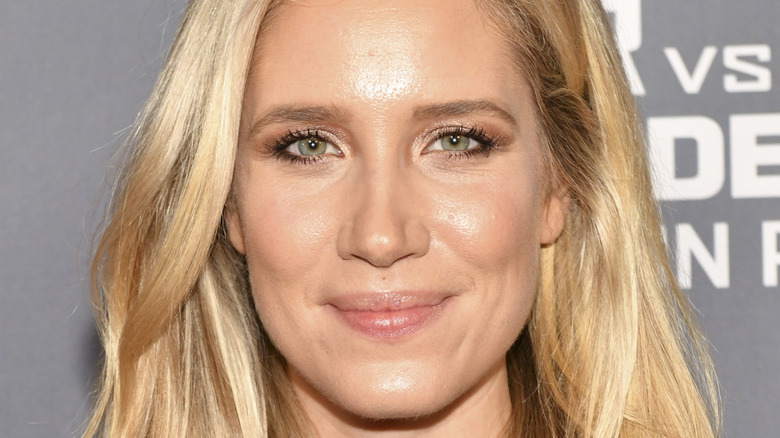 Rodin Eckenroth/Getty Images
Television hosts always have to look their best and Kristine Leahy is no exception. Before she was a co-host on "American Ninja Warrior," Leahy was an anchor and reporter for CBS. According to Fox Sports, she joined Fox Sports 1's "The Herd with Colin Cowherd" as a co-host in 2016. While on "The Herd," Leahy famously locked horns with LaVar Ball over a heated exchange on the air, according to USA Today.
After having left "American Ninja Warrior" in 2018, Leahy has worked a few other gigs. For instance, she hosted "Raiders: Top of The Nation," a television program devoted to the Las Vegas Raiders in 2021. Then in 2022, she made a brief appearance in the Netflix film, "Hustle," starring Adam Sandler, as a sports journalist. 
Audiences are used to seeing Leahy, who currently lives and works in Los Angeles, fully made up and ready to go when she's on-screen interviewing athletes. However, you might be wondering what does the Chicago-born sports journalist look like makeup-free?
Kristine Leahy shows bare face on Instagram
It's rare to spot the TV host without any makeup, but her Instagram holds a little treasure trove of photos where Kristine Leahy does appear to be makeup-free. She shared this selfie from Miami Beach -– her noticeably bare face surprised followers because it looked so good. She clearly packed only the essentials needed for a beach vacation, and that did not include makeup. In an earlier post of her playing with her baby nephew, Miles, we can see videos of her with the child and her face seems completely bare as well. In another Instagram picture from February 2021, she appears to be makeup-free again while in the snow of Togwotee, Wyoming.
As you can see, Leahy shares makeup-free photos often. This Instagram celebrating her dog's birthday even sees the sports reporter, once again, sporting a clean makeup-free face out in the wild. Even with her face is obscured with sunglasses, this pool picture from her vacation in Cabo looks like Leahy is makeup-free as well. It seems Leahy loves the makeup-free life so much that you're likely to spot her off-duty face in her Instagram stories highlights too.
Kristine Leahy on the pressure to look perfect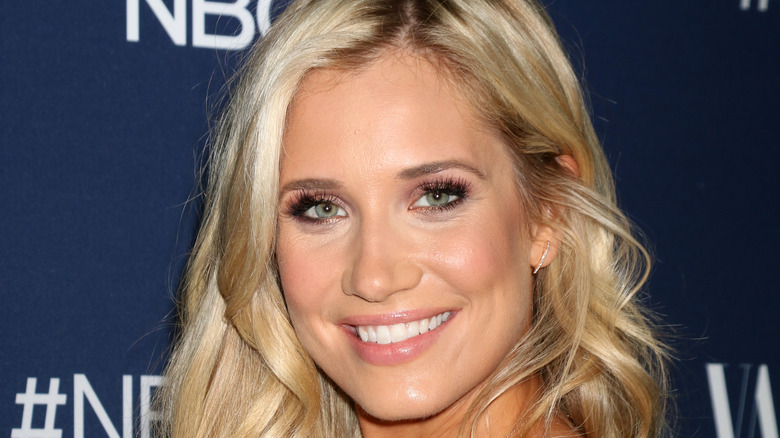 Kathy Hutchins/Shutterstock
Despite going makeup-free on her Instagram, in an interview for Glamour, Kristine Leahy explained that she's been asked to alter her look to improve her job prospects many times. Sometimes, those questions have even been in contradictory ways: "I've been asked if I would consider dying my hair brown. Or if I would consider wearing glasses on the air. All to look more girl next door or to look more glamorous," she explained. She said that when she first got to Los Angeles, she felt pressure to change how she looks, but didn't give in. "Even if I wasn't going to get the job because of my [responses to these questions]," she said, "then it wasn't the job for me anyway, because I'd have to change who I am."
Throughout her career, Leahy's makeup — when she does wear it — has been professional, yet glamorous. While surveying her Instagram you'll notice, when she's working, she'll sport the occasional red lip on the red carpet (via Instagram). However, when the cameras aren't rolling, fans are blessed with a few surprise pictures of the commentator's makeup-free face.