Kate Middleton Takes Style Inspiration From Princess Diana At Her Royal Ascot Debut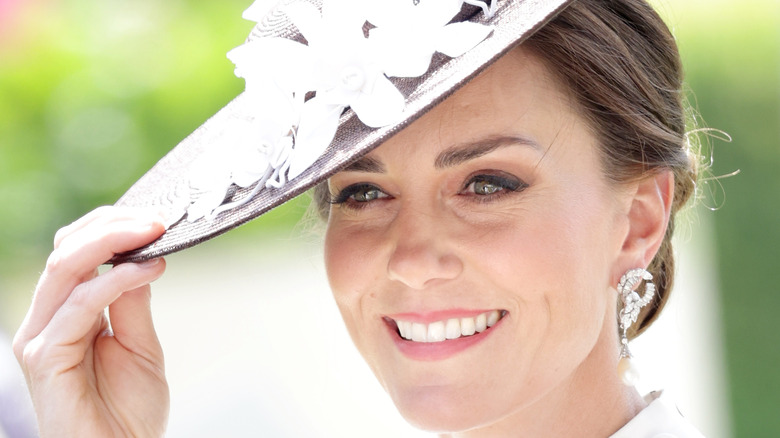 Chris Jackson/Getty Images
If Kate Middleton and Princess Diana have anything in common, it's a deep love for Prince William — and a sense of style admired worldwide. Royal fans long obsessed over what Diana wore and they now do the same with her daughter-in-law. In fact, the mom of three wears something and it sells out immediately — a phenomenon known as "The Kate Effect." Case in point: beige platform shoes the Duchess of Cambridge favors were hard to come by following a spree during which she donned them on several occasions (via Vogue).
Look, we get it, since we adore Kate's fashion choices, from her business casual attire — like her pink power suit moment — to her formalwear — such as that stunning black-and-white gown she sported to meet Tom Cruise at the London premiere of "Top Gun: Maverick." Not that she needs the help, but the 40-year-old has often turned to Diana for style inspiration. Remember that blue skirt suit that Diana wore circa 1992, and how Kate chose a similar look over 30 years later (via Newsweek)? Or the red houndstooth jacket the two women donned decades apart?
Indeed, Kate is no stranger to paying homage to Diana with her look. And fans are going gaga over the latest example of imitation being the highest form of flattery.
Princess Diana wore it first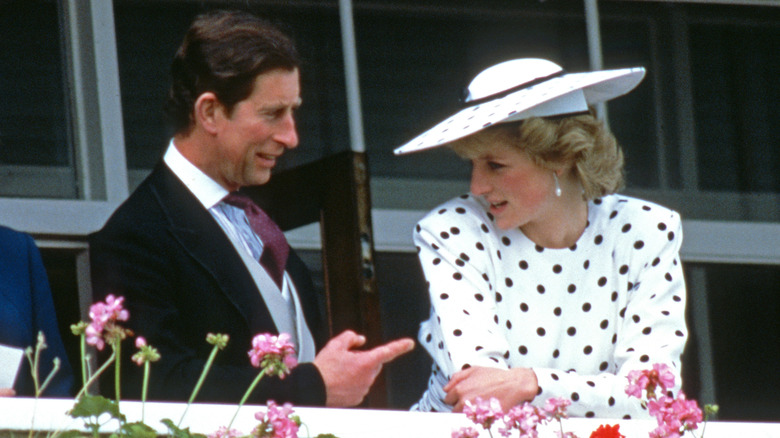 Anwar Hussein/Getty Images
The year was 1986 and the public's obsession with Princess Diana was at its peak. The "people's princess" wore a polka-dot dress and hat to a prestigious horse race, the Epsom Derby (via People).
Flash forward to present day and Kate Middleton reinterpreted the dotted dress and hat for another horse race, Royal Ascot. According to Glamour, the modern-day interpretation of the timeless look was created by Alessandra Rich, while Diana's dots were a product of Victor Edelstein. While the two outfits were not exactly the same, and the hats featured different complementary takes as well, there was one accessory Kate added to her ensemble that actually belonged to her mother-in-law.
The widely-admired princess chose Diana's South-Sea pearl earrings to complete her Royal Ascot look. Of course, this piece of jewelry is far from the only accessory from Diana's collection that Kate has worn.
Kate Middleton has the honor of wearing Diana's jewelry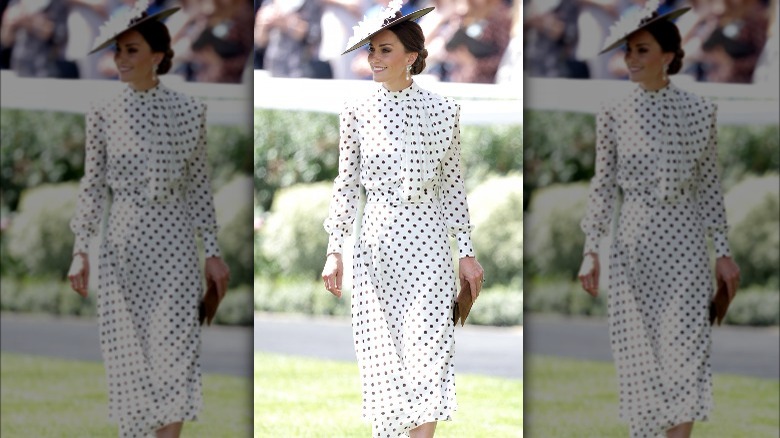 Chris Jackson/Getty Images
In addition to paying homage to Diana with her fashion choices, Kate Middleton often incorporates the Princess of Wales' jewelry pieces into her style. Most notably, Prince William gifted his wife-to-be with the sapphire ring that belonged to his mother (via Newsweek). The lucky duchess has also donned Diana's tiara as well as her pearl bracelet.
She recently debuted sapphire and diamond earrings that were also part of Diana's envy-inducing collection (via People). The memorable moment took place at the Trooping the Colour, with the world's eyes upon Kate's every style choice. And this time, Kate selected a pair of earrings that were said to be a favorite of the "people's princess" (via Popsugar). 
With Kate also emulating Diana's look head-to-toe, the effect was taken note of on Twitter. While some people found Kate dressing like Diana "creepy" others felt the tribute was simply lovely.