Fans Are Seriously Divided Over Tom Cruise Touching Kate Middleton At A Movie Premiere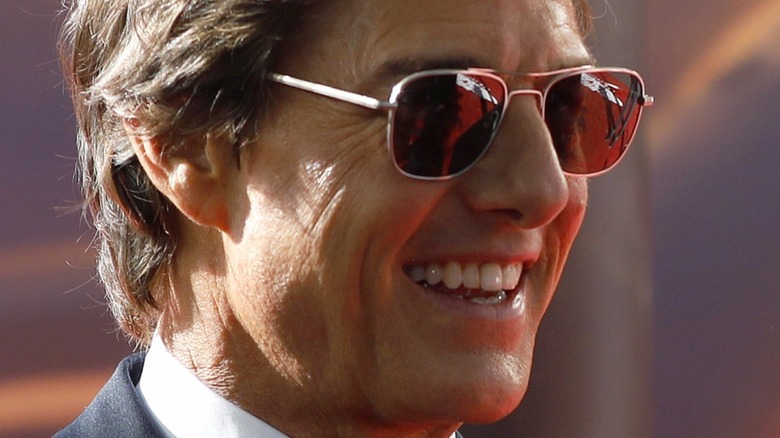 Tristan Fewings/Getty Images
Tom Cruise is busy winning 2022. The iconic actor was honored at this year's Cannes Film Festival for his expansive movie career and received the illustrious Palme d'Or award, according to The Hollywood Reporter. This celebration coincided with the release of his highly anticipated film, "Top Gun: Maverick."
Cruise has been active since the 1980s, and cemented his status as Hollywood royalty with classic films such as "Rain Man" and "Jack Reacher." After a groundbreaking 40 years in film, Cruise has transformed into Hollywood's leading man by making smart career choices. Per Forbes, the "Mission Impossible" franchise has grossed over $3.5 billion, and Cruise's impressive box office pull contributes to his $600 million net worth.
The actor's reach, then surely, can't be underestimated. On May 15, for instance, Cruise participated in Queen Elizabeth's Platinum Jubilee celebration. Though his appearance and hosting duties angered fans, Cruise confessed his longtime admiration of the queen, according to the Independent. 
But that wasn't the star's last interaction with the royal family. Per People, he crossed paths with Prince William and Kate Middleton at the "Top Gun: Maverick" premiere in London. Once again, he caused some controversy. 
Royal fans had mixed feelings over Tom Cruise's gesture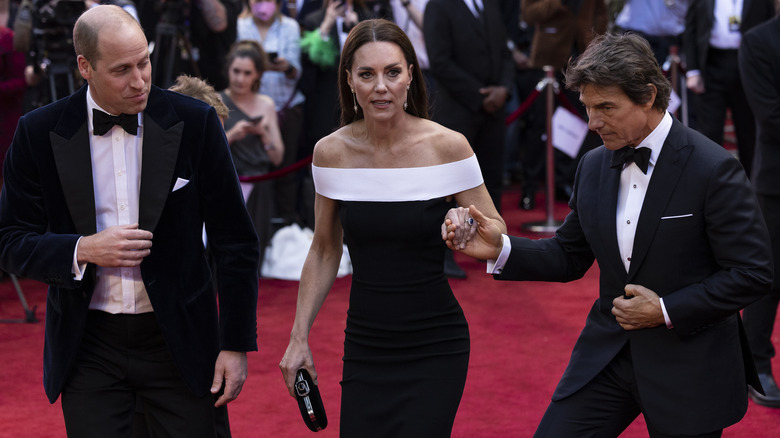 Dan Kitwood/Getty Images
When celebrities meet the royal family, it's easy to remember that the world's biggest movie stars aren't immune to being starstruck or committing faux pas. Marie Claire outlined the strict protocols that they must follow when rubbing shoulders with the royals, which includes no physical contact unless initiated by them first. 
Tom Cruise's moment with Kate Middleton on the red carpet of the "Top Gun: Maverick" premiere had people talking for many reasons — their stark height difference seeming nonexistent being one of them. Aside from the apparent camera tricks (and Cruise's heeled shoes), another incident between Cruise and Kate left fans torn.
Per Page Six, the "Mission: Impossible – Fallout" actor lent the Duchess of Cambridge a hand as they climbed the steps at Leicester Square, with Prince William looking on. Cruise's good deed drew both praise and criticism online. 
In one tweet, a user called the actor a "creep" for the gesture, and while the Daily Mail pointed out that he was being helpful, Cruise did broke royal protocols. But some people saw the moment as completely harmless. Back on Twitter, another user argued that the Duke of Cambridge didn't offer his wife help before criticizing the royal protocols in general, writing, "Prince William made no effort to help Kate up the stairs. The 'royals' are humans, not better than anyone, and need to stop with the ancient protocols. No human should bow down to another human in 2022."
Kate had a subtle reaction to the infamous moment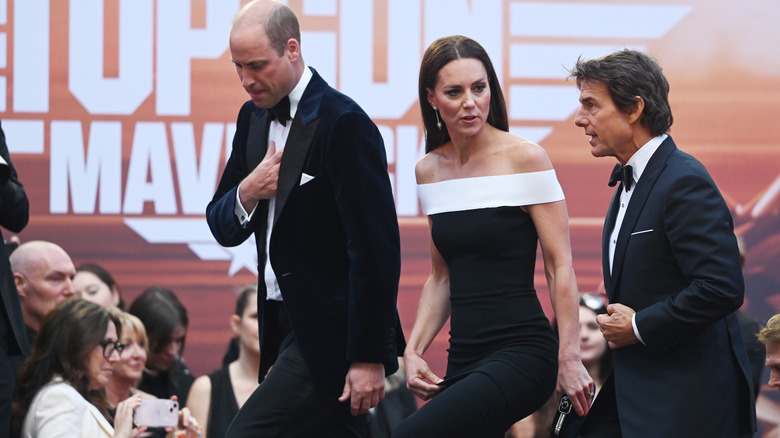 Dave J Hogan/Getty Images
While Kate Middleton hasn't commented on the interaction, fans are convinced that she wasn't pleased based on her body language. Per Newsweek, a video surfaced revealing what happened seconds after Kate and Tom Cruise climbed the steps. Once the "Top Gun: Maverick" star let go of her hand, Kate immediately switched her purse to the hand closest to him. Photos from the event confirm the hand swap.
It's entirely possible that this was purely innocent and subconscious, but not everyone is convinced. Sky News Australia contributor Dr. Erin Watson turned to Twitter to voice her observations of the move. In one tweet, she speculated that Kate used her clutch to stop unwanted physical contact, writing, "Kate Middleton then immediately switched her clutch so he didn't touch her again as she went up the next set of stairs like a total #bossroyal who wasn't going to be touched by Tom Cruise." 
In another tweet, Watson compared Kate's reaction to the universal experience that women share when it comes to non-consensual touching, writing, "Kate Middleton is all of us strategically shifting our clutch because someone thinks they can touch you but #nope."